And now for something completely different...
---
As a kid, which depending on my wives mood could be stated to be "right now" right through to "you have never been a kid", I once made the statement that "if it can't be done with a BC549 it is not worth doing".
this statement was made in jest at the time, and probably stolen from a similar a similar assertion about the NE555. (those of you who are < 30 years old probably haven't seen these used in real anger!)
Here I am travelling, and flying from Adelaide (Australia) to the USA. This is a long, boring flight. In a fit of boredom I set myself a challenge.
So what is the challenge? Something cool and completely different for once. Hmm. Make a power amplifier using BS549's. If you have seem my play room, amplifiers are made to scare speakers and annoy the neighbours. So this can't be a lightweight 100mW job. It must be something that actually works, and is able to make real noise.
OK, it is ridiculous, and of no practical worth at all. Indeed, I am positive that there are aspects of this which are a gross compromise from using the right devices... BUT it is an amplifier made entirely of BS549/559's.... Isn't that cool?
What, you don't get it? Oh, OK. Well, I don't care. I am bored to my back teeth. Oh, and I have about three million of these devices at home.
What am I talking about then? Well, this.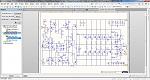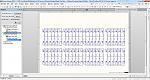 Which any member of this forum would recognise as being a blameless design. I am under no allusions that Douglas Self would spin in his metaphorical grave - notwithstanding the fact he is still amongst us - at the misapplication of his design goals in such a ludicrous application.
Refer above. This is for the fun. When I build it I will let you know how it measures! If it is rubbish, well then I will perhaps worry a bit. Will it be great? I rather doubt it! Will it work "OK" - I am sure it will.
So - the thing has like 100 transistors in it... how the hell does it lay out? Ummm the front end is not awful, but fitting all those "output devices" on a board managed to while away several hours of sitting in an uncomfortable seat...
It all goes on a single sided PCB with a few wire links here and there.
What can it do?
- The rails will be +/-15V, maybe stretch to +/-17V. This is driven by the transistors SOA.
- Using 54 devices per side and +/-17V rails allows you to drive a 4 ohm speaker within the SOA of the "output devices". (isn't it cool to talk about a BC549 as an output device? Oh, ok you don't get it.)
- I thought of going to 100 devices per side. Just because I could, and also because I have so many of the stinking things at home. It would allow more output power, but cooling would become a serious issue if we crank up the voltage and current. Remember this thing will be relying on convection cooling - these "output devices" seem to be lacking mounting holes!
A few things to consider
- I am expecting there to be all manner of thermal gradients across the output devices. For this reason I have assumed there will be no less than 5-10 degrees Celsius difference between the hot and cold areas.
- This means that I need to expect up to 26mV difference in Vbe between devices (10 degrees...)
- Assuming that the bias current is in the region of 50mA, then there will be in the region of 1mA per device.
- I need to model this - but my gut says that by using about 10 Ohms emitter resistors, I will get adequate current sharing as temperatures change to keep things under control.
- The power tracks are LONG, and the "output devices" are frighteningly wide bandwidth. I might have designed a big RF oscillator disguised as "the amplifier of 100 transistors". Hmmm - need to build it to find out!
- It is still only 10-15 Watts....
- These "output devices" are NOT made for abuse. I have included a two slope SOAR protection circuit, that tracks quite close to the BC5XX device SOAR. This will play a role if you hit the amplifier with a 2 Ohm load or a short circuit. I doubt that a BC549 is as robust as an MJL21193!
Compromises are:
- The power supply routing to all the output devices is pretty rubbish. I am wondering if I can re-lay out the whole output stage, but in the end of the day, you have a huge area of transistors to handle.
- The power dissipation at +/-17V and driving a 4 Ohm speaker with a sinewave at about 10V pk looks to be in the region of 14 Watts across the "output devices". This is not insane, but will add up.
What will it do?
- Deliver probably something in the region of 15 watts into 4 Ohms.
- Probably perform OK, depending how much of a mess the power supply noise makes of the rest of the circuit.
- I expect the amplifier to either be easy to build, or very difficult to get stable! I suspect the high Ft of the output devices may give me some fun.
- It will make me smile.
- If I feel very, very bad I will do a CLASS A version. Just to be really silly.
I am going to make some boards in the next week or two, once I get home. If it works, this amplifier can sit atop the 1KW "Amplifier of Death" that is in my play room!
Comments