Richard Allan CG10 Find - Some "New-Old-toys"
Posted 21st March 2017 at 11:49 AM by
googlyone
---
Years ago I moved from the country back into the city. This was a move that required me to clean out heaps of stuff that I really didn't want to clear out. In our old place we had two houses on the block, one of which had been converted into an enormous studio room with NO walls, and a 14 by 14 metre shed. To say that I amassed a collection of speakers and stuff would be an understatement.
One of the things I got rid of were a pair of Richard Allan CG-10 drivers that I never got around to sticking in a box. Indeed, I never even got around to measuring their parameters.
Recently on EBAY I came across a pair of these...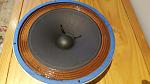 I was surprised at the condition of these - the cones look new. Needless to say they are not, the date code is 1973.
I have measured and used the CG-12, HD-15 and a bunch of other Richard Allan drivers in the past and found them to be surprisingly well behaved.
I have only measured impedance and Thiele and Small parameters so far. The published data for RA drivers is I feel rather suspect. Not the least because many of the drivers were made, and went out of production well before T&S data was in use.
These two drivers were tested using Speaker Workshop using the added mass method. A 20 Gram mass attached using a small piece of blue tack (which I weighed).
The results were very pleasantly consistent between the two drivers:
Parameter Driver 1 Driver2 Net(1)
Fs (Hz) 41.6 41.2 58
Vas (litres) 88.6 85.9 74
Qt 0.31 0.33 0.536
Qm 5.3 6.13 3.58
Qe 0.33 0.34 0.63
RDC(meas) 7.1 7.1
SD (cm2) 304 304
The old data that you can find on the 'net is in the third column. The file this data comes from has some really odd things in it. For this driver two things stand out to me as incongruous:
- The mass the "net data" implies is 13 grams!
- The resonant frequency is way off.
The measured data between the two drivers, and particularly the impedance curves is remarkable in a driver pair that is 44 years old.
Plugging the measured data into WINISD says that these drivers will be very happy in a 45 litre enclosure tuned to 52 Hz, with a 3dB point of about 53 Hz.
This is to me further evidence that the measured data is right and the "net" data misleading, as this is exactly how these drivers were used.
I cam't wait to whack these into a box and see how they go...
Comments