MJL21194 Transisors: Real, Second Source and Fake
Posted 6th December 2014 at 05:10 AM by
googlyone
---
Over the last couple of decades I have built an awful lot of power electronics stuff, especially power amplifiers.
So I have bought and used a commensurately large number of power electronic devices.
As a young hobbyist this started with salvaging bits from refuse - especially in the late 70's and early 80's larger power devices were far from cheap. This generally worked really well, as I never did really trust what I pulled out of refuse gear, and I tested stuff that I used. (also not the least as data on power devices came from "equivelant devices" books such as the "Towers guide" and if you were really lucky you found a datasheet somewhere (on paper!). no intenet....
Why the digression?
Oddly with the advent of the internet and subsequently things like EBAY:
- I could get all sorts of things that you just could not buy locally in small quantities.
- Unscrupulous buggers out there started selling ripoffs.
I wish I still had a photo of the first lot of ripoff transistors I bought. Half of them didn't even have dies in them! So I guess I cant say they actually failed, but they certainly never did work.
I eventually identified reliable suppliers, and still buy stuff today off EBAY, though carefully.
Just lately I bought a bunch of MJL21194 devices and when they arrived my heart sank. The cases are quite different to "original" ON Semi cases. This is shown below.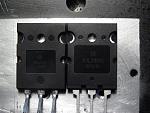 [pic]
The "Proper" OnSemi case is rectangular and does not have indentations around the leads.
My immediate thought went back to the disaster of many years ago. OK, I am lucky enough that I can now afford the loss of a few devices (well, 25 of the damn tings!) but it stings!
Of note, not only is the case style different to the published ON Semi data, but the data code is just wrong.
I did two things:
- I ordered a dozen replacement devices from one of the MAJOR electronics distributors, and;
- I tested the devices I had bought.
I tested the following:
- Low and high current Hfe
- Continuous power dissipation around the SOAR, up to 6 Amps continuous and 60V being my test gear limits.
- I did pulse current tests up to 100ms long right up to the limit of th SOAR.
- I tested them to destruction on power dissipation
--> The devices I tested met every published performance spec that I tested them for. Of note the continuous power dissipation, pulse current and 6A at maximum voltage on the SOAR curve were just fine. my interest was piqued!
- I broke them open to take a peek inside.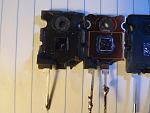 Hmmm. So how big is the die supposed to be?
At this time the devices from the distributor turned up. Imagine my surprise when they were in the same case as those I thought were dodgy. The single difference was that the date code was right
Interestingly, the package these were sold in states "Made in South Korea".
I did some more searching, and found two asian companies selling second source MJL21193/4 devices. Go search the interweb, they even have a datasheet that is an exact replica of the ON Semi one.
OK - maybe there is something not well documented by ON Semi about the MJL21194 cases. So I tested a bunch of these to destruction, with identical results to the first set of tests. Then I cracked that case...
OK, internally they are the same. Same die size.
So I pulled out an old, known good MJL21194, gritted my teeth, and cracked it open. (Seekms silly to be destroying a known good device).
Points of note:
- The newer devices are clearly electroplated with tin once the device is encapsulated.
- The die size is right
- The quality of manufacture is visually fine
- There is no obvious difference i die attachment, bonding or encapsulation aside from the shape of the case.
So all I can conclude is:
- There are MJL21194 devices out there, even being sold by seriously reputable distributors that don't match the published package specs.
- They test fine
- The packaging is different to the old devices.
Oh - and I now have a draw full of MJL21194's, it is a good ting that I somehow managed to have a bunch of extra MJL21193's!
Comments