So, FAST WAW folks, my son has been very happy with the "quickie build" TC9/RS225-8 sealed-box versions that I showed in post #3435 on December 16 2021.
And now, despite xrk971 putting up for sale a lovely pair of TL floor-standers "for a friend"
, what do you think I have finally got round to building .... ?
more to come, later
Simon
Just a confirmed observation that the Tang Band W8-2314 coaxial is a drop in fit for the TL cabinet here (same cutout, same bezel, same screw holes) and the TS parameters are also a match. I have heard that it makes superb bass in this cabinet. I have developed a crossover for it in case anyone is lucky enough to have this driver and wants a point source multi-way TL speaker.
Schematic for XO (developed with a sealed box):
Predicted (blue)and measured (yellow) response:
Predicted impedance: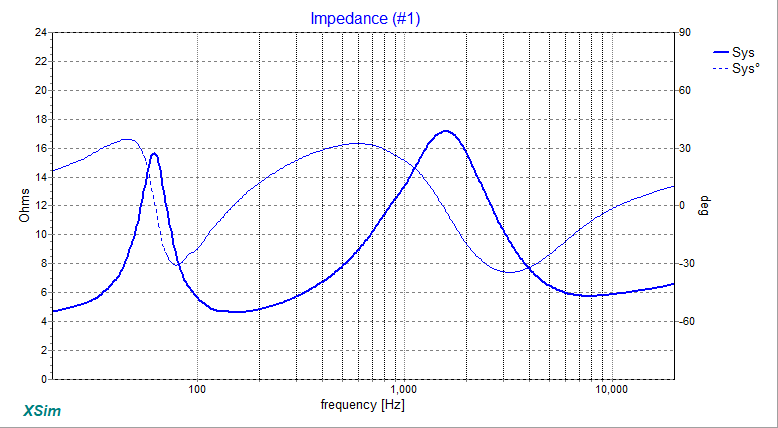 Predicted step response (inverted microphone):
Listen to it here (sealed box):
Balanced sound.
When you drive fast passages, you hear if it is a good driver.
You don't want one with high distortion.
Do you need an extra base when running this closed?
Read that it gave good bass in a BR box.
€300 each.
I like the sound from this driver. Qts 0.31.
Interesting.
I will check up in hornresp.
Do you use Tangband crossover?
Last edited:
It worked quite well in sealed but I would recommend the TL vs a BR if you want bass. The TL will give -6dB of 30Hz or so. I used my own crossover as shown above - simple 6 components. Advantage being time aligned and quasi transient perfect so the percussion is really snappy. Great drums, guitar, piano, rimshots, stand up bass etc. the point source coaxial configuration gives nice image that is consistent when moving around.
The measured Qts is higher - typically 0.36 or 0.38 which is fine for the TL I designed for RS225.
Biggest thing is the drop in fit into the TL cabinet with the RS225-8: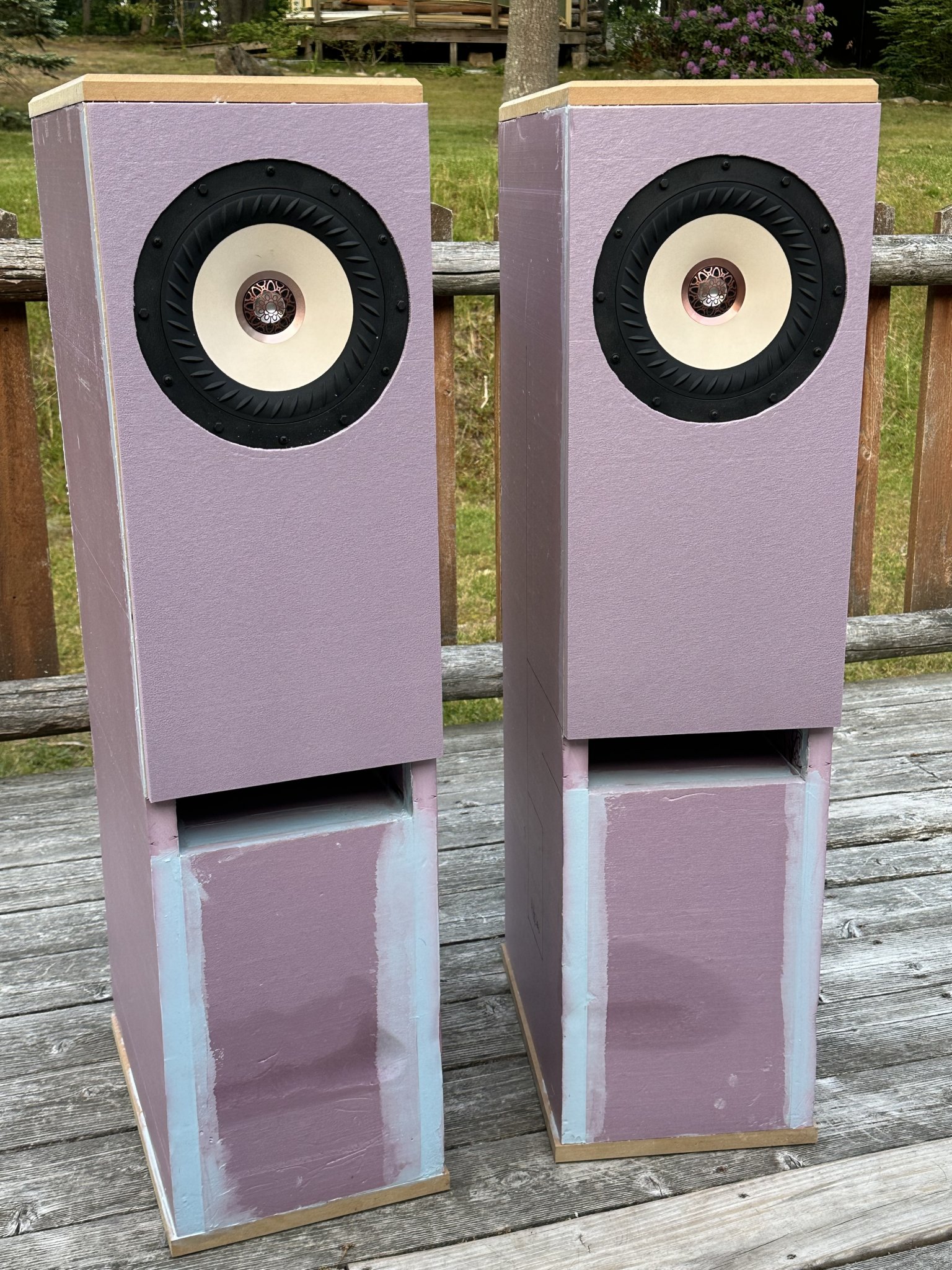 Last edited:
The Pink Panthers have been playing music for about 20hrs since the XO's were connected and these speakers Rock! Super impressed with the sound, X worked his magic mic and designed a well balanced XO for the W8-2314. I had these drivers sitting on my shelf for quite some time and was starting to think I made a mistake taking a chance on them. Not many builds on the web use them and the ones I did find would not satisfy me having to use a subwoofer for bass assistance. Almost by accident, I mentioned to X that I had these drivers and what should I do with them. That started the ball rolling and here we are, a surprise project that sounds awesome. Thanks for taking on this project X, I appreciate it
.
My FAST TL's were one of my favorite speakers, but if I had one wish for them it would be a little more energy on the top end. So far, the new TB TL's have all the positives of the FAST TL's but have the "Sparkle" I was looking for.
XO Parts:
Jantzen, 4.7uF Z-Superior Capacitor
CDE 940c, 2.2uF PP Film Capacitor
Jantzen, 0.68mH 16awg Cross Coil Foil Inductor
Dayton Audio, 0.10mH 20awg Air Core Inductor
Dayton Audio, DPR10, 20R 10W Resistors (2 in series for 40R)
Mundorf, 4R7 10W resistor
Have you tried the Kingspan GreenGuard stuff from Lowe's? The last 1" Owens Corning Foamular I got at Home Depot had really deep scores (much more than what appears to be in the photo above) and I noticed that the green stuff in Lowe's didn't have any scores in the 1" panel. Seemed to be the same stuff.
10F/8424 & RS225-8 FAST / WAW Ref Monitor