Discrete Operational Amplifier - Open Source (SMD)
---
Well here I am at the end of another summer holiday - with yet another thing I have built for which I have absolutely no plans at all!
I have over the years built several (several dozen I would expect!) discrete operational amplifiers. The challenge I set myself here was:
- Actually get some proper measurements of it's performance, now that I have some test gear that is up to the job.
- Make the device in something close to a DIL-8 package. (slight fail here but close enough)
- Discrete
- Use some of the multitude of parts I have collected of late.
- The ability to configure the op amp as a buffer or amplifier with non-inverting gain. This means adding feedback resistors and a DC block cap.
- The ability to include input RF filter (typical few hundred ohms series and 1nF across the input)
The schematic won't surprise anyone - over the years I have designed ridiculously complex and simple amplifiers, and have run out of enthusiasm for "oddball" things that only work when the wind is from the west, and you stand on your right foot:
SMD Opamp Schematic.pdf
I really wanted to squeeze this down to something minimal:
SMD OpAmp Top layer.pdf
Silk
SMP Opamp Silkscreen.pdf
And a composite:
A few things of note:
- I picked up some IMX1 and IMT2A devices. These are dual transistors packaged into a small (SMT6) package. I was attracted to these in particular for the input differential pair and the current mirror.
- I rather expect that people will express "views" on these, but the results below prove to me that whatever people think, they are definitely not a "bad" choice.
- An upside of using these is that they save a lot of space.
- A downside is that they are small, and make PCB manufacture in my shed a bit of a hassle!
Other things:
- I am not afraid of doing a double sided PCB, but in this case set myself the challenge of getting the whole thing into a single sided PCB.
- This does mean that all the bits went on one side, and that affected the final size, but I will live with that.
- The final PCB size is a touch over 1 inch square in the old money.
When I went to make one, I looked at the printout and laughed. I would never have been able to hold things down for drilling etc. So I made a panel of 4*4.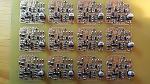 Making these was a bit fiddly, so I pulled out the microscope - it makes things a LOT easier...
So how did it go? As with measuring anything at very low levels of distortion, i.e from about -95dBc down, getting things set up right is extremely important. A wire clipped to the wrong spot, an earth connected where it shouldn't be, a level that is wrong... all these things end up being extremely important.
Then when you have made a measurement, you need to convince yourself it is real. Same problem!
So, some loopback test on the distortion measurement gear were in order:
At 1kHz, about 1Vp-p output.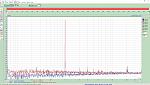 Then some more interesting measurements, made on three samples of the op amplifiers.
The above amplifier set up for A=2.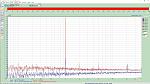 A second sample, set up for A=11. (Input attenuated)
A sweep of the A=11 amplifier from 20Hz to 20KHz
I am pretty happy with this little amplifier. At least in terms of a device knocked up and pretty much simply built.
I have not spent a lot of time fiddling with things like:
- How much miller capacitance is required.
- Phase margin
- Loading the thing down.
If you want to have a go, I am more than happy to share the altium files.
- - - - - - - - - - - - - - - - - - - - - - - - - - - - - - - - - - - - - - - -
Final thoughts:
- This is recognisably a "blameless". With a few things that make it an opamp rather than power amp:
- The output is an emitter follower operating in class A.
- I have set the output current to about 6mA. This strikes me as more than enough for any sane opamp duty. It could be increased, but you would really want to reconsider the "outut devices"
- I have included over current protection on the output. Some people swear this is bad, but the measurements speak for themselves. You will note there is a single protection transistor, this protects the output emitter follower in the case the output is shorted to ground, and disables drive the the VAS. For positive excursions, the use of a CCS looks after itself. In both cases the maximum dissipation will be within the output device ratings provided the supply rails are not more than about +/-16V or so.
- There is a diode normally "reverse" biased across the VAS. On clipping this is forward biased and turns on. This looks after the VAS transistor on negative clipping (by using a buffer between the input differential pair and the VAS, if things clip, there can be rather a lot of currrent dumped into the VAS) this diode forward biases as the VAS goes into saturation and diverts the differential pair current into the VAS collector.
- The layout of pins is close to that of a typical single opamp, though the spacing is far too large. The diversion from this is that I have stolen pin-1 as a ground pin, which is required if you want to be able to configure this PCB as a stand alone amplifier. This is a compromise I thought worth making, as I just don't know what I want to do with this yet.
Comments