And then there were two... Amps of 100 Transistors
Posted 28th May 2016 at 06:39 AM by
googlyone
---
And then there were two! A lot easier simply loading just the "output devices" and testing.
The second one initially looked super stable, but after I got it quite warm by running an almost clipping sinewave into a 4 Ohm load, I did find just a tough of oscillation on negative excursions.
The first amp had envelopes of oscillation at 3MHz. The frequency of the second amps oscillation was 13MHz.
In the end removing the capcitor between the bases of the output devices (what was it there for anyway?) tidied things up.
These Amplifiers of 100 Transistors seem to breed!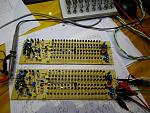 Comments
Posted 3rd June 2016 at 08:22 AM by

erik777

Posted 3rd June 2016 at 02:03 PM by

googlyone