I have no idea what you are referring to by a red label.
I guess it would be this;
See? It's red, vs green.

Totally different speaker.
Frame and magnet cover looks suspiciously similar, right down to the extra tab thingy opposite to the wire binding posts. OK, mine dont have the nice cloth accordion suspension; its paper all the way.
That makes sense. That Lii Audio only sells in China and some companies resell them on Aliexpress to foreign buyers. As far as I know there isn't any objective comparison about which company makes the better speakers. Your company does seem to be the "original" Lii Audio but that doesn't mean they are the best although they may well be.
I suspect this might be their store on Aliexpress (Lii Audio Flagship Store), I don't think it has been around to long from what I can tell so it might be in response to what has been going on recently.
https://www.aliexpress.com/item/100...tore_pc_home.smartJustForYou_6001944899572.12
I sent emails to a seller of Lii Audio on AliBaba and to Decware (who sells the Lii Song version) asking them to explain the differences between the versions of the Fast 15 that they sell vs. the other. Former one with holes that look like they were done with an office paper hole puncher and latter more of the whizzer you'd expect. No reply from either and it's been a while. Would be great to have more detail-as is it's hard to commit to a project using these.
I have a pair of the green label Lii Song F-15s that I like a lot! They were purchased earlier this year from the Lii-audio.com web site and they arrived in less than 2 weeks. Mine are mounted open baffle and took a week or two of playing to get "on song". They have a presence that I have not heard from box speakers. They banished my KEF LS-50s from the main listening room.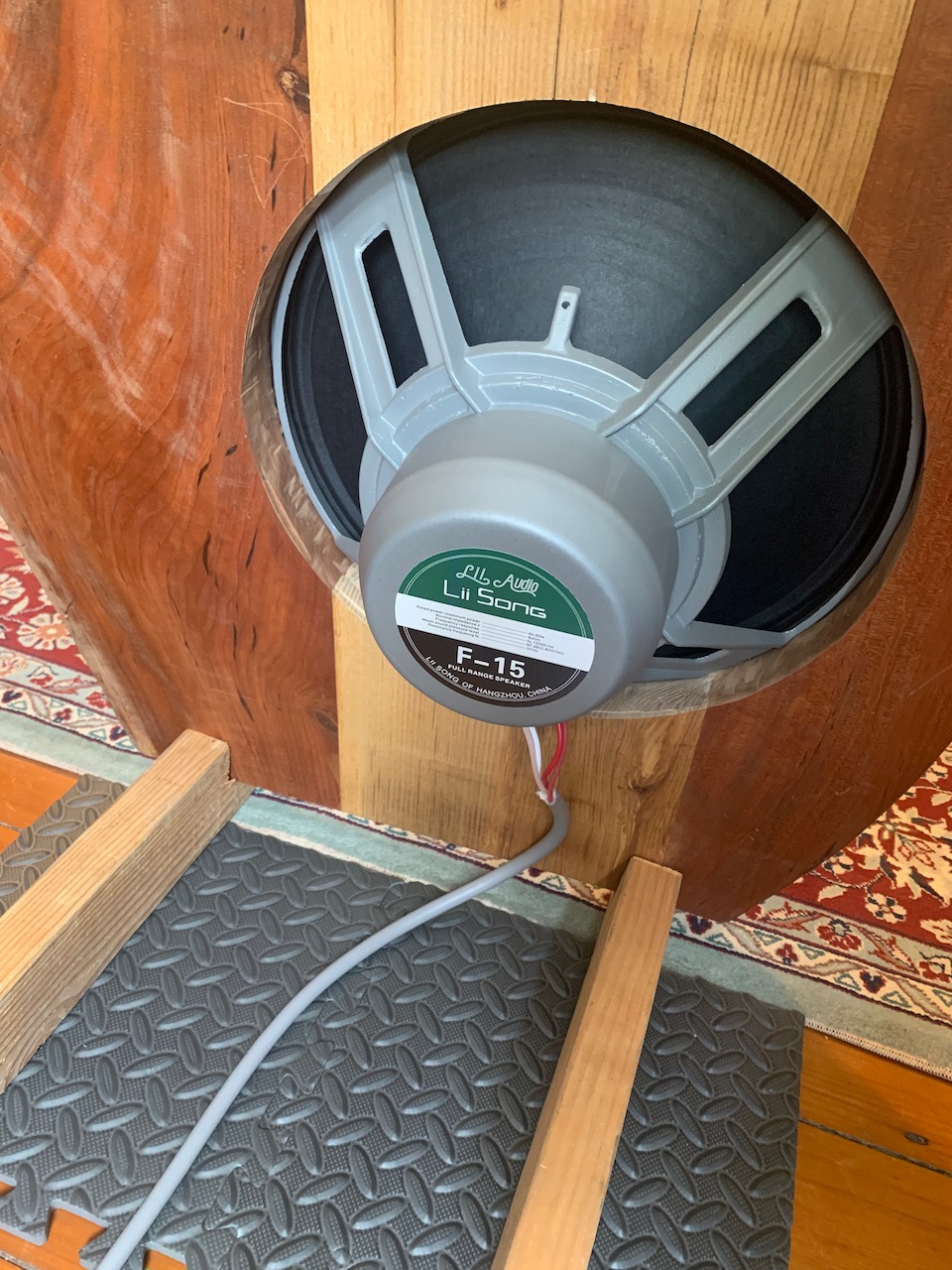 @renaudagnes
, wondering if you have any way to test the Lii Audio version of the Fast 15 for frequency response. You'd need an Omnimic or similar system and then to set it up outside, I think, but I haven't done it before myself. The plot on the Lii Song site of their version looks a bit suspect, as has been brought up in other forums. However, I read an interesting Darko post this morning (
https://darko.audio/2023/04/think-made-in-china-is-a-turn-off-think-again/
) that got me thinking about reflexive prejudice toward Chinese hi-fi products. Also, just because a driver looks wacky doesn't mean it sounds bad, and
@norman bates
driver, even though it has an odd appearance, may sound better. Hoping to get some comparison between these two somehow so I can decide. My priority is the highs and mids since I have a distributed bass array that has the bottom end, and I was leaning toward the Fast 15 instead of the F-15 because I don't need the extra bass potential and want more clarity on the top end. Having the plots of each (and being able to trust them) and maybe having a comparison between the two Fast 15's if anybody has heard both would be great!
Related to bass, another mystery I need to solve is driver height within the baffle. Although it would be good, I think, to take advantage of the proximity effect to set the driver close to the ground and tilt it up as they do with the Decware Zen Masters, this would put these fragile drivers at the mercy of my dogs and their wagging tails which, inevitably because of the location near the front door, pass by my speakers frequently. Not a problem for my Fritz Rev7SEs on stands that raise them out of harm's way, but these drivers look much more delicate. How high can I mount them before the low end falls apart too much? Any thoughts would be appreciated.

Any thoughts would be appreciated.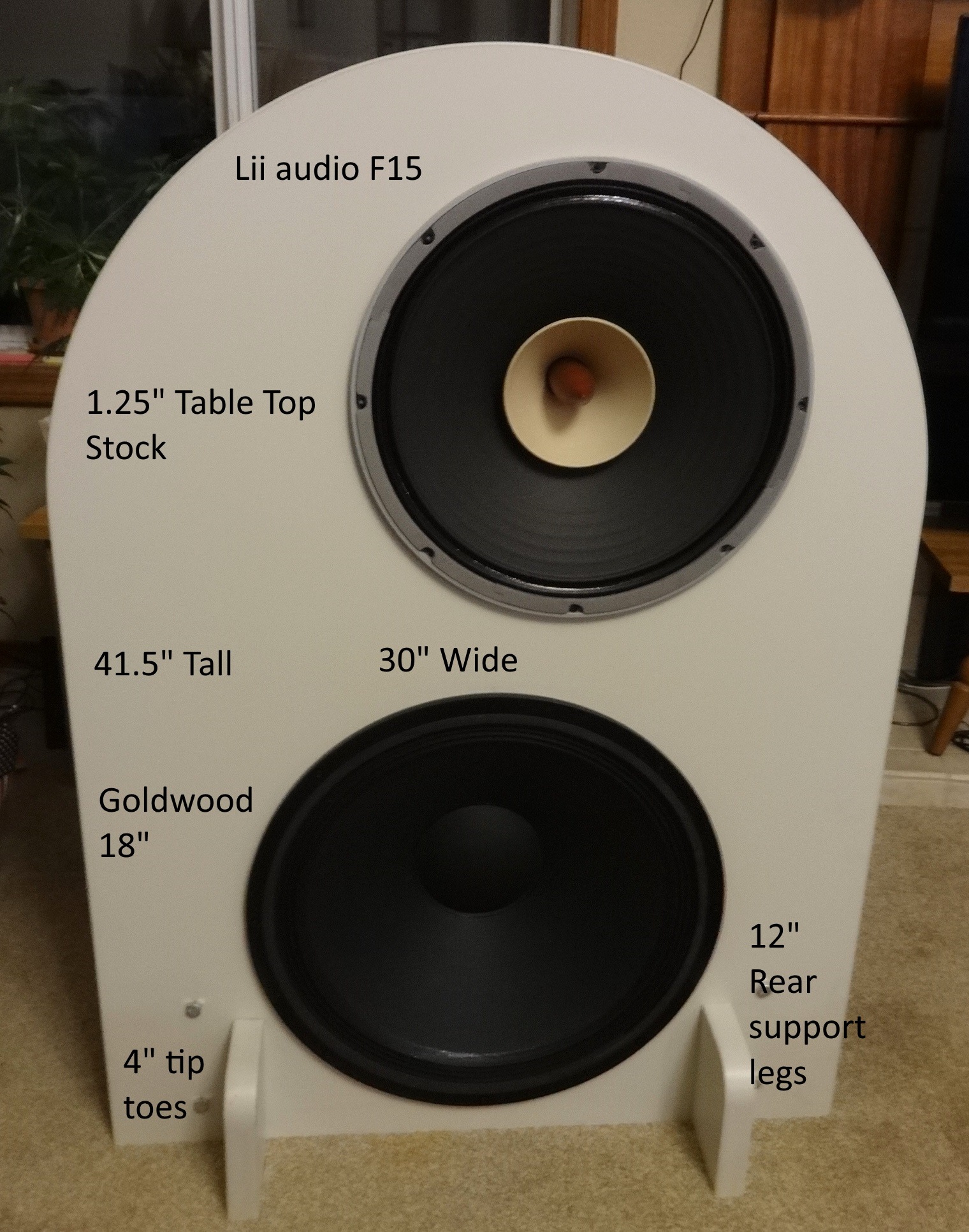 I made mine a two-way. DSP cross is wherever I want it; pretty low maybe 120. I have metal grilles over both, painted to match the cream color.
New Lii-Audio "Fast-15" - anyone hear these yet ?