Hello,
here I want to describe how I do make a sandwich cone with aluminium foil.
This can be done with normal household aluminium foil and normal glue you can buy everywhere as "universal glue".
You need a scissor and the materials like aluminium foil, glue and the loudspeaker.
The foil can be applied easily to paper cones / diaphragms.
You can use thin aluminium foil from the gold smith and the glue they sell (in german "Anlegemilch") for making sandwich cones with polypropylene loudspeaker cones as here normal glue will not work. Also for delicate whizzer cones the thin aluminium foil from the goldsmith will be a better choice.
More information on this concerning loudspeaker history and theory in this thread and my post:
https://www.diyaudio.com/community/...cone-speaker-cone-profile.402470/post-7432593
The backside of the cone is more difficult to access - but you can do it DIY.
You can cover the complete backside or only the area you are able to access.
With more experience you can reach all places - also on the back side but it needs some practice.
Here you see a Beyma 8 ag/n driver.
Here you can see a more delicate work with thin foil from the goldsmith.
In german this metal foil is call "Schlagmetall" - means "beaten metal".
Correctly they call it "beaten aluminium" - in german "Schlagaluminium".
The driver has been tweaked / tuned with a double magnet and a little paper box filled with dry sand on its back working against resonances of the driver.
The dustcap was ventilated with a hot soldering iron.
Here you can see the work with this thin aluminium foil on a tweeter in a PA loudspeaker - its worth to watch the complete thread written by me to see how I did the sandwich Diy work on a big driver.
https://www.diyaudio.com/community/threads/tuning-tweaking-of-bp-115-a.375464/page-2#post-7403173
Here some loudspeakers I did this aluminium tweaking - tuning which can be done by yourself.
You see: 18 inch bass driver with aluminium foil for sauna construction - approximately 3x thicker than household aluminium foil.
10cm car hifi driver
Saba Greencones with aluminized cones
A round loudspeaker sphere with alu foiled drivers.
Measurements show that the frequency response does change but not so much as expected.
The biggest change concerns stability of the cone and therefore impulse response becomes better and resonances are tamed.
This can be easily tested in an A / B listening test tweaking first only one driver and then make a comparison with the balance knob on your amplifier and a mono recording changing fastly from A to B and back.
In my eyes aluminizing a cone is the most effective single tweak you can do DIY on a simple paper cone driver.
As the paper cone gives you damping this aluminium reduces resonances and makes the driver sound like much more expensive sandwich cones.
Here you see Fostex FE 208 sigma with aluminiumized dustcap
You can see on a small fullrange driver a copper / faraday ring on the pole piece - this reduces distortion and makes the high frequencies louder.
Sometimes there was the question if a sandwich cone is really necessary.

If you cover only one side - the front side - of a loudspeaker cone the sound becomes much better. I would guess you get already 80% of the possible sound.

With the second layer on the back side - as sandwich technology - the loudspeaker gets the maximum profit out of this tweak. This second layer is mostly audible in the bass.

Example of a classical fullrange for tube radios. Got an extra double magnet.
Last edited:
Putting household aluminium foil on Fane Sovereign 15-300tc aka FC-152F01-TC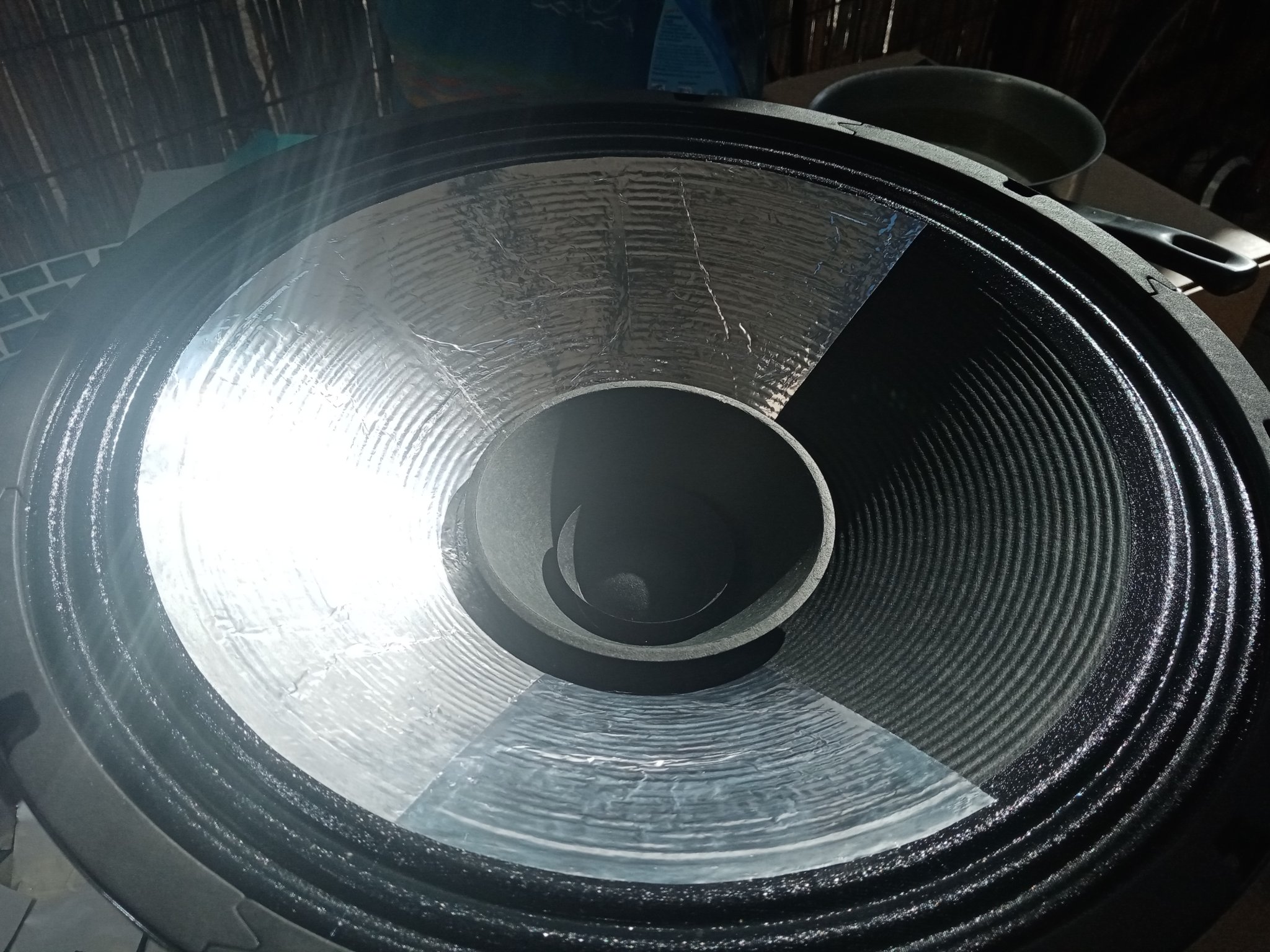 Last edited:
Now two Fane fullrange drivers are covered with metal foil. Whizzer cones will be done, too.
And the backside.
First pics from the back side.
Ordered same size magnet for compensating efficiency loss due to more mass.
Some asked me if gold foil works.
Never tried it as it is technically worse than alu.

Bronze foil could be the choice and I tried it. Similar look to gold.

Never tried titan foil. Did not find thin enough quality and it is more difficult to work with.

Barlow used duraluminium sheets of thick quality. Works only for straight comes. Not for Navi ones.

I like the space age look of aluminum.
How to make a loudspeaker sandwich cone