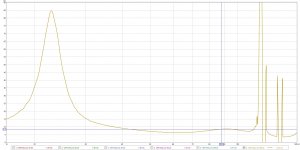 I have been thinking about and simulating variations of this tapped pipe for a while now. Today the stars aligned with the moon, my morning tea and my morning mood and access to the car, so I loaded Cypress Hill into my car stereo and went and bought some 22 mm particle board for a cheap and easy to build prototype based on my B&C 12PS100.
I hope this tapped pipe will have it all. Reasonably high efficiency, a great midbass punch and attack, reasonably small footprint, cheap and easy to build and a great extension downwards into the abyss. These desirable properties seldom walk hand in hand, but I hope a healthy dose of positive acoustic feedback will create a lot of synergistic effects enabling the presence of all those desirable properties at once.
The name TP12LL34 comes from "tapped pipe Long L34". "Duality" comes from the fact that the great extension downwards does not stand in opposition to a great midbass. Positive feedback is the pressure that the last long section (L34 in Hornresp lingo) exerts on the cone throughout the midbass.