I've been intrigued by the Synergy concept for some years but have some resistance against using compression drivers. The very high sensitivity makes them noisy with my amplifiers. But primarily I've gotten really nice results with the ScanSpeak R2604 in a waveguide which makes me want to try it.
A first sketch:
Inside. The woofers are Faital Pro 8FE200.
Outside view.
The size is about 50 x 35 x 30 cm (W x H x D, 20" x 13" x 12"), i.e. a quite compact synergy.
These are the horisontal polars of the R2604 in an early waveguide (210x130x85 mm):
[IMGDEAD]https://i.imgur.com/NPdV543.jpg[/IMGDEAD]
Measured waveguide (the brown one).
On axis, with phase.
On axis with PEQ and LT.
On axis with PEQ and LT.
Distortion at 85 dB with 1.2 kHz bessel (for Harsch XO).
Distortion at 94 dB with 1.2 kHz bessel (for Harsch XO).The R2604 should be better loaded in the bottom end with a 50 cm wide waveguide (synergy horn) and that should reduce the distortion to enable a 1.2 kHz crossover and 95 dB maximum level.
The plan is to 3D-print the first part of the horn (throat) and then use wood for the last part.
I'm quite new to Hornresp, but have tried a little: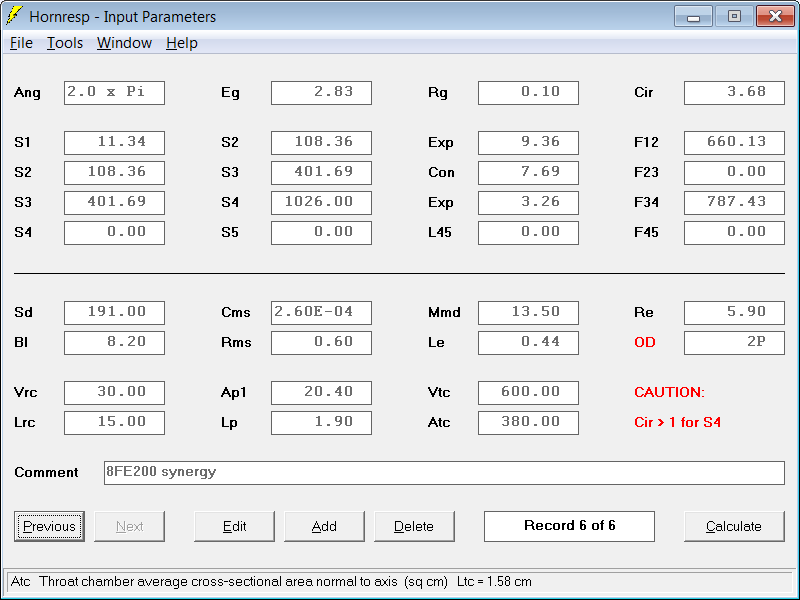 Throat velocity (separate model) is 9 m/s at 2.83 V and diaphragm displacement is 1 mm. I've used 2 x 1" holes for each woofer in 19 mm MDF using minimal volume filler (measured the Vtc for the woofers at 350 ml).
The plan is also to have a leaky supercardioid setup for the woofers to stretch the directivity of the speaker down to below 200 Hz.
I'll post 3D-models later to show what I plan to print
/Anton
Last edited: