This is an outshoot from the LuFo amp described in the Pass Forum
here
. Someone asked for something really simple and so I removed the upper cascode and dropped the voltage and bias current. What happens when you drop a transistor from a 2 transistor amp? You get perhaps the simplest amp in the world. Paired with a choke load (and I am using inexpensive microwave oven transformers) you can get some amazing sound. The PSU requires low noise and slow ramp up in order to prevent the SMPS from going into hiccup mode. So you do need a
capacitance multiplier
unless you are using a car battery as your power source.
Here is the circuit:
The predicted performance for 15mW into 32ohm headphones is 0.0085% THD and with a superb SE Class A harmonic profile.
The amp was very simple and can be dead bugged on the 3 pins of LU1014D TO247 IMS aluminum PCB adapter board (Gerbers and PCBs available
here
).
Here is the LU1014D mounted on the IMS adapter board which makes it easy to use on a normal heatsink:
In practice, there is something off with the model of the LU1014D in LTSpice and I needed to use a 2.5ohm resistor below the MOT to get the bias current low enough (1.5A). The circuit has been verified by myself and Jwjarch so far. The sound IMO, is very dynamic, natural, organic and transparent. Like nothing there but the muscle. It is very quiet - cannot tell it's on. If you use the Cap Mx with a slow 20 second ramp up, there is no turn on pop sound either.
Proof of concept P2P build: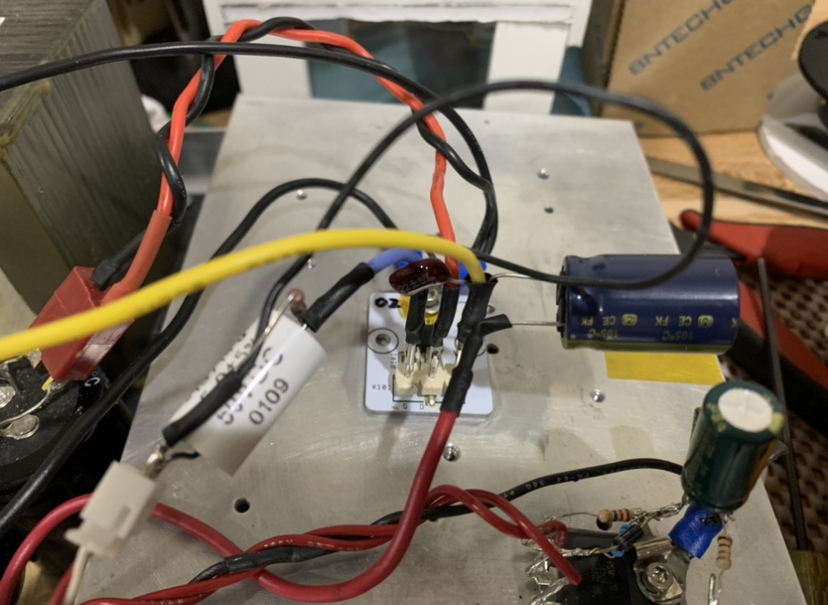 One channel up and running: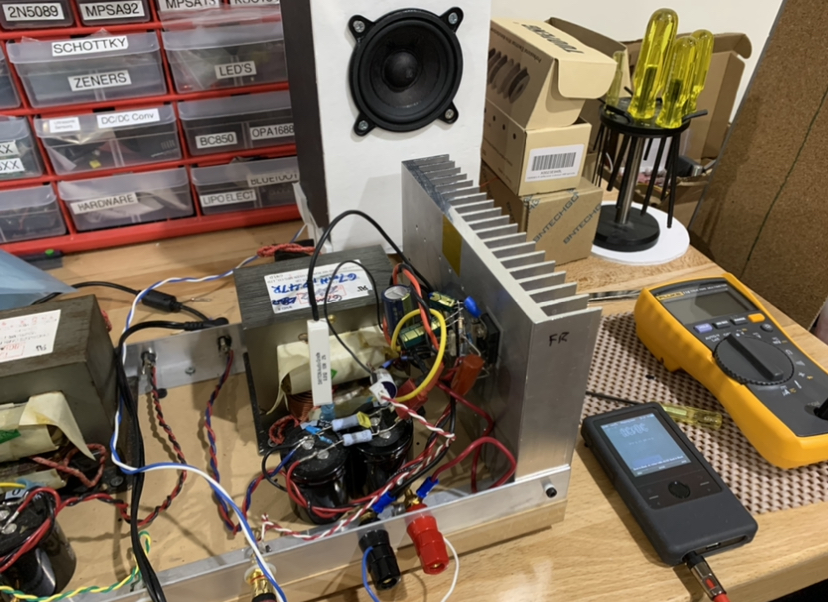 And btw, it will power an 8ohm speaker (as shown in photo) to 1W with respectable distortion.
I was able to use the output of my DAP source without a preamp and got the headphones as loud as I would care to ever listen to. But if you need more output, any decent preamp should work.
If you want to have higher output voltage swing - just build the LuFo but with a single cascode MOSFET and keep bias current circa 1.5A. That will let you get up to 25Vpp swing from a 15v PSU.
For reference, here is what a full size LuFo looks like with a linear cap Mx PSU and a big enough heatsink to make 40w into 8ohms with a 28v rail. Still using a single LU1014D JFET to make the music.
Measurements on full size LuFo show 0.01% THD for 2.83Vrms into 10ohms with a superb harmonic profile:
A great preamp for the full size LuFo is the OPA454 that I recently made:
Built in +/-35v PSU on the sub mezzanine: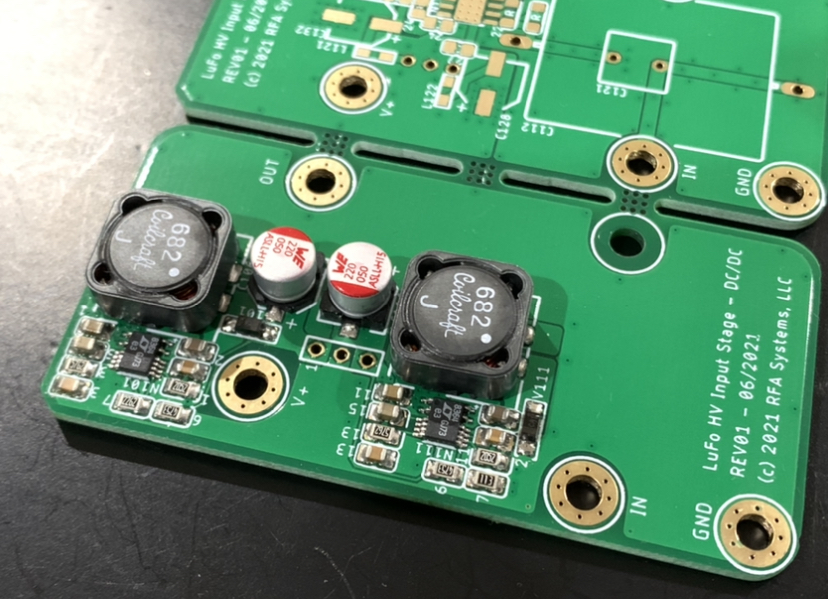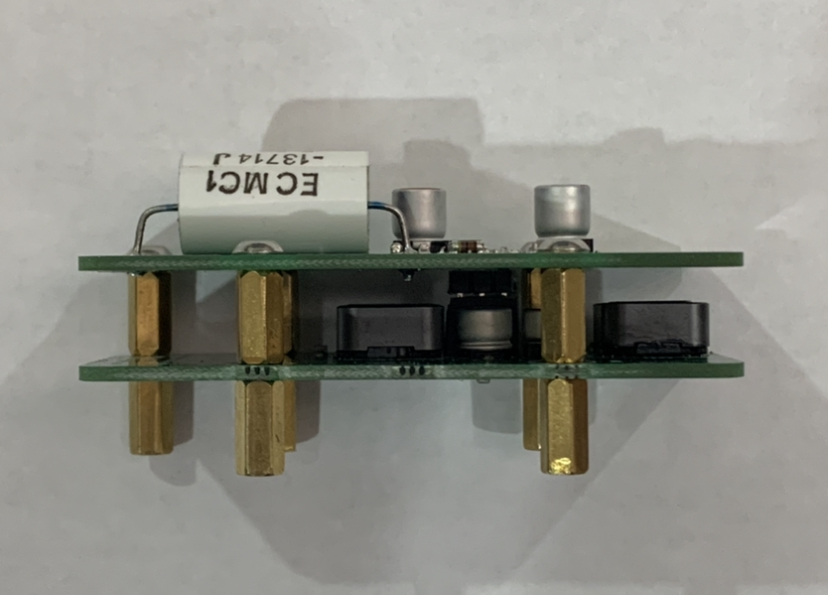 Of course, for HPA duties, only +/-12v would be required for an opamp stage.
For your reference, I used this cap Mx design by Juma. Use a 1000uF cap instead of the 220uF to get a very slow ramp up to prevent SMPS hiccup mode from happening. I also used a TO247 N channel MOSFET like IRP240 to handle more current easily.
Edit Oct 28, 2021: the manufacturing data and
Gerber files are located here
.
The LuFoLite was demonstrated to work well with a 12v 20w halogen lightbulb as the resistor R3 in the schematic above and cam be used with a 24v SMPS for 1.63A bias current and 20v rail after the cap multiplier.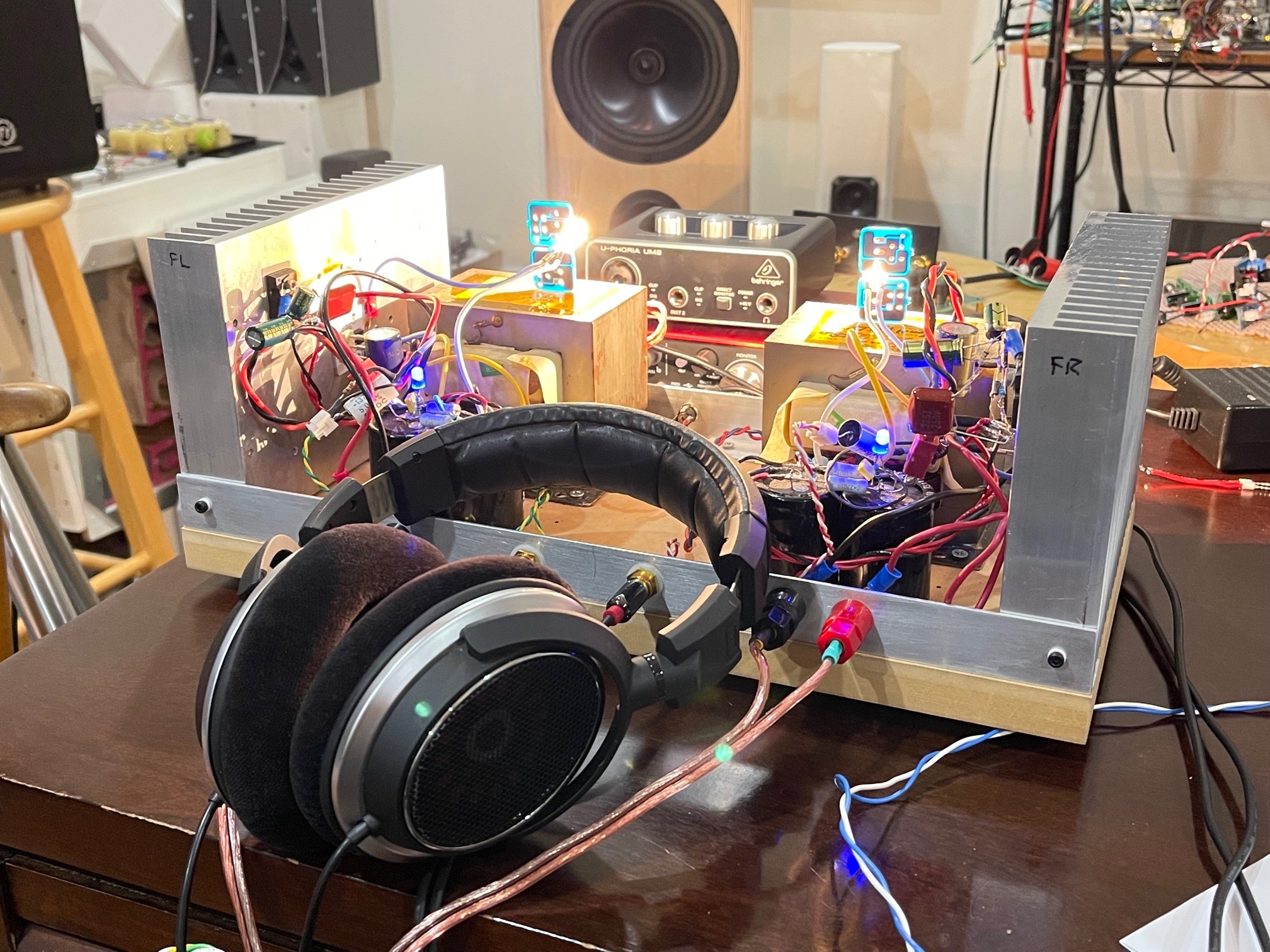 Last edited: