Hi everyone,
I'm facing a problem with a new rectifier tube in my 300B SET amp.
The amp is a Raphaelite CSK30 kit I completed some times ago that works wonders with the actual tubes (5Z3P rectifier, WY2p regulators, 6SJ7gt GE drivers and Shuguang 300B/98 Power tubes).
I ordered a Full Music 274b/n mesh plate rectifier and the beast is beautiful with it's visible filaments.
I put the 274b tube in (it's listed as directly compatible with the amp) and turned on the amp:
-at first, no problem, the filaments started glowing normally, as well as the other tubes, no vibrations or strange noises. Playing some music, no problem, great sound......then.....
-after nearly 1min, one of the filaments (not the other) began to glow brighter and brighter
I switched the amp off and waited for it to cool down.
-I checked everything, from solder joints to unloaded voltage from the transformer and all was normal.
-I tried a second time, this time the tube seemed to behave normally, but after more than 4 minutes, the same filament began to go brighter again, I tried to take a picture of it before it became white, but the fuse blown before I got the time.
So the delay before the filament goes wild is inconsistent.
-I had the time to notice a white dot on the filament.
-The tube is not dead, but I don't want to risk trying again.
I think it's a defective tube, but I may be wrong,
What do you think of it?
Here's a picture of the tube before it begins to go nuts (it's the rear filament, lined with pin 2 and 8)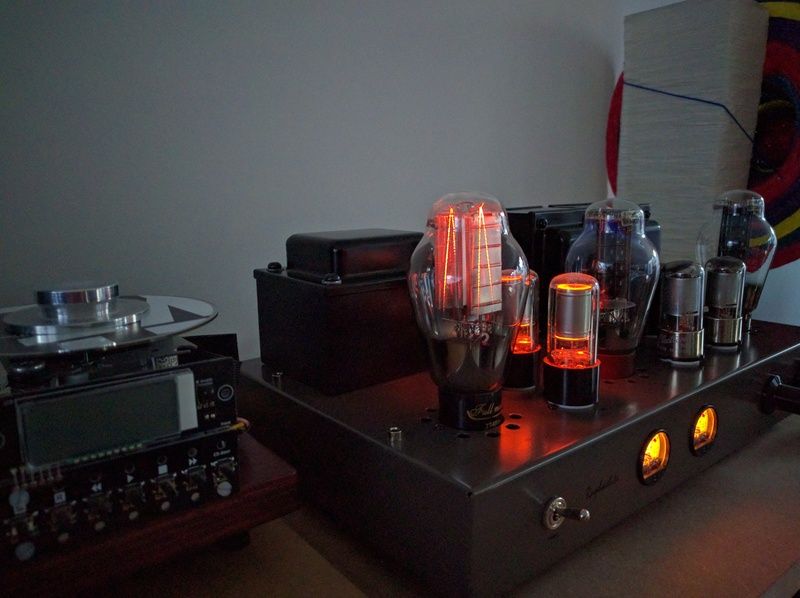 Here's the shematic of the amp