I have developed a new 5.25in 2 way bookshelf speaker to go with the Vera-Link TWS Bluetooth amp. It's a vented 2 way bass reflex design superbly finished in rosewood veneer and equipped with a custom voiced crossover using quality components (film caps and heavy inductors, and premium wire wound resistors). The woofer is a treated paper cone with a large motor and the tweeter is a 25mm soft dome with low distortion and a smooth silky response. The voicing is similar to my other speakers but the crossover is lower at 1500kHz and asymmetric filter slopes with all positive phase for realistic transients. I would say that the speakers have a punchy bass and a delightfully fun and musical sound signature. I have put several of my playlists through them and it all sounds great.
Speaker Dimensions: 17cm W x 24cm D x 30cm H
This was early crossover development with P2P Wago connectors: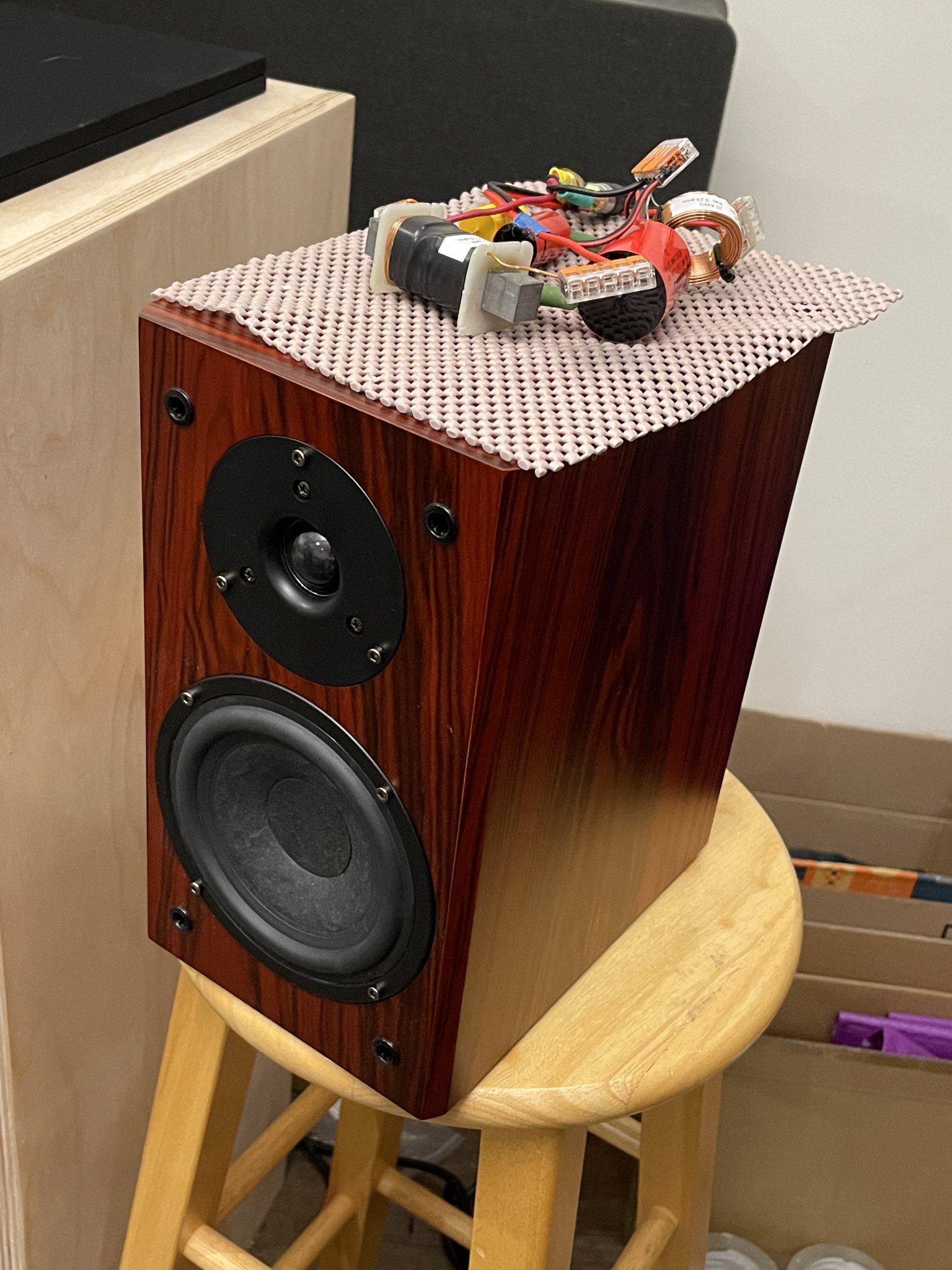 I'm going with the all film cap crossover on the right. The one with the bipolar cap on left was just a sample for grins.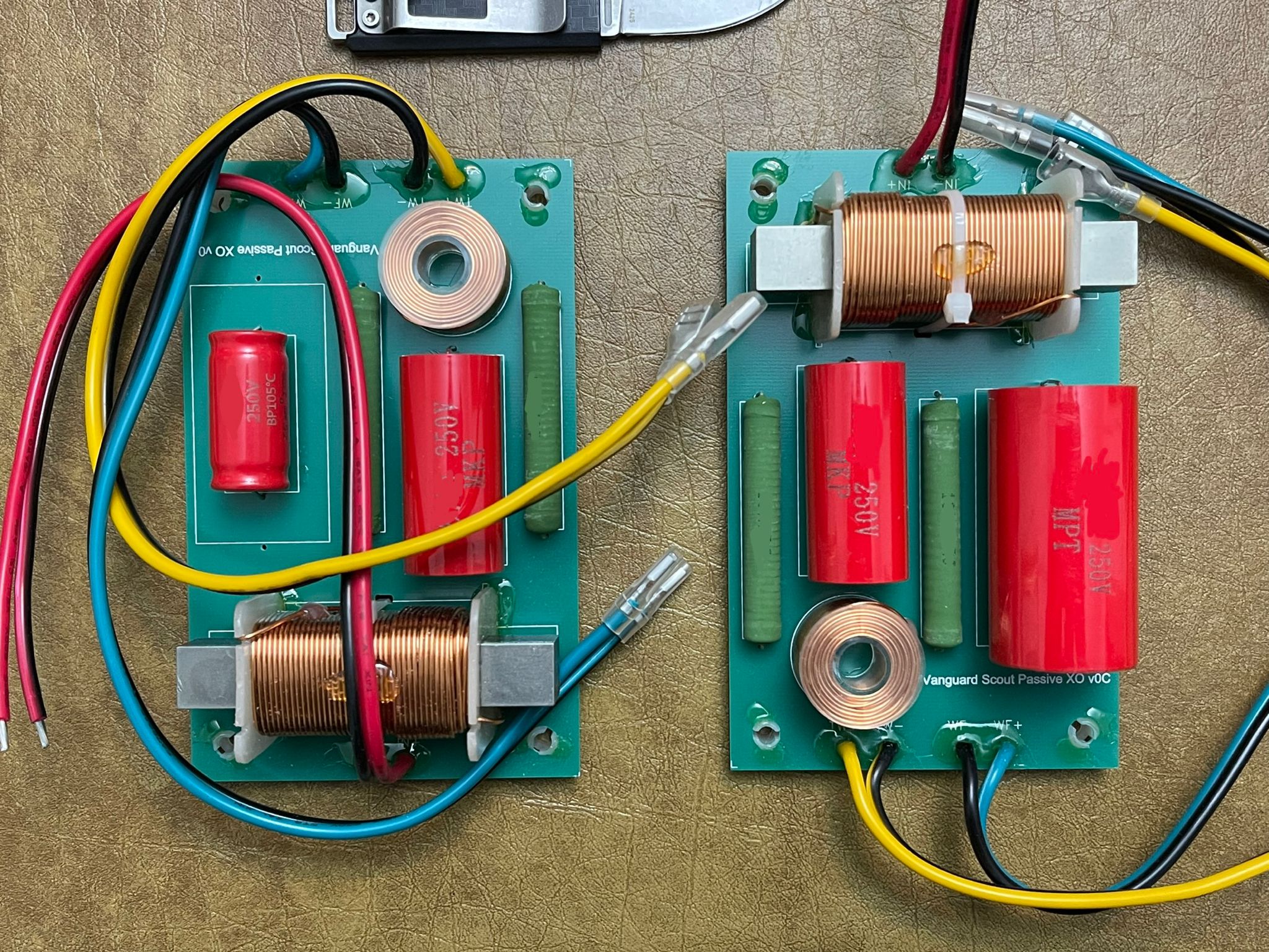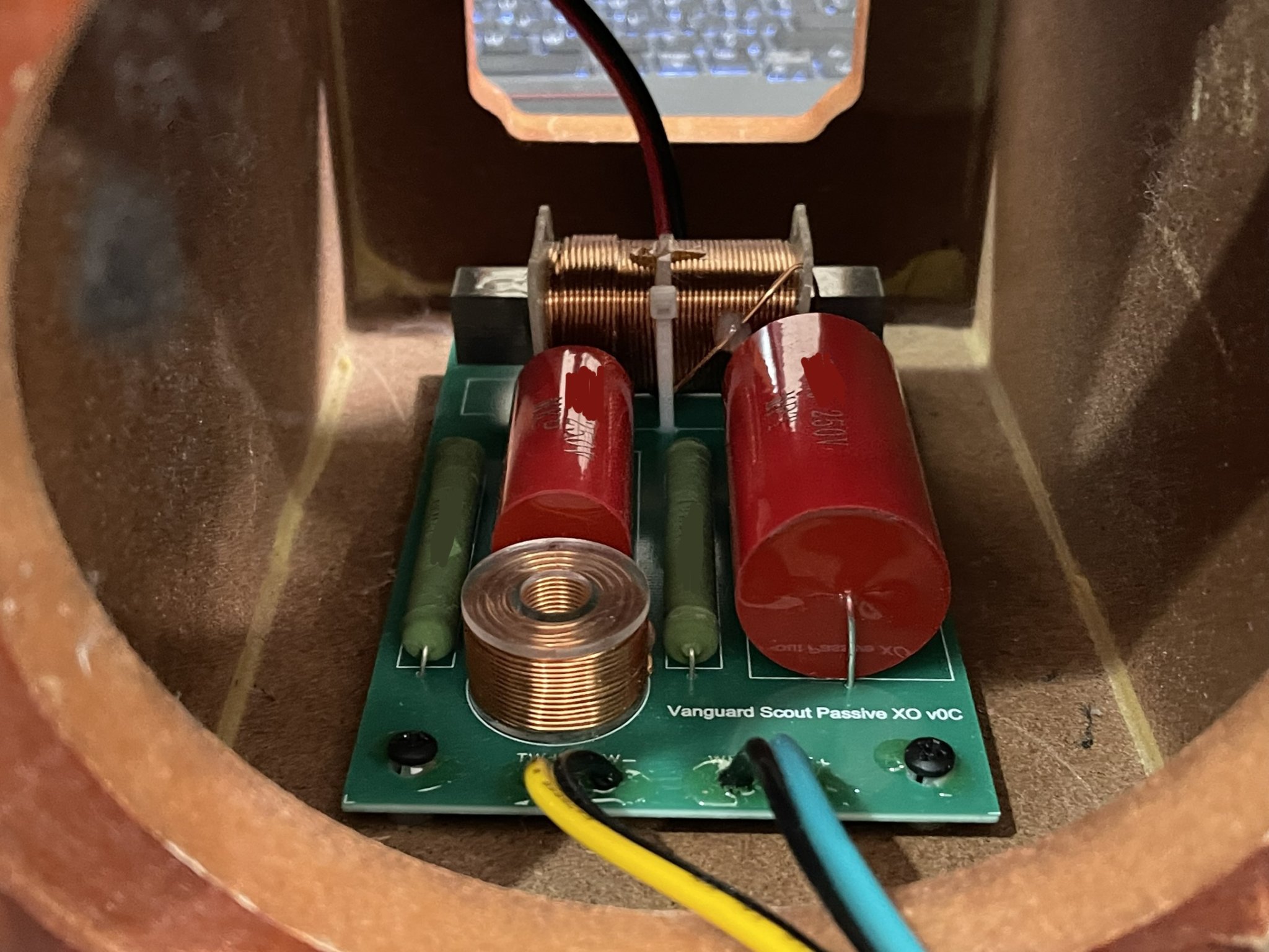 Here is the assembled speaker with the Vera-Link amps installed: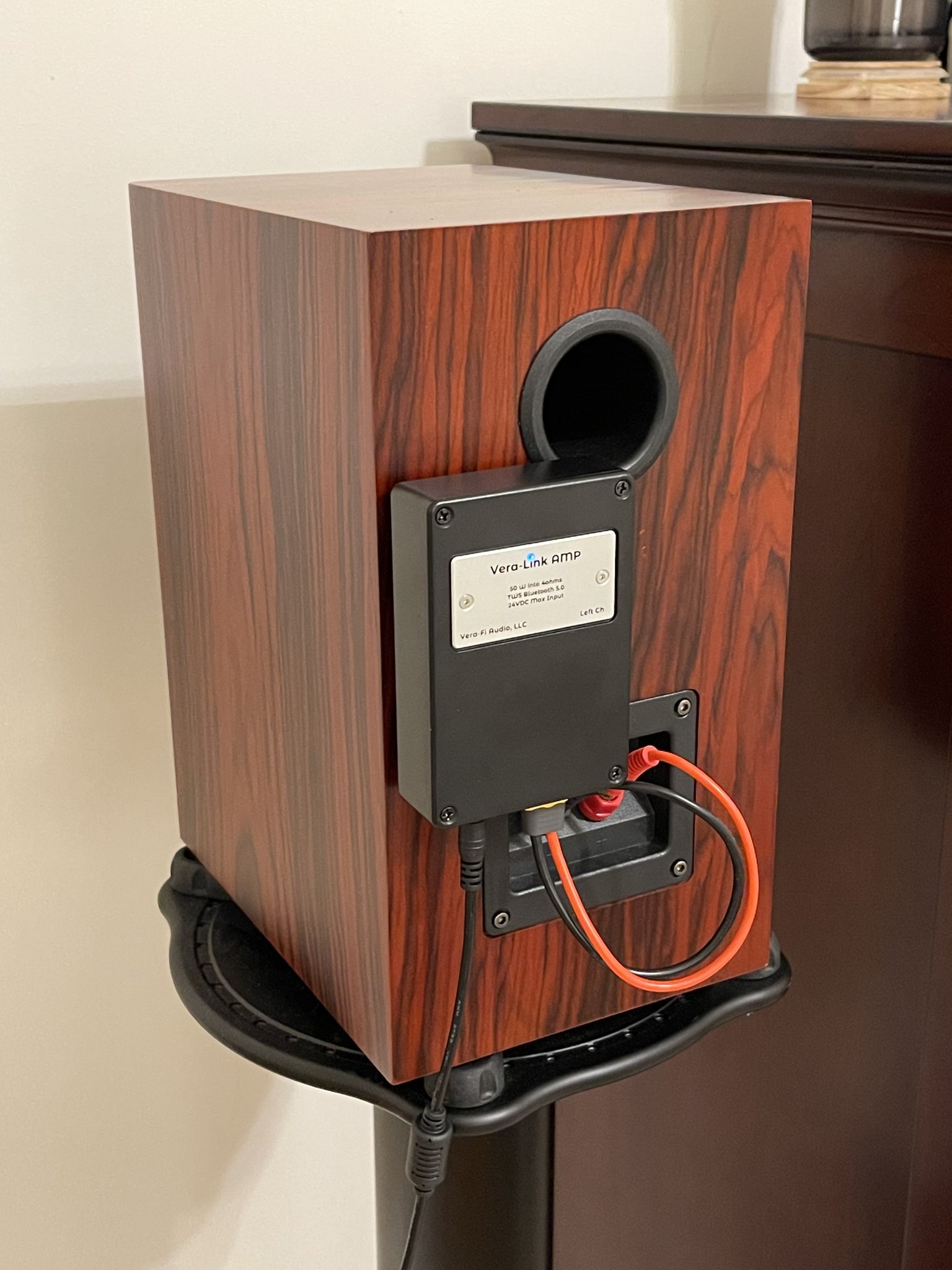 Setup in my bedroom (amp on dresser not being used):
The Vanguard Scout is a super sounding and beautiful looking speaker and will be offered at only $299 a pair. But if you buy it with the Vera-Link TWS Bluetooth amps together, the introductory bundle price is only $449.
Last edited:
You won't be able to find another speaker that sounds this nice and looks this good anywhere else. In fact, you won't be able to DIY as nice of a speaker for this price. That's the power of mass production with great design and quality components.
One good thing is that it looks great and wives won't complain that it looks DIY or fugly.
Here are some measurements of the Vanguard Scout speaker response showing the crossover response curves. Crossover is my own asymmetric slope design employing 2 inductors, 2 capacitors, and 2 resistors. Crossover frequency is at 1700Hz with both drivers having absolute positive polarity for nice transients and percussion realism. Blue is predicted system response and orange is actual measurement overlay:
Here is the predicted impedance response, minimum is about 6.5ohms with no crazy peaks or phase swings - easy to drive by most amps:
Here is the measured harmonic distortion spectrum for orders up to 9th harmonic and THD for 2.0Vrms at 0.5m. Distortion is very low and does not have anomalous resonances. There is a 670Hz bump that might be a woofer basket resonance but it is quite low. Nominal distortion at 1khz is about 0.19% THD:
Bass extension, as measured with speaker about 4 ft away from back wall and on 40in high stand, is about 62Hz (-6dB). In all, a very nice performance for this price point - and perhaps even for a price point at 4x more.
Last edited:
These with the Vera amps would make a nice set of speakers in the kitchen. We will place them against the wall probably which will fill in some bass. If it sounds unnatural, we will place them on the counter so they have nothing behind them. Almost near-field, should work extremely well.
Dimensions: 17cm W x 24cm D x 30cm H

I am told the combo will be live on the website later today. $450 for the Scouts and the Vera-Link Bluetooth amp as a combo. If you want to order sooner, PM me your email and I'll have our sales department reach out to you.

Thanks
Last edited: