My first Pass project - B1 Korg Nutube.
I changed few things in the original project.
1. Star grounding - all "-" cables are going to one point.
2. Better caps in crucial positions - Mundorf Evo Silver Gold Oil
3. All other caps are Nichicon Muse File Gold, caps in ps are doubled (2200 instead of 1000uF)
4. All cables are from Mogami 2549.
5. Blue LED instead of green one
I am VERY happy with the sound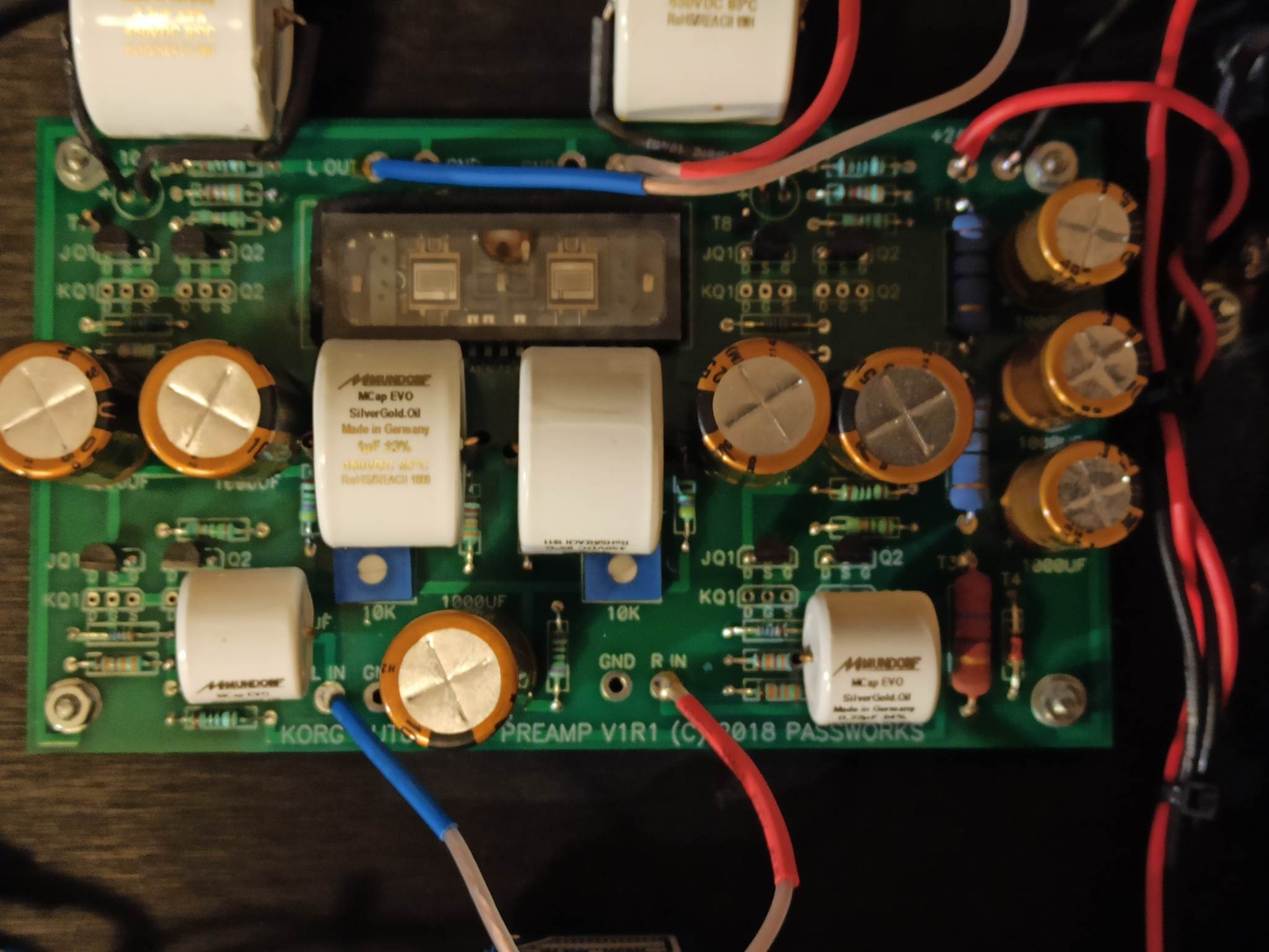 The sun is shining on my audio empire. Here is my latest Pass contraption: F5 updated with 2SK1530 / 2SJ201 output fets. Underneath is my recently completed outboard dual mono power supply.
Outboard Power Supply thread
(details in posts 65 and 76)
Though I slightly miss the tailored sound of my OB three way DSP setup, this is pretty fabulous. Back to one amp and two channels with analog crossovers. I'm reminded why I liked the F5 so much. This amp does detail and clarity in spades. I'm currently using my E30 DAC in preamp mode to use its volume control, but I think just a little bit of sweetness added with my ACP+ would be perfect here. It's being used elsewhere with my TDV, but there are a couple preamp projects on the horizon (WBA2018 and Iron Pre).
Never ending fun.
ACA amp with 400VA 20 volt power transformer. Got the heat sink at an electronics surplus store for $10. All four power transistors are mounted on it and it just gets a bit warm. Don't have any idea what it was originally used for. Maybe a massive power supply? Yes the build is ugly. Makes me think of a messed up submarine. But will be a good platform for other Pass amps. Earlier built an F5 which sounds quite different from this.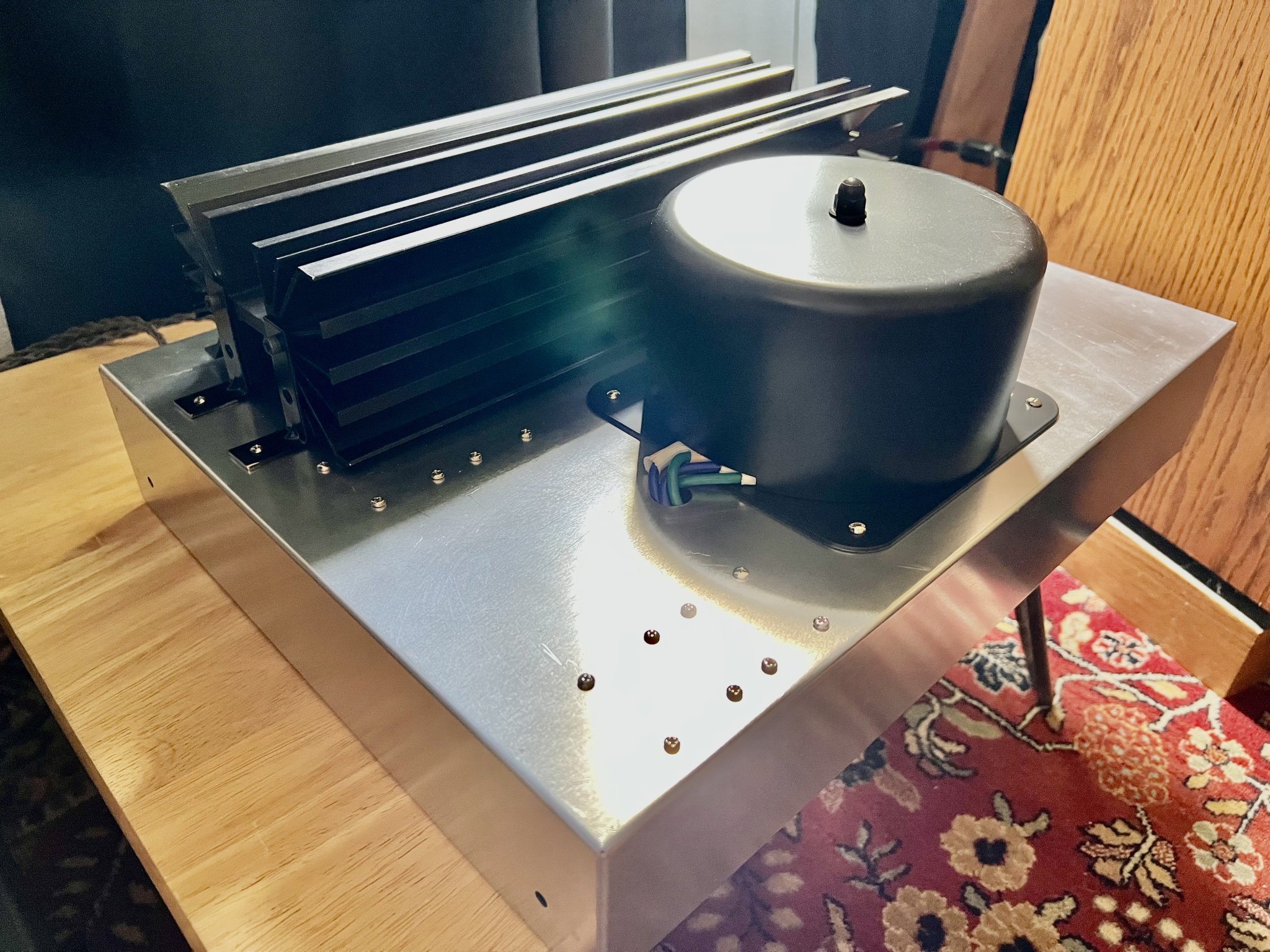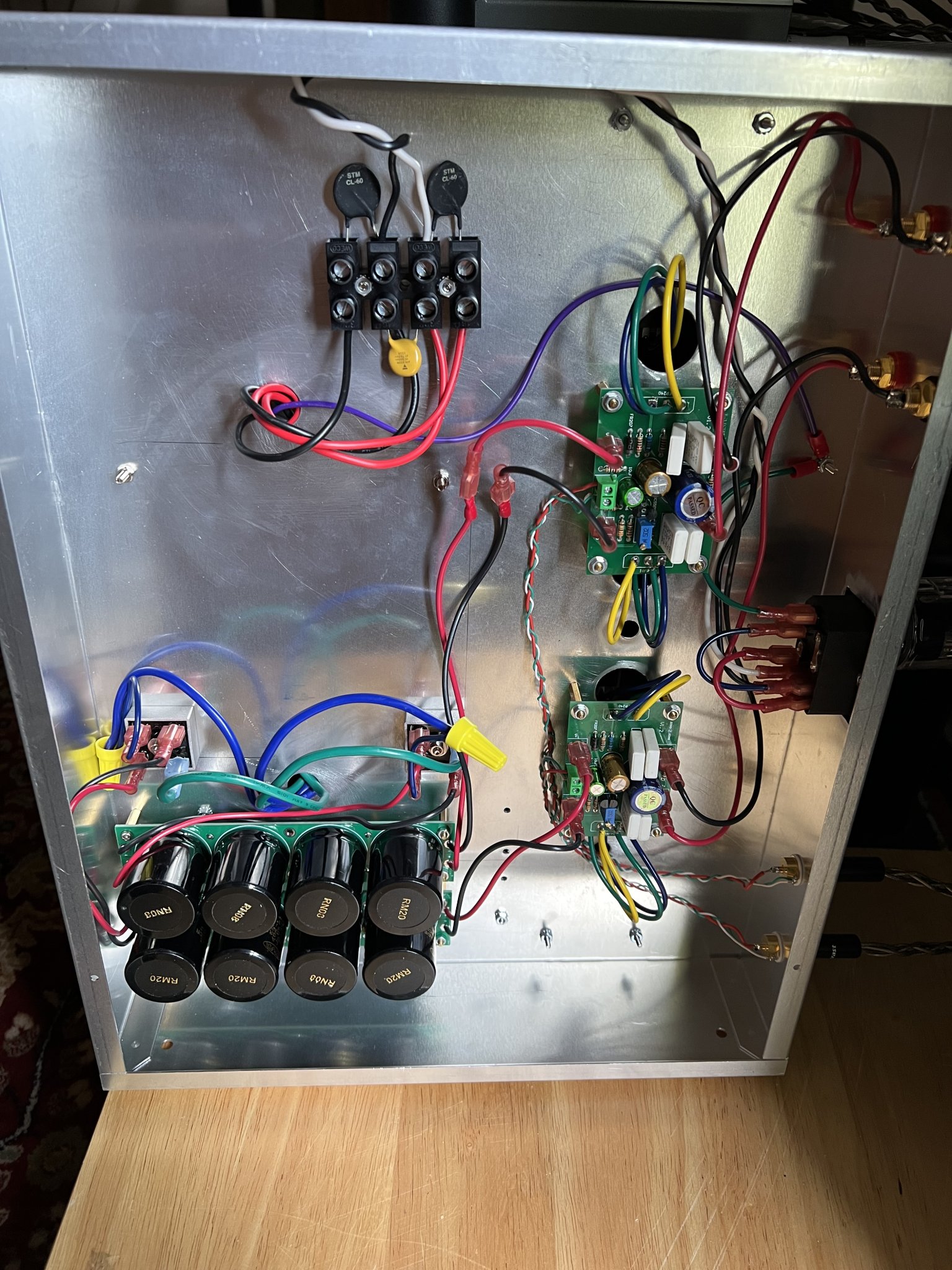 lean those CL60 away from case plate

when routing wires through holes in sheet metal, use rubber grommets or add heatshrink to wire loom
Don't have any grommets so I deburred and sanded down the edges. I like the heatshrink suggestion. Why the angle of the thermistors?

thermistors - mains voltage close to case

just a matter of safety and good practice

you can always make your own grommets; use proper length of isolation of some fat wire - just make a longitudinal cut, so practically you have a plastic channel, just slip it inside of hole edge
in most cases you'll not even need blob of neoprene glue to keep it in place
Last edited:
I didn't build my amplifiers, I bought them from a member here. I new to the hobby and I was a little nervous about building anything. However I did eventually get over my nervousness and built the 6-24 crossover and the acp+. They are still partially naked for now, but I have a chassis that I have to modify a bit to make things fit. Here are some pics.
After finishing the J2 clone by EUVL, I bought 3 matched pairs of SemiSouth SJEP120R100/063. I used the SJEP120R100's to build an ALEPH J with SemiSouth devices. I completed the standard ALEPH J in 2018, and it has been my favorite amp ever since. I love the fact that it uses XLR and RCA inputs and is so flexible with different preamps. I wanted to be able to use the standard ALEPH J DIYStore PCB's for both versions and be able to swap the boards in and out. I used sockets on the PCB for input and output wiring, the power supply has screw connectors, so I hard wired the power wires to the PCB.

I used codyt's recipe for bias, ALEPH resistor etc. It's playing music now, looking forward to compare the ALEPH J and the J2 clone using XLR input and RCA inputs.
One more F4 up and running!

Giant thnx to Papa for sharing his wizardry and to everyone at diyAudio for making it real.

This is the best power-amp I have ever heard. EVER!
Wires going to the led needs to have right angle
Pictures of your diy Pass amplifier