I've been working on a waveguide project where I would develop high performance waveguides for some popular tweeters, and than share the files for anyone to print or CNC as they are able. The discussion started here:
3D printed waveguides - Techtalk Speaker Building, Audio, Video Discussion Forum
for more details. The short summary is starting with the SB26ADC and a 5" waveguide, I varied flare radius, phase shields, depths, etc. I've started to find some best practices (at least with this dome/horn combo) and all future guides will have elliptical mouths, and with and without phase shields. I then skipped to 8" designs to verify those best practices scale, so anything in between should be trivial to design and still have the expected performance. Tweeters that I'm currently designing for are: SBA SB26ADC, SBA SB19ST, Satori TW29RN, and Transducer Labs N26C-A.
To get some frame of reference, here measurements of the Kef Reference 5 prototype, and Revel Concerta2 (which I suspect also uses the SB26ADC):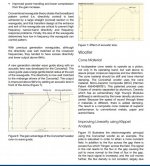 Here is my "C" waveguide with SB26ADC, with and without phase shield:
Quite good results I think, better than Revel achieved with the same tweeter! Anyway, the reason I am posting now though this project is still in its infancy, is I've connected with a couple gentleman with the ability to model waveguides. This could speed things up considerably, as waveguide design is extremely iterative otherwise because 90% of the performance happens at the dome/throat interface and this is not easily modeled.
We've started with verifying that the sim can accurately predict reality. With as close a representation as possible of the dome here are the results:
Extremely encouraging! I'd like to do some additional verification - particularly of the 8" guides I've started working on - and then I hope to push the sims to the max, and start producing some really excellent guides for popular tweeters.