Going to use this thread as a documentary for all of the stuff, info, rebuilds, and modifications that I'll be doing to my recently acquired ARC SP-3. This is the A-1 model that retailed for $795 in 1975. AR has a fantastic reputation for sonic excellence, customer support, and - probably most important for me - this preamp has tone controls and variable loudness (ARC calls it contour, but the curves in the manual are classic loudness contours for sure). I tried going toneless, but - nope couldn't do it. Not being able to compensate for bad recordings just made me unhappy.
So I found this guy after watching all of the usual places where such things are posted for sale, and I think I snapped it up about 30 minutes after it had been posted. Came with 8 pretty lively 'nos' tubes, although one has already bit the big one... the others look pretty good. I've ordered a sleeve of NOS Raytheons to fill up some of the less critical sockets. Looking for something special for V1 and V4. The faceplate is in nearly perfect condition, and there have been absolutely no modifications that I can see - bone stock. And grimy. This unit had definitely been owned by a smoker at some point - it has the brown, sticky, grungy residue all over everything inside. So I sat down with some deoxit and q-tips and paper towels, and I've cleaned part of the interior out. Still have most of the main board to go, but I've cleaned up the phono section pretty nicely. Here are some of the sellers shots from the ad.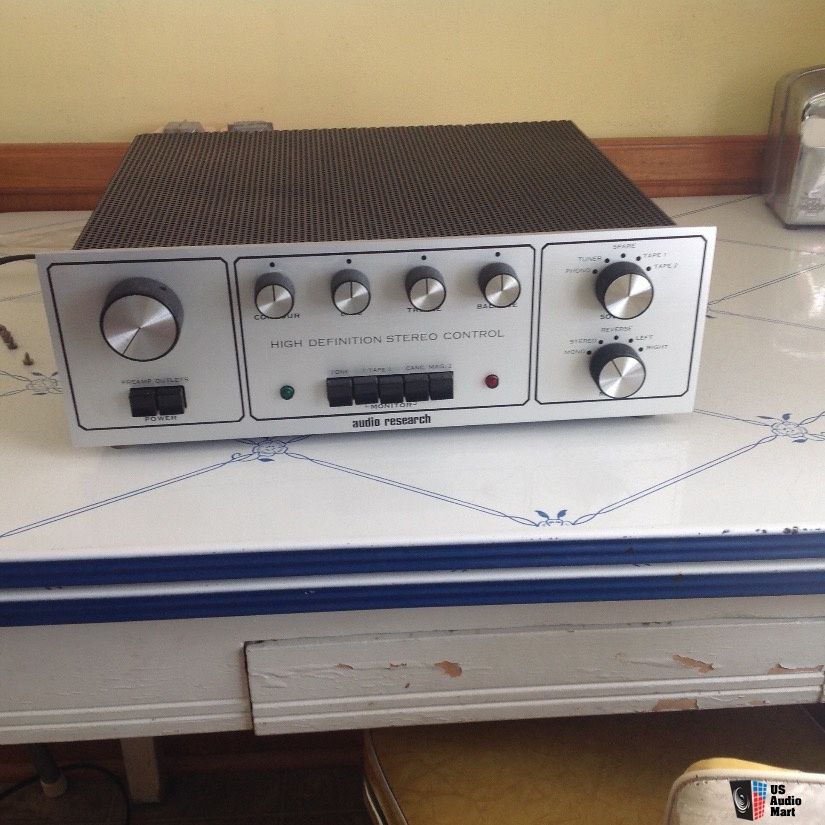 It sounded pretty darn nice as it arrived. I took my Marantz 2250 out of preamp duty and plugged the phono in and routed the outputs through my Citation II, and man, did it sound nice. The seller had told me that the green pilot light was out - found some little replacements on fleapay. Easy replacement - just unscrew the lamp housing from the front right through the faceplace. Then I started playing with settings and controls. The seller said the pots had been cleaned - I don't buy it. Scratcy, scratchy, scratchy. So on the counter it went and the pots got a thorough cleaning with deoxit. While cleaning, I noticed that the volume pot had some funny behavior. I'd turn it and there was resistance from the front pot as there should be, but the back pot seemed to be 'slipping'. So I emailed the folks at ARC, and asked them about a replacement, and they sent out a new Alps blue that is custom manufactured for them. This pot has a very nice feel to it. It doesn't feel like a potentiometer at all, but more like a stepped attenuator. It has a series of steps as you rotate the shaft - 40 in all (yes, I counted them!). This is what the replacement looks like next to the original.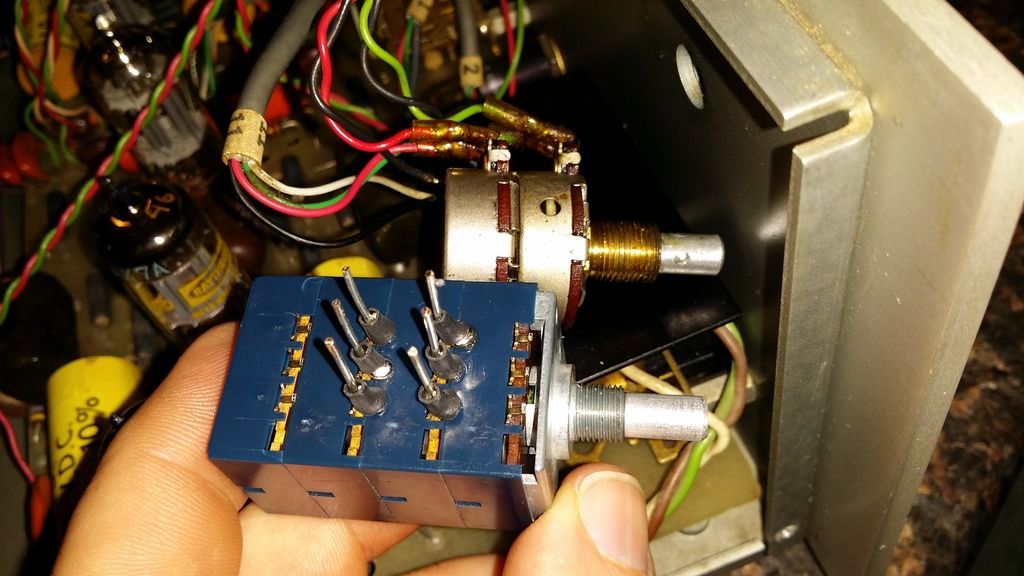 They really didn't give me too much info, but I though it would be a drop in replacement. I measured the resistance and found it to be (near) 100k - so that was okay. But, as you can see in the photo above, the threaded part of the replacement's shaft was quite a bit shorter. In fact it didn't even protrude past the face plate! So I covered all of the holes in the pot body with electrical tape, crossed my fingers that I'd have enough threads after modification (ARC charges $100 bucks for these!), and out came the dremel and the hand file. I filed off the ~1/4" cast on aluminum 'bushing' at the front of the pot, and about an hour later I had this...
Okay, well maybe more than an hour later. As you can see, I'd already soldered it in in this photo. Had to check the old pot to see which pins were which - and they were all the same on the new one. So, in it went. The original pot had a 250k value - the replacement from ARC has a value of 100k ohms, but everything sounded good when I fired it up. Well sorta. When I switched it back on the first time, I had no source output. There was definitely volume control getting to my speakers when I turned the potentiometer up, and the balance was working. So I disconnected it, back on the counter it went and I took a look to make sure I hadn't inadvertently pulled a wire out somewhere. Nope - everything looked good. So I put it back in to my system and powered it up again. Nothing but a bit of hum at high volume levels. Then I noticed the center tube in the phono section wasn't aglow. I guess in futzing around with the switch, I must have hit that tube a bit harder than I should have. Shame too - it was a nice 'nos' GE long grey plate 12AX7. Bummer - live and learn. Turned it off, stuck in an nos Sylvania, powered it back up, and all is well. Better than well, actually! The volume control is now smooth as bumpy butter (40 bumps!).
However, now that the volume is working properly, I am noticing that the contour pot is intermittent in one channel. So this week, it's tracking down a linear Alps pot to replace that with.
So here's a question for you all:
the original is 250k ohms, is there any reason to stick with that value in the tone control circuit, or should 100k be okay? Many thanks in advance!
Future plans for this preamp include fabricating a reproduction of the ARC WC-1 walnut case using some highly figured solid walnut, and replacing the capacitors and all of the old zener diodes in the power supply. I will probably re-stuff the old can capacitors carefully to retain the stock look. I've already found some dual section 75uF caps that should work for C45 and C46...