For reasons like small room, thin walls (etc) I've decided to make a set of speakers suitable for close-listening. I'm hesitating to use the term nearfield because aparently it means different things to different people, but here I mean close enough that room effects will become diminished and SPL will be much higher at the listening position than at the party-walls. Maybe 500mm or a couple of feet between speakers and ears. This is a new venture for me but some early trials have been very positive; rather than the compromise expected, I very much like the audible results of listening close-up.

Also new to me, I've decided to go with full-range drivers; partly because there seem to be some advantages for very close-listening distances and partly because I've so far been more of a multi-way-multi-amped guy, so if i'm ever going to enjoy full-range drivers then this close-listening project is going to be my opportunity to try them. I've selected and bought a couple of markaudio Alpair 11MS drivers for the purpose. On hearing them, it is possible they'll be used in a WAW configuration, with the woofer low enough to be positioned somewhere physically less obtrusive.
Last edited:
In fact obtrusiveness sees to be surprisingly important, after some tests. Being so close, speakers can get in the way both psychologically by blocking vision or crowding in, and also practically by taking up the valuable space within arms reach. Some tests have suggested that having them above eye-level is better for me, as it leaves the view to (mostly) everything else open. Ditto for (most) physical interaction; coffee-cups, notepads, laptops etc.
Which may seem undesirable, though actually I'm quite used to hearing music from above - on stages etc - so it doesn't seem unusual, maybe a little exaggerated. However, my listening chair reclines (it is my preference to stop doing things and relax for serious listening) and then one's head is pointed directly on axis at the speakers. It is (IMO) a very good arrangement, in fact in a darkened room or with eyes closed and lying back in a chair I couldn't really wish for better. So quite a good arrangement to suit either case:
The speaker crudely depicted in that image above may look slightly unusual. In testing i've realised that (again for me) what makes close-up speakers seem even more 'in the way' are things like corners and points and other obtrusive protrusions. So the ideal answer might be a rounded sphere, though that only offers limited volume unless the sphere gets big.
In this case (for the alpair 11MS) the volume would benefit from being slightly larger than the driver's diameter so a taller version seems a better answer than a bigger sphere.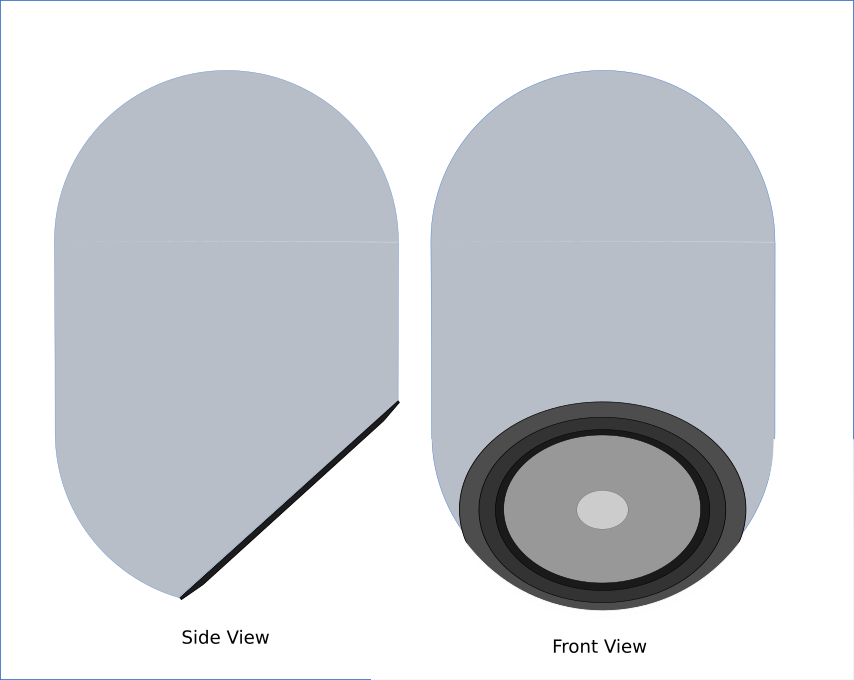 One could use DSP, and having listened to the 11MS i will likely want to; the scope for this is ample with the low SPL requirements of close-up speakers. However if the cabinet is too small the power requirements (for transient peaks) become daft, so a taller cabinet seems a better compromise than the smallest sphere practicable.
So, that is where things have lead so far; enough it seems to decide on posting this project in the full-range forum and my general ideas for the physical sizes that would be involved. No big cabinets, large open baffles or transmission lines (though I suppose a periscope shaped one may just be feasible); rather a small cabinet, some modest DSP and maybe a low WAW setup instead.

After that initial flurry of thoughts... i've got very little else; much more detail to be decided. I've not even decided on the cabinet type; the 11MS parameters suggest vented/ported and that would be quite workable. But a sealed one would be smaller, likely better for close-up listening and easier in a number of ways, especially if i''m thinking of WAW for the low-frequency extension, so I'm more tempted by sealed. If anyone has good or bad experience or thoughts of the 11MS sealed compared to ported the I'd be keen to hear.

Cheers,
Kev
Last edited:

Close up you may be able to get away with sealed (about 5litres) but even a reflex is quite small (i use 9 litres), the visual aspect you will have to sort yourself (beware, you do not want the box walls too close to the driver on the inside. I have done a lot of work to make speaker boxes acoustically invisisable but making them visually so not so much.
Already being comfortable with multiAmping, you are in a position to add separate helper baass if needed.
dave
Here are some real measurements (not simulations!) of MS11 driver in sealed enclosures of variable volume. A Butterworth alignment requires a volume of approximately 5 liters. Note the presence of a secondary peak at 340 Hz which I believe is caused by the mono-suspension; however, it doesn't seem to have an impact on sound quality. I think the mono-suspension design is also responsible for a different behavior in respect to driver orientation (face up/down/forward), results not shown here.
I picked the MS11 as a candidate for my project because of its advertised promise of high midrange quality (vocals), and its mono-suspension design which I think is important in the area of micro-dynamics. So far, I have not been disappointed.
Good luck with your project!
Simon
Last edited by a moderator:
Thanks, Dave and Simon; that is encouraging . I came up with about 5L sealed too, though not (yet) based on real world measurements and I'd not realised there was a peak at 340hz either. I shall have to see what happens with the driver at an angle, too. All very helpful!

Yes, the midrange and vocals do come across rather well, which is very pleasing. I'd been worried they might be compromised in achieving the full-range qualities, but it seems not. In fact on first listening, the only aspect that seems noticeably lacking is the bass (compared to dedicated bass/mid-bass drivers of a similar size), which is fine because there are ways of helping with that.

The 9L reflex sounds noticeably better than 5L closed for bass, so might be worthwhile if I ever want to use the 11MS alone. Though it still isn't particularly good so my current thinking is that it'll need help from a bigger woofer or sub, in which case I may as well go with the smaller 5L closed option.

I've yet to see what might be done with DSP, which is another possibility. But suspect that stretching the 11ms's lower range even further with DSP could affect its performance in general, whereas conversely relieving it of the lower end (with a helper woofer) would potentially pay dividends higher up, too. Though that might be something of my usual multi-way philosophy creeping in.

Cheers,
Kev
Kev,

Another (simple) way to overcome some of the lack of bass is adding a series resistor (increases Q) and a series capacitor to flatten the Q again. This reduces efficiency but probably not much of an issue in near-field listening. For the 5 liter enclosure, I am using 3 Ohm and 500uF, to lower fs from 90Hz to 70Hz while maintaining the Butterworth alignment.

Simon
Thanks once again! i shall have to investigate that. A slight reduction in efficiency isn't really much of an issue, unless perhaps it is combined with DSP or linkwitz-transform type extension where power requirements can spiral. Though probably there would be little value in using both DSP and physical R+C adjustments together, anyway.

... I'd not realised there was a peak at 340hz either
I was going to comment on that.It nicely shows the resonance inherent in the monoSuspension units. It manifests as an on-axis dip at the same frequencies. It is narrow enudff that no one has been able to clearly pick it out. A7ms has similar but less, and the A5.2/3 it pretty much goes away.
I've yet to see what might be done with DSP
A fellow in Japan got the first A5 to reach down to 35 Hz or so (but not very loudly). Keep in mind that sealed, near field you will have significant room for playing with the bass.
dave
Thanks Dave, that is reassuring to hear about the dip; certainly I'd prefer a dip to a peak, so if it isn't very audible I won't worry much about it. Though there is quite a chance that I'll end up using software DSP, if so it might be easy to do something simple anyway; time will tell.

Yes, there should be some scope for DSP. My SPL requirements are fairly modest - I'm not sure exactly for what power or voltage the driver's 88dB sensitivity is specified, but it'll presumably be at 1m, so I expect to get around +6dB gain by being close. I won't be wanting this to play to THX levels either, as that'd be too loud for the circumstances. So i'll average probably less than one or two watts, and Xmax is not going to be reached either (assuming I use a low/protective high-pass filter anyway).

That said, simulations suggest that I shall need to make the box large enough to avoid daft amounts of power being needed for transient peaks, which DSP starts to require for lower frequencies. So I think that (combined with my future decisions on frequency range) is what will ultimately determine the minimum box size.
I made a couple of charts just to put some vague numbers to the options. If we stick with the 6L closed box for the sake of illustration, the grey line shows the native response whilst the yellow and green show some extension with DSP (in this case a linkwitz transform):
Probably the green is unnecessarily low, in fact the yellow with -6db around 40hz is typical of rather bigger bookshelf speakers and probably more than needed for satisfying perception of bass.
That said, IMO whilst DSP'd small drivers may appear to reach good bass in simulations, in practice it doesn't have the same impact as a bigger driver so I find simulations a bit misleading in that respect. However, as the aim here is to avoid waking neighbours that might be a reasonable trade-off to make; I shall need to try it but this project could become just a full-range rather than WAW configuration.
Below are the possible SPLs for the same situations. The grey line is rather arbitrarily drawn at the nominal power rating of the driver, more usefully the green and yellow show the SPL at Xmax - though a high-pass filter is included at 15hz just to prevent excess. The apparent amplifier power required to reach xmax for those low frequencies in a 6L box is about 60w, which climbs steeply if the box is reduced in volume, so realistically it won't get much smaller than 6L unless I reduce the DSP or SPL requirements. However 6L is hardly huge, so it seems a nice sweet spot, to me.
For low-volume listening conditions, peaks of over 90dB (96dB at the ears) per speaker seem more than enough to me, possibly too much in fact. So whilst I've made no actual decisions on FR or SPL yet, that little excercise shows there is certainly going to be good scope for DSP'ing at close listening distances.
Edit: How badly that affects the Alpair's distortion might be another question though, especially in the mid frequencies where ordinarily excursion would be tiny. I guess that a WAW configuration might still be necessary in order to preserve quality higher up.
Last edited:
Thanks, Allen. Yes the bass could certainly do with some tweaking, and I guess there are quite a few things that might be improved. I'll need to get the measuring kit out once a basic box is built, to see how it behaves.

In fact even if I end up crossing to a woofer/subwoofer, I might well prefer not to work to the natural roll-off or have the natural roll-off affect other crossover choices. So I'd probably still want to tweak the low end even then.

Cheers, Kev.
I got some ikea half-round bowls to make the ends of my proposed pod-shaped cabinets; not yet sure if i shall use them for the cabinets themselves, or to make a mould for a glass-fiber version, but probably the former.

I've also been playing around with an equaliser just to get a vague feel for what might be achieved later (i.e. with better measurement and DSP); the results have been quite promising. IMO the 11MS sounds quite clear even at modest volumes, but when compared to my multi-way speakers it (in just a ~9l sealed box) reminds me slightly of listening to music over a telephone. However, creating an exaggerated munson curve on the equaliser bands is crude, but has quickly shown that much more bass and some treble are there to be brought out if wished.
Alpair 11MS close-listening (nearfield) project