Rebuilding a Hafler DH200 Part 2
---
Where was I? Right, back to the workshop and cue the music.
Sorry in advance for my photos. They get the job done, but some of them look pretty bad now. I'd retake them but the amp has long since been returned to it's owner.
Once both channels were running happily with their new parts on the benchtop power supply I turned my limited attention to the chassis. The phenolic insulators sandwiching the RCA jacks in place were starting to crumble so, some shiny new jacks were fitted courtesy of ApexJr.com for 99 cents. The input wiring was done with 22AWG shielded wire.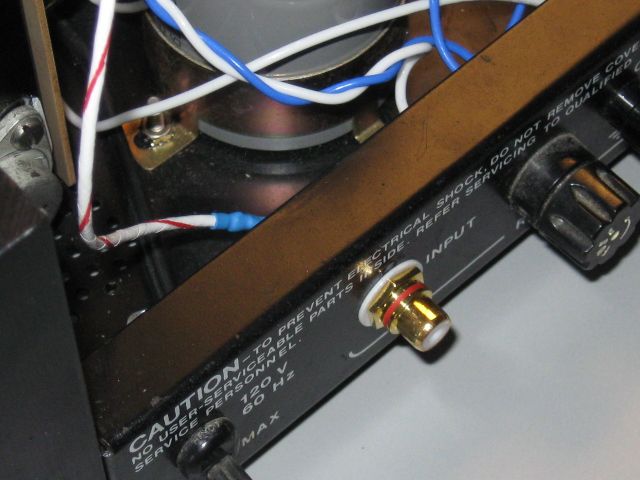 The pro Hafler models like the P125 and the P230 have a solid aluminum bracket for the ground connections between the main power supply caps. The DH200 and DH220 models only got some tinned wire which isn't very convenient or nice looking. I fashioned up a new bracket with some scrap aluminum and tin snips.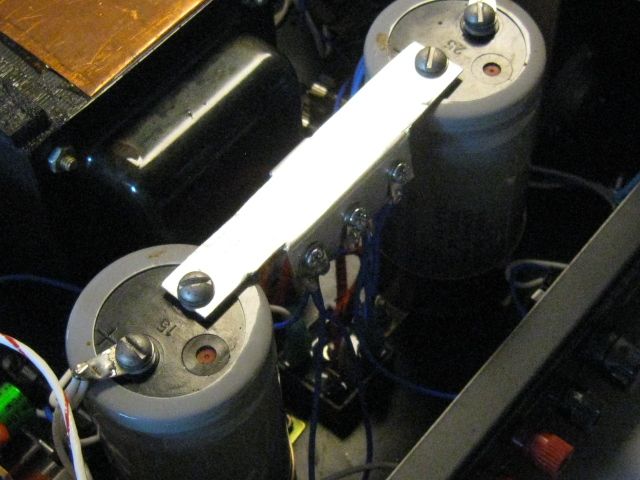 Not pretty, but better than what was there originally. The amp was rewired using 18AWG, PTFE insulated wire.
I tested the 10,000uF/75Vdc main caps with a B&K LCR meter and found they were still in good working order. These caps seem to last so I don't replace them unless it's needed.
Once the wiring was done I did a soft power up test with a lightbulb limiter and a 40W bulb, here's mine: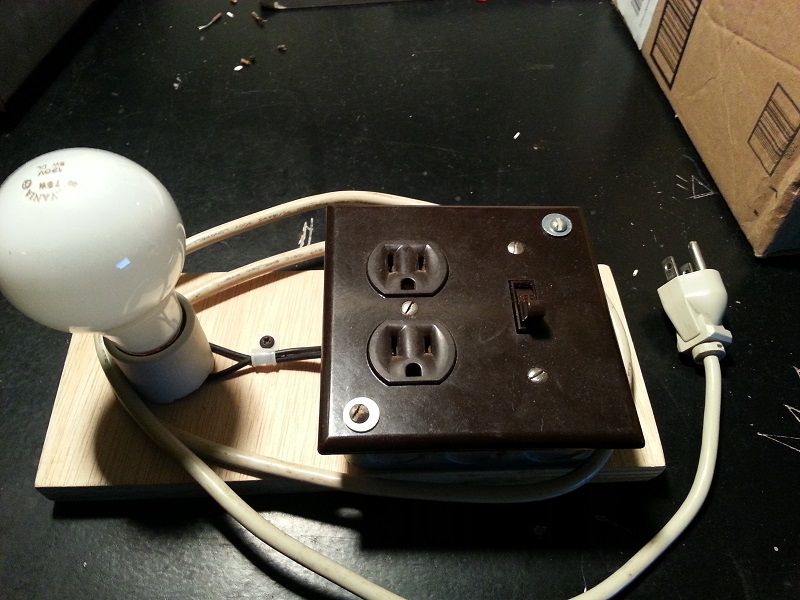 The lightbulb flashed and then quickly dimmed down, signifying a happy amplifier. When powering an amp up for the first time after a major repair I usually have multiple DMM's measuring various voltages and currents. In this case I had two measuring the rail voltages, and one measuring the current draw on the positive rail at the fuse holder. I only powered up one channel to start with, leaving the two rail fuses out of the other channel. I had a fourth DMM measuring the output DC offset. Everything looked good with both channels, so I disconnected the lightbulb limiter, plugging the amp straight into the 120Vac mains.
I set the bias on both channels to 275mA per the directions in the Hafler manual. I took a final measurement of the output DC offset; with both channels being under 10mVdc, the work matching the input differential pair transistors paid off.
Next I hooked up my 6.7 ohm dummy load (three 50W, 20 ohm Arcol resistors on a heatsink), an oscope, and a Leader Lag-120B signal generator. Sine and square waves looked good, and I verified the channels were matched for gain (this amp had a gain of 19).
All done. I replaced the amps top cover, and hooked it up to my DIY speakers. Not much else I can say besides that the amp sounded great, and I surmise that it will give many more years of service.
Comments
DonA

Posted 22nd May 2014 at 01:45 AM by

DonA

Posted 22nd May 2014 at 11:36 AM by

Stormrider