I have been developing a new compact stick-on Bluetooth True Wireless Stereo (TWS) amp for passive speakers. It lets you turn any set of passive speakers into an instant streaming solution to have music anywhere in your home, workshop, garage, pool, picnic, etc.
Each amp just needs a local power outlet from the wall or can be battery powered. The amps connect and are paired to each other wirelessly for stereo left and right with a single Bluetooth connection.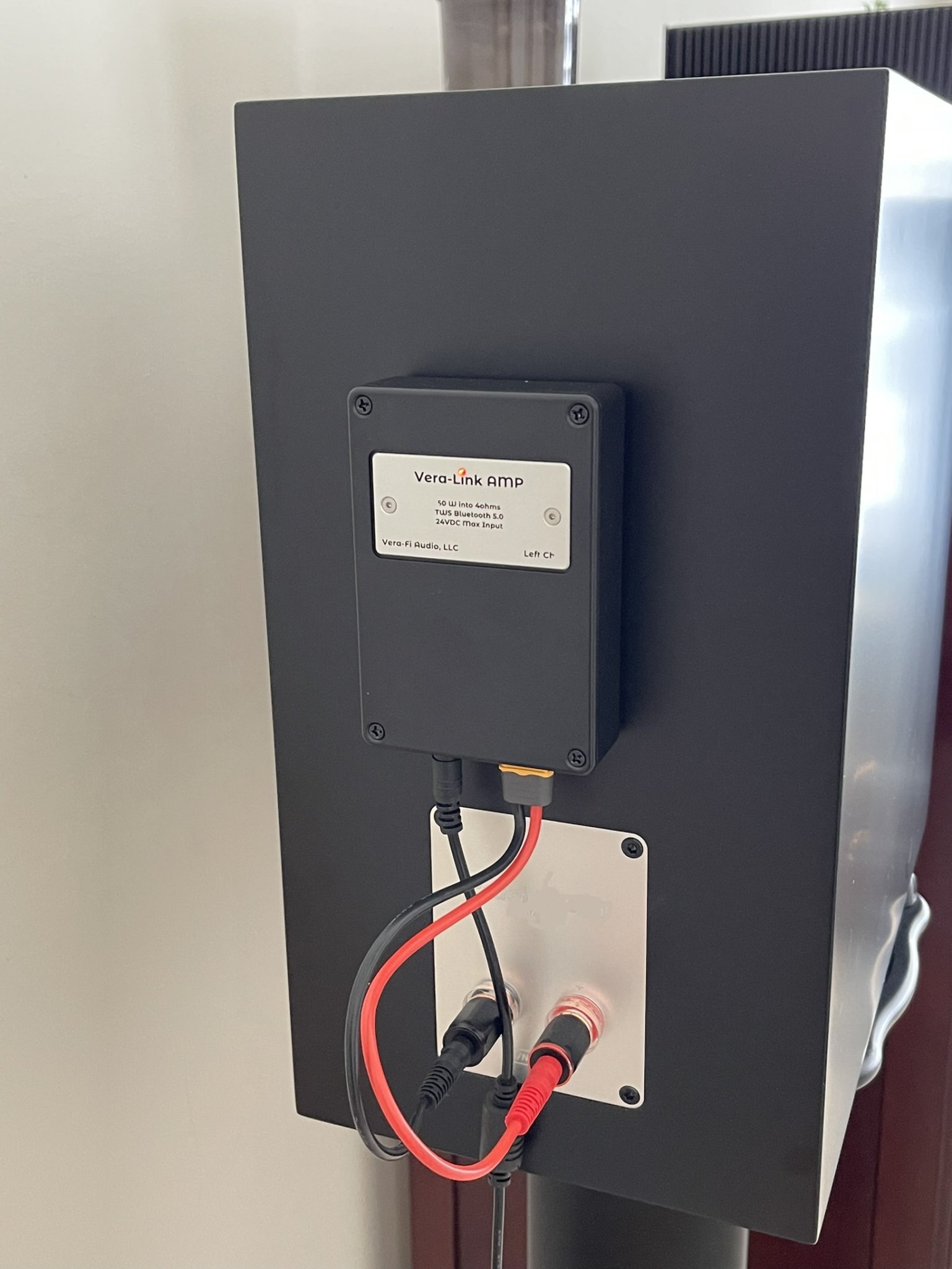 The wireless connection to your smartphone, tablet, computer, etc. works instantly and easily for frustration-free Bluetooth 5.0 quality sound. Successful connections are confirmed with a quick tone (no annoying voice) and LED blink from the light pipe indicator at the "eye" of the letter "i" in the word "Link".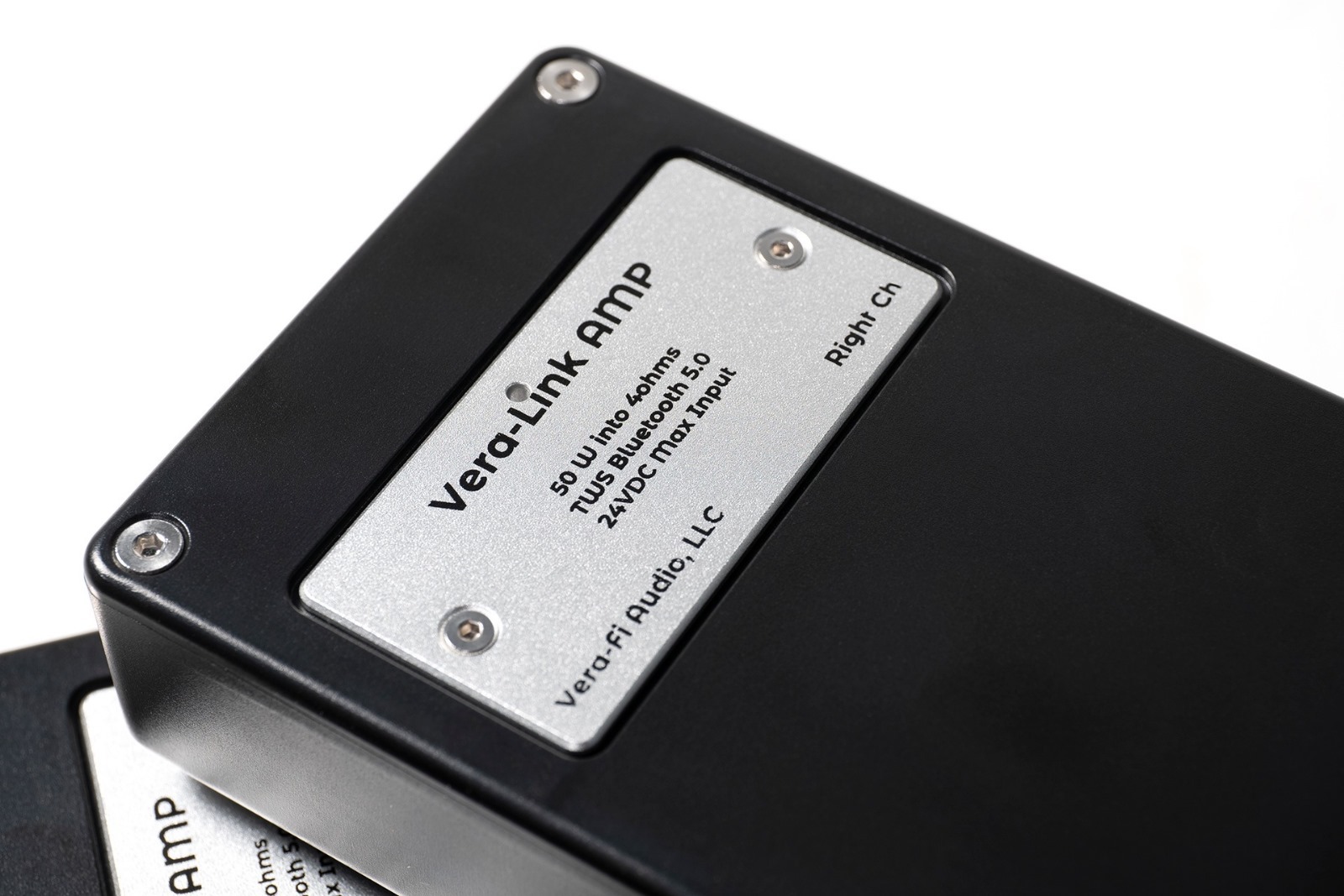 Internally, the Bluetooth RF modules are capable of Bluetooth 5.0 standard (345 kbps max bit rate) and has terrific range and reliability. The Class D amps (TPA3116 based) driven by the Bluetooth RF modules are capable of 50W into 4ohms and 25W into 8ohms, and are wired in parallel bridge tied load (PBTL) so can actually handle 2ohm loads. The amps come with dual 24v 3A desktop universal voltage SMPS modules. Optional low profile 12v 2A wallwart style SMPS (in white) are also available for minimal visual footprint when used along side of decorator furnishings and significant-other-sensitive interior spaces. Even at 12v, 83dB sensitive speakers play plenty loud and clean for most home uses. The sound quality is excellent and the simplicity of it all is fantastic.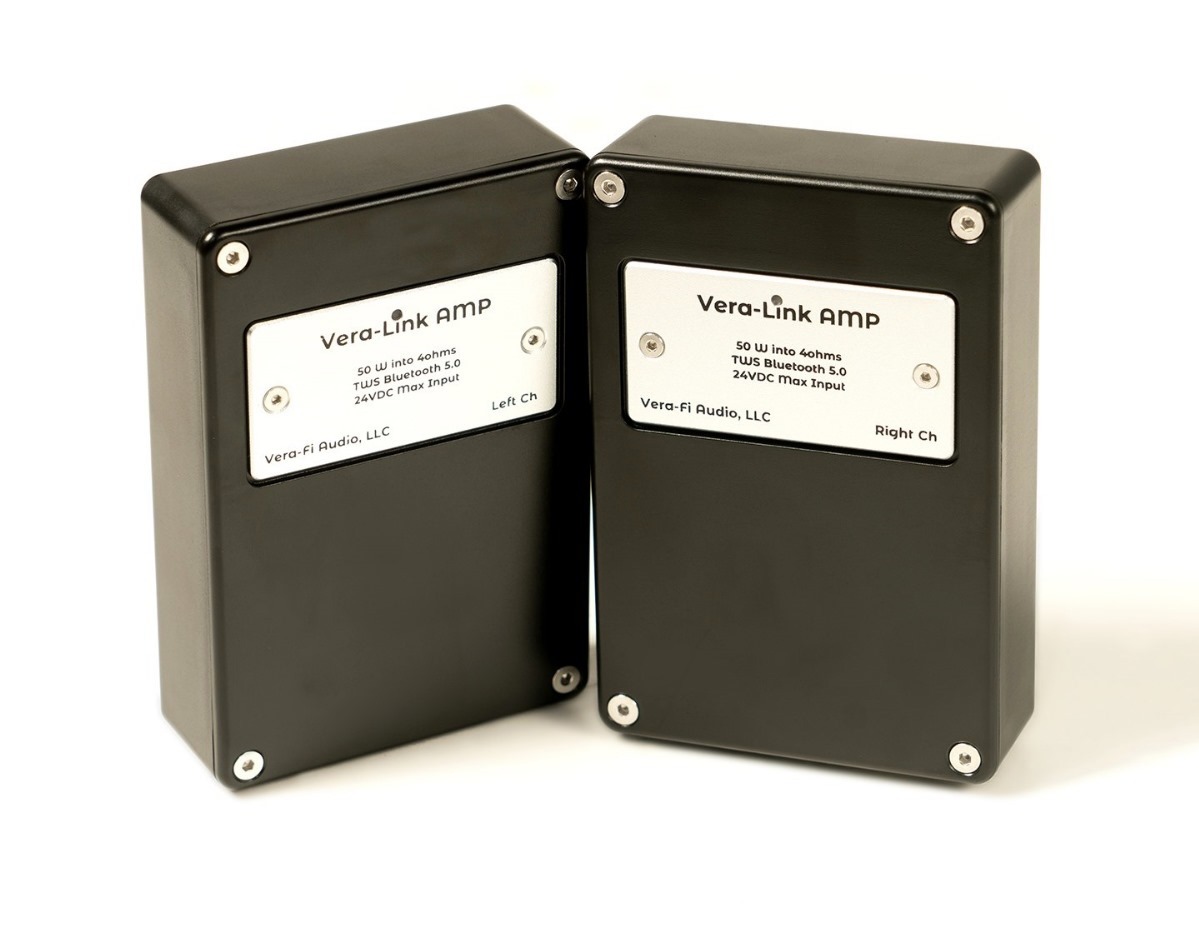 Here the Vera-Link is seen attached to the back of the Vanguard speaker: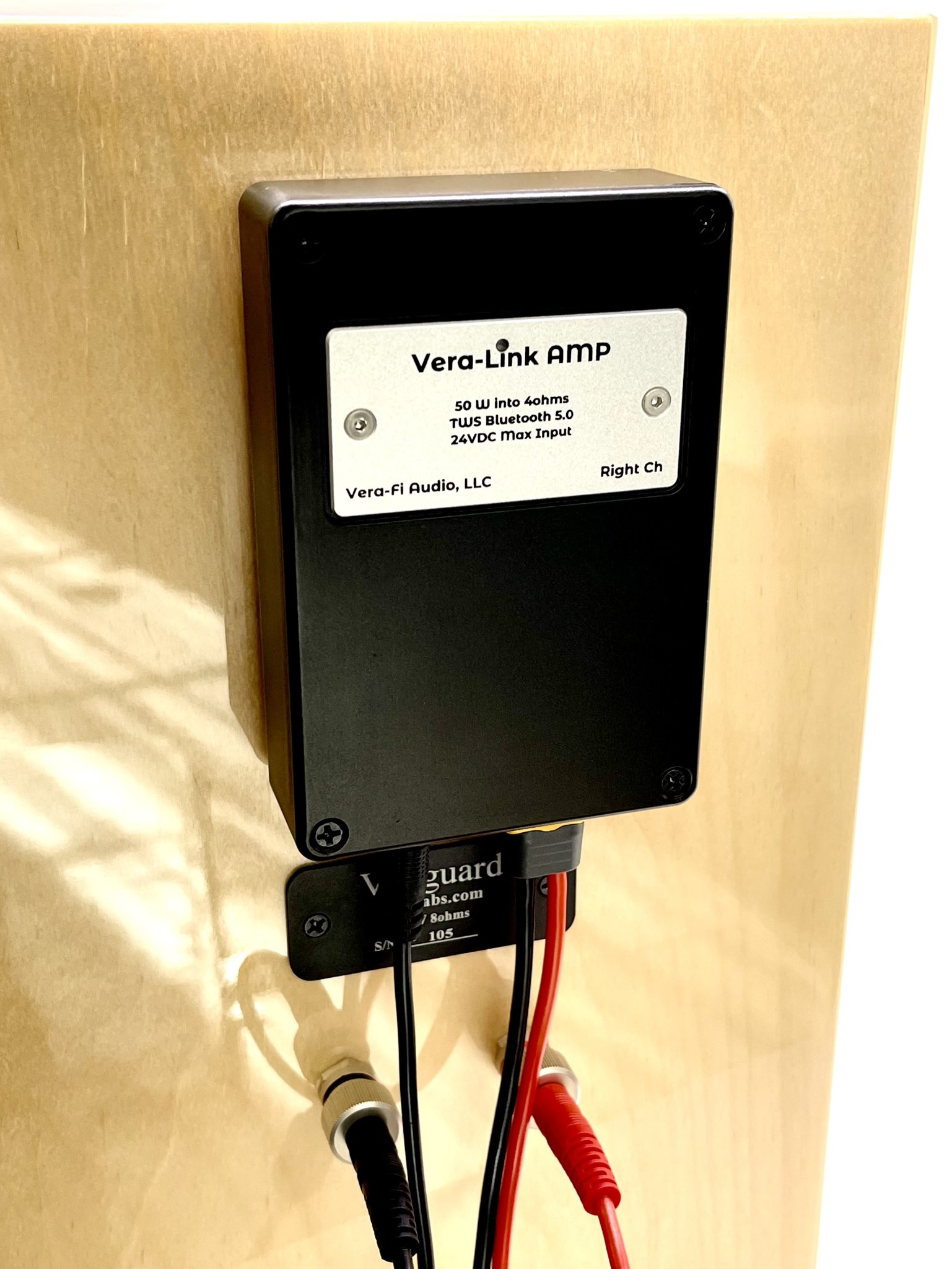 Here is the 24v 3A desktop power supply (two are provided with set):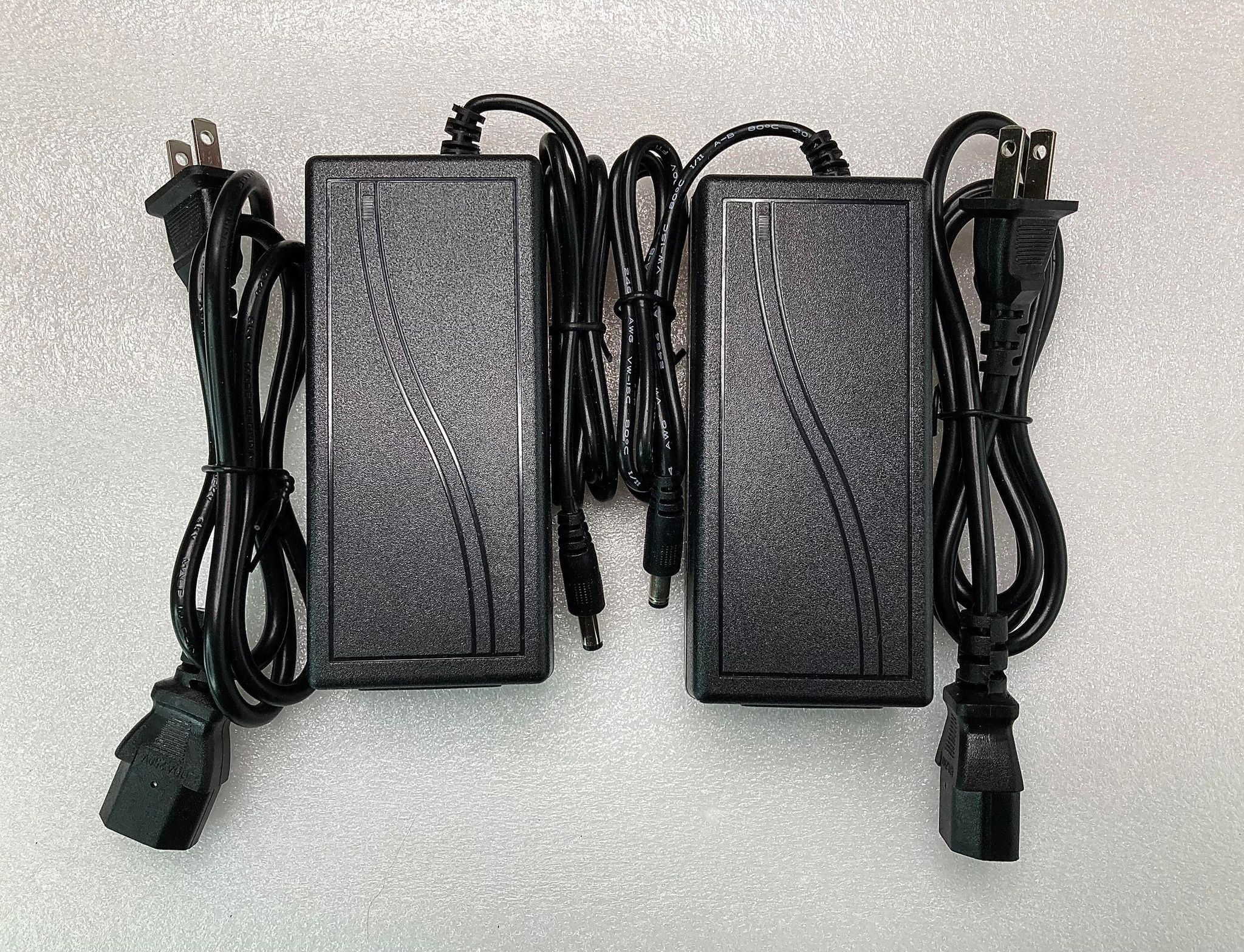 This is the 12v 2A wallwart power supply (USA and EU plugs available) in white:
The Vera-Link amp kit will sell for $199 a pair complete with 24v 3A power supplies and high quality gold plated banana plugs. The amps come with hook-loop strips with self adhesive for installation to any speaker. 5 unique Vera-Link amp pair Bluetooth names will be available so that you can have multiple sets in one household without confusion.
An early review by Stereo Times is now online:
https://v2.stereotimes.com/post/vera-link-wireless-amplifiers-by-greg-voth/
Also one on Tone Audio magazine:
https://www.tonepublications.com/audiophile-apartment/vera-link-the-most-fun-you-can-have-for-199/
Last edited: