PCB available in the diyAudio store here -
M2X – diyAudio Store
A First Watt "M2" amplifier without (or with!) 2SJ74 / 2SK170 JFETs
After Burning Amp 2017, member 6L6 and I drove to San Francisco airport and naturally we talked about diyAudio the whole way. We imagined that many people would love to build a DIY version of the First Watt "M2" amplifier -- except that the M2 requires JFETs which are painfully difficult to source. Toshiba has stopped making them, and the Linear Systems replacements are hard to find too. (The diyAudio Store has been sold out of the most sought-after Idss grade for months and months).
HOWEVER, we noticed that the JFETs were used only in the "input stage" of the M2 amplifier, to implement a unity gain buffer that drives the primary of an autotransformer. The remainder of the M2 amplifier uses components that are in active production, available from multiple different distributors, today.
So I proposed that we lay out a new PCB for the First Watt M2 amplifier, with the input stage and its Unobtanium JFETs contained on a removable, replaceable, interchangeable Daughter Card. Now we can build input stage (unity gain buffer) daughter cards, with whatever components we wish. Of course one option would be (should be!) Nelson Pass's original design using Toshiba JFETs, for those who are willing and able to obtain them. And there will be other options too. Options that implement a unity gain buffer without Unobtanium parts. Fortunately it is not an impossible task to design a unity gain buffer which fits on a small daughter card.
My feeling was: let's make it possible for people
to build and listen to
an M2 amplifier, at the same time they search the globe for JFETs. Months later, if and when they succeed in finding and purchasing JFETs, they can stuff and solder the JFETs onto a daughter card, swap it in, and keep listening. Or maybe, just maybe, they'll fall in love with the sound of the M2 without JFETs, and quietly stop searching.
As we drove along and discussed it more, both 6L6 and I came to the conclusion that this sounded like a pretty exciting idea, and I began to work on the PCB layout and the input stage circuit design(s) during hobby hours.
I'm now pleased to announce that revision V1 of the M2x amplifier has arrived. PCBs for the amplifier left and right channels (the "mother" boards) have been built. PCBs for five different input stage circuit designs (the "daughter" boards) have been built. I've shipped all PCBs and all daughter boards and all electronic components to 6L6's electronics lab, for one of his beautiful Build Guide jobs: Assembly and Step By Step Photography. I'm very pleased to say that he has built the amplifier and a few of the input stages. It works. It sounds good.
But 6L6 has a full time job and must fit diyAudio into his spare time. The Build Guide is not yet complete and won't be complete for a while longer. Similarly, my own build of my own M2x amplifier has begun but it is also not complete. That's how hobby projects work.
While we wait for the Build Guide to arrive, I thought readers might enjoy looking at the circuit schematics of the M2x amplifier and its five different input stage options.
I've given each of the input stages a code name, derived from the city where its input devices were manufactured. (As best as I was able to learn which fab made which devices). The five M2x input stages we have today are
1. ISHIKAWA - Nelson Pass's original M2 input stage circuit design, using Toshiba JFETs made in Ishikawa, Japan. The PCB naturally also accepts Linear Systems JFETs.
2. MOUNTAIN_VIEW - A single ended, class A unity gain buffer circuit design, using the J112 JFET made by Fairchild in Mountain View, California
3. TUCSON - An unity gain buffer circuit using a high performance Burr Brown opamp, built in their fab in Tucson, Arizona
4. NORWOOD - A two-chip unity gain buffer using an extremely high current video driver IC, plus a front end JFET opamp made by Analog Devices in Norwood, Massachusetts.
5. AUSTIN - A BJT complementary "diamond buffer" using Motorola (now ON Semiconductor, owner of Fairchild) high Beta bipolars, built in Austin Texas
How might someone choose which of these to build? (Or, which of these to build
first?
) Here are some thoughts.
ISHIKAWA (using Toshiba or LS JFETs) has the absolutely lowest parts count and is the easiest to solder together. But those FETs are hard to find.
TUCSON using the thru-hole OPA604 chip, is the lowest parts count board that doesn't use unobtainium devices. And the OPA604 opamp has JFET inputs, so if you love JFETs, it's one of the opamps you probably know and adore.
TUCSON using the SMD OPA1611 chip, is the lowest distortion input stage of them all. Even lower than the Nelson Pass original. It only has one surface mount part; the rest of the board is thru-hole.
NORWOOD is all-SMD, just like the entire electronics industry has been for the last 20 years. Norwood includes a 200 mA driver IC, and a JFET input opamp from Analog Devices. Its output current capability is at least a factor of five greater than any of the other M2x input stages. If you're at all concerned about the input impedance of the output devices at HF, reflected from the transformer secondary back into the primary, Norwood can drive it better than all the others.
MOUNTAIN_VIEW uses single-ended, class A, discrete circuitry and no feedback. If you are a big believer in single ended class A, if you love this quote from a famous article by Nelson Pass: "For reproducing music as naturally as possible, push-pull operation is not the best approach. Air is not symmetric and does not have a push-pull characteristic. ... Only one linear circuit topology delivers the appropriate characteristic, and that is the single-ended amplifier. Single ended amplification only comes in pure class A," then you probably are interested in listening to the Mountain View input stage.
Parts note: please see post #3318 in this thread if you're having trouble finding a few MV5075C LED parts. That post suggests alternatives
.
AUSTIN is a thru-hole board with 4X more components than the other boards; its resistors are
mounted vertically
to save PCB area. This permits a Diamond Buffer circuit with high performance, precision current source loads. Builders who love parts substitutions / optimizations will appreciate that Austin's PCB silkscreen doesn't indicate transistor orientation. Instead, transistor pins are labeled B, C, E in a perfect circle; allowing you to drop in Japanese 2SA/2SC transistors (pinout ECB) or European BC transistors (pinout CBE) or American 2N transistors (pinout EBC) however you please. Austin is recommended ONLY for experienced builders. If you're a newbie, hire someone to solder your Austin board!!
What happens next?
First, 6L6 and I work on finishing our respective M2x amplifiers in our respective spare time. This includes building and listening to all versions of the input stage daughterboards.
Second, 6L6 posts his photographic Build Guide here on diyAudio.
Third, if the amplifiers work well and sound good, I'll offer my approximately 30 sets of PCBoards (2xAmp plus 8xInputStage per set), if anyone wants to try the M2x.
Fourth, if I happen to sell out, 6L6 and I will put our heads together to figure out the next move.
Schematics and BOMs attached below in .zip file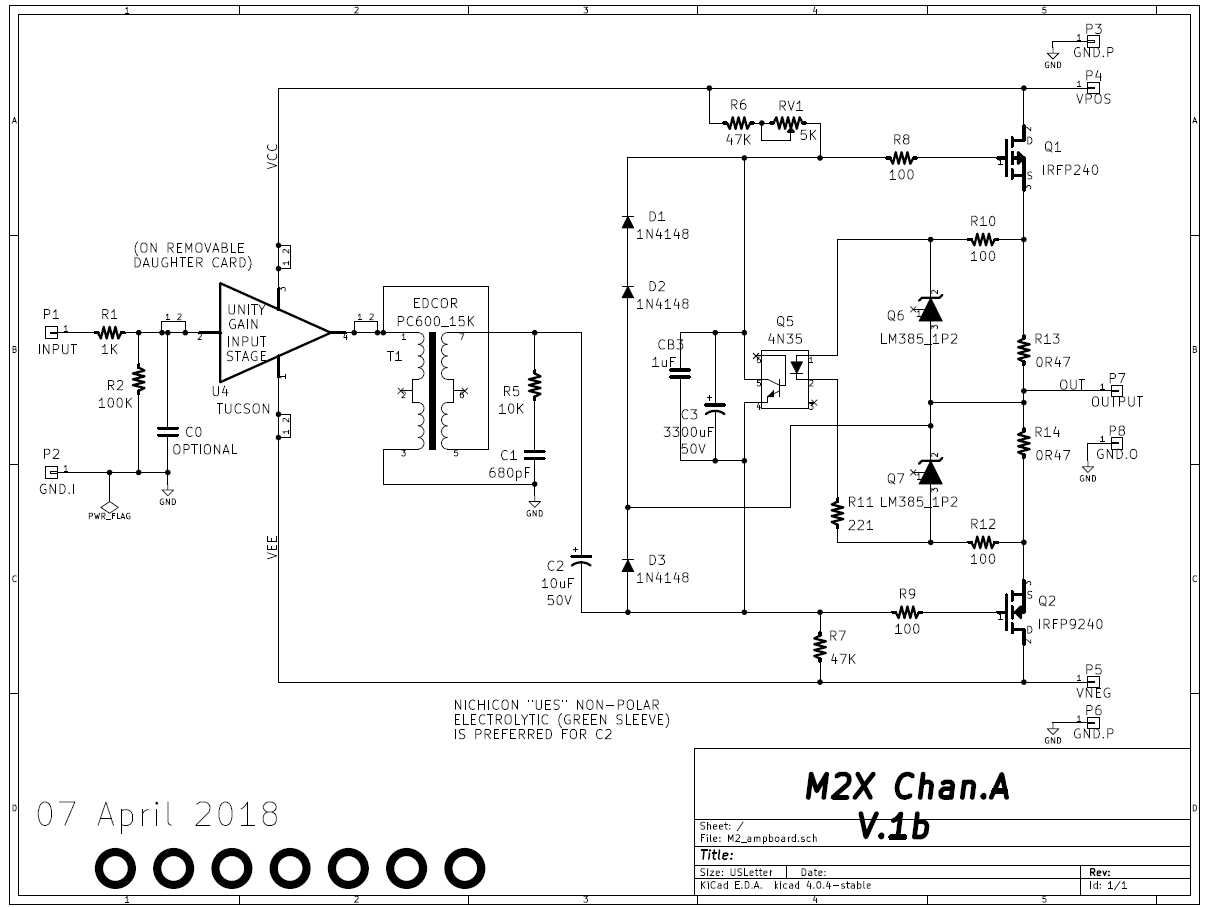 ~
Last edited: