Some interesting measurements concerning bias levels -
Here are some quick and dirty measurements I did looking at various levels of bias on the F4. ( +/- 22.5V rails )
The conditions are, amplifier to normal temperature, one channel driven (because I cant read 2 at once), input to amplifier 3V 1.1kHz sinewave from 339A, distortion read across 4ohm 100W dummyload resistor, oscilloscope and FFT connected to HP 339A monitor, which was outputting the residual distortion waveform.
Bias value is mV across .47ohm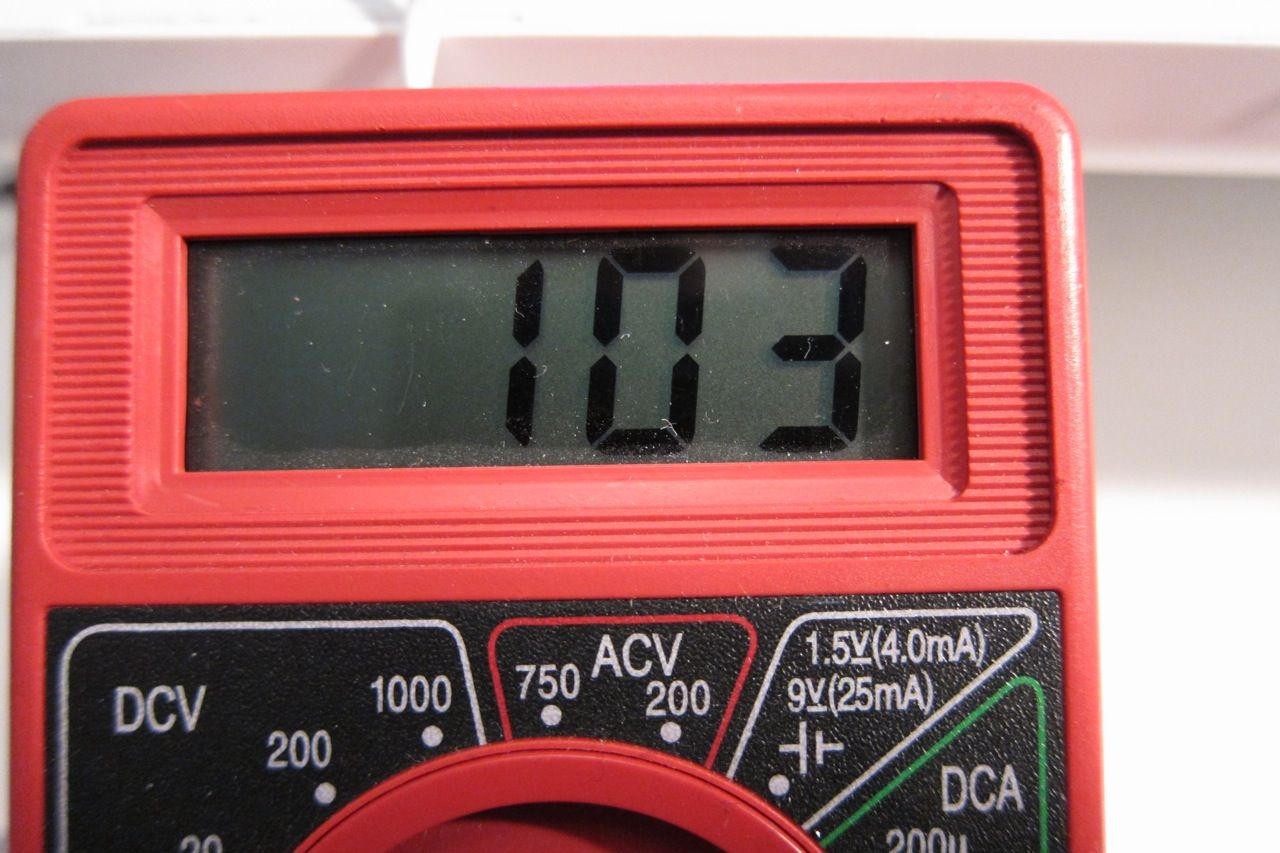 Bias measured across a .47 source resistor. (This is 1/2 the normal level, for illustration's sake)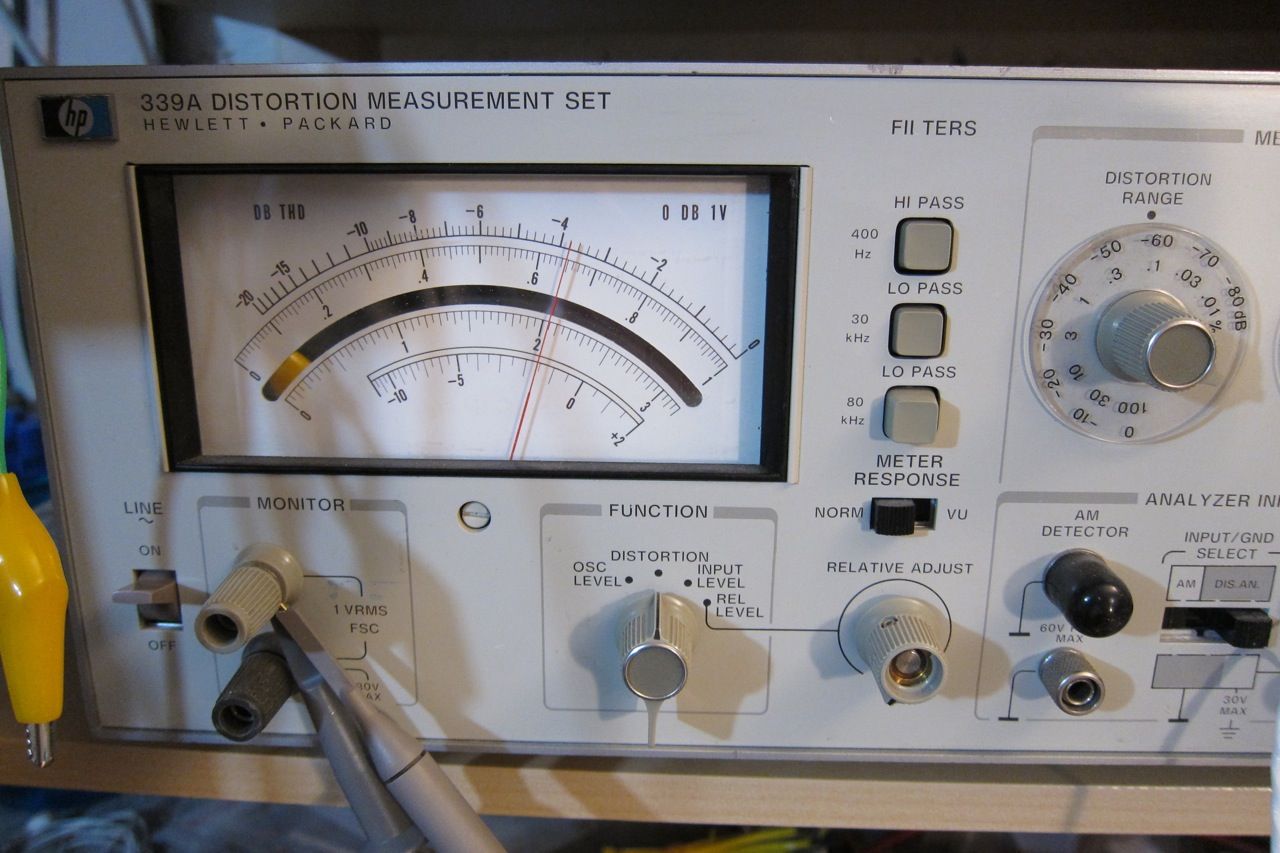 Distortion (Meter is set to the .1 scale, look at the arc above the mirror, here showing .065%)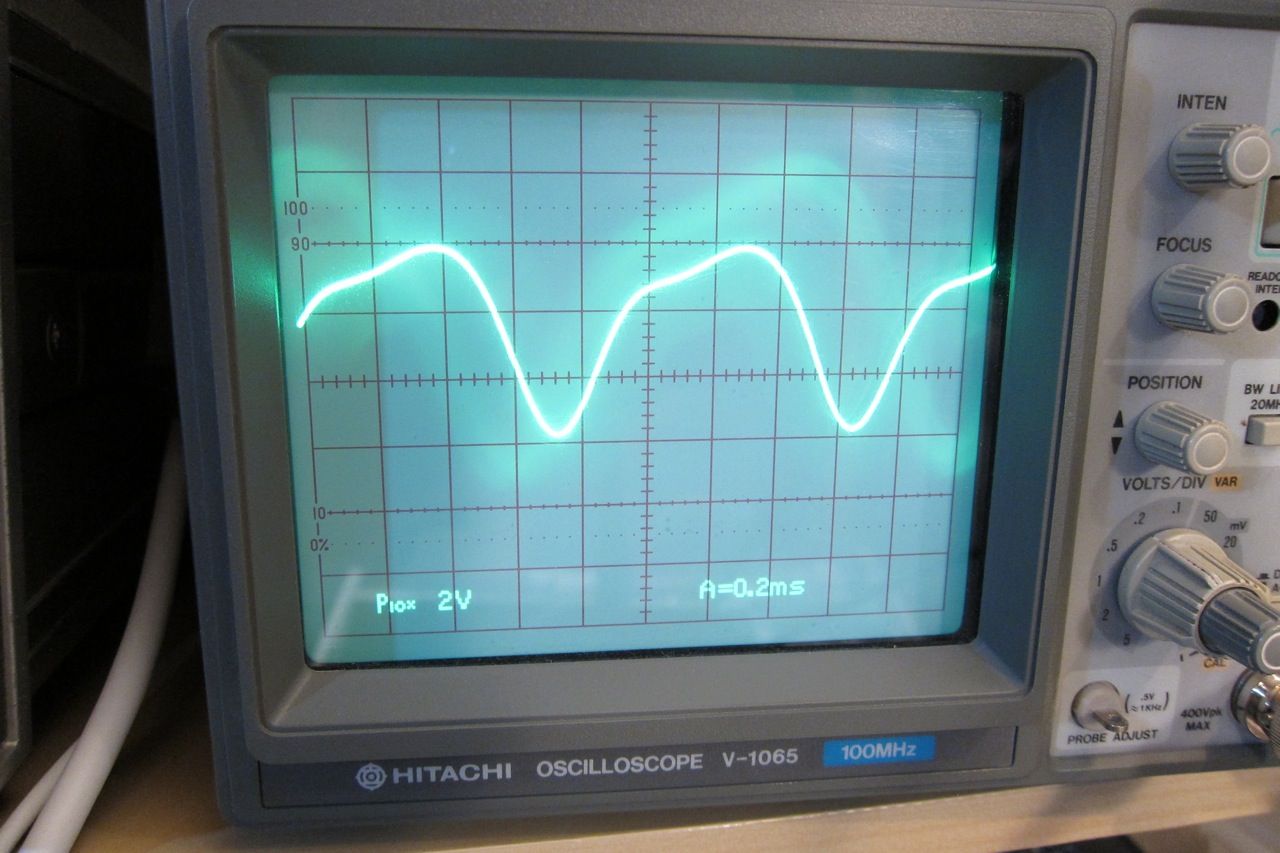 Here is the shape of the distortion residual. (No distortion would look like a perfect sinewave.)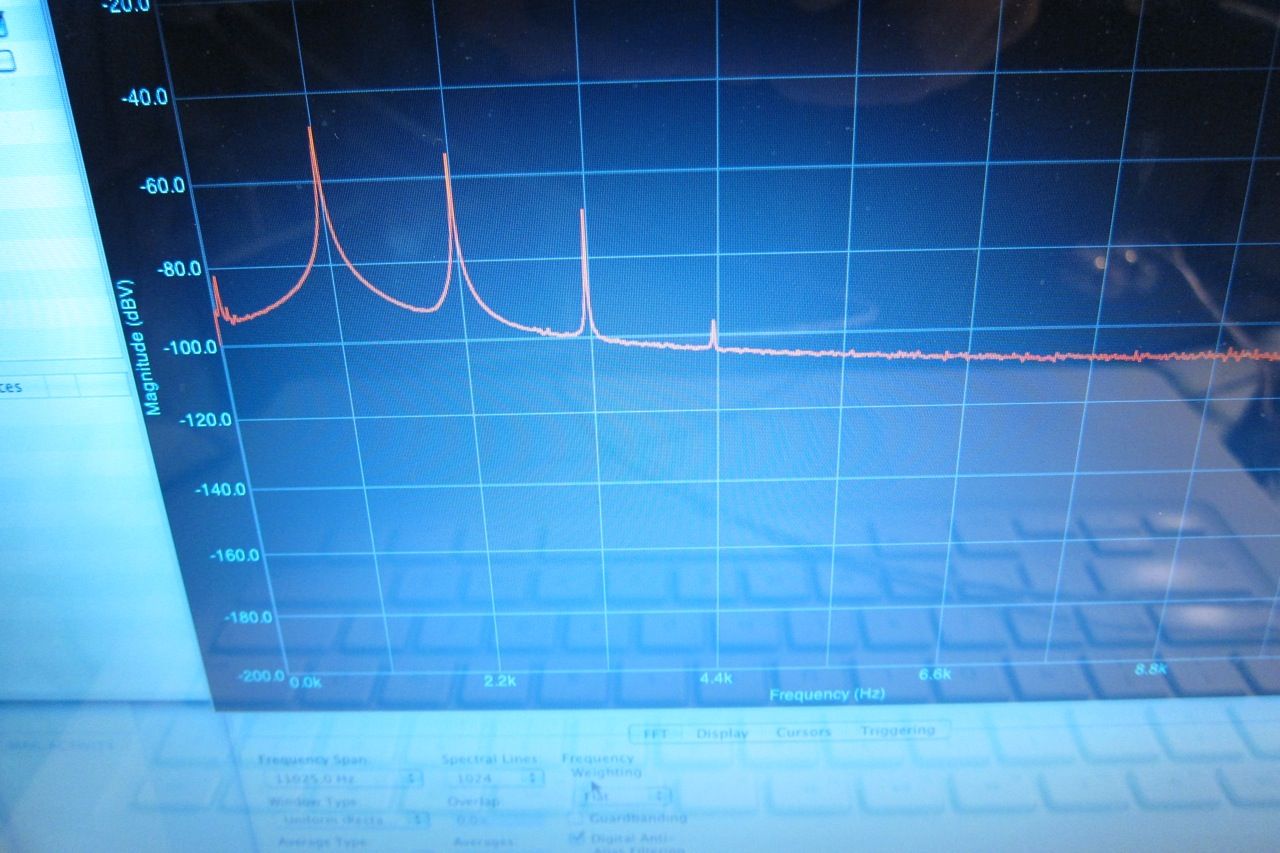 FFT of the distortion residual. (please excuse the photo of the screen. The next time I do this I will get screenshots.) The 1st peak at 1.1k is the fundamental. (1.1k chosen as it aligns with the gridlines. ) Looking right, the 2nd peak is the 2nd harmonic, the 3rd peak the 3rd harmonic, and the 4th peak the 4th harmonic. Higher level harmonics are not visible, as they are very small and lost in the noise.
Now let's increase the bias to the recommended amount, 200mv measured across the source resistors.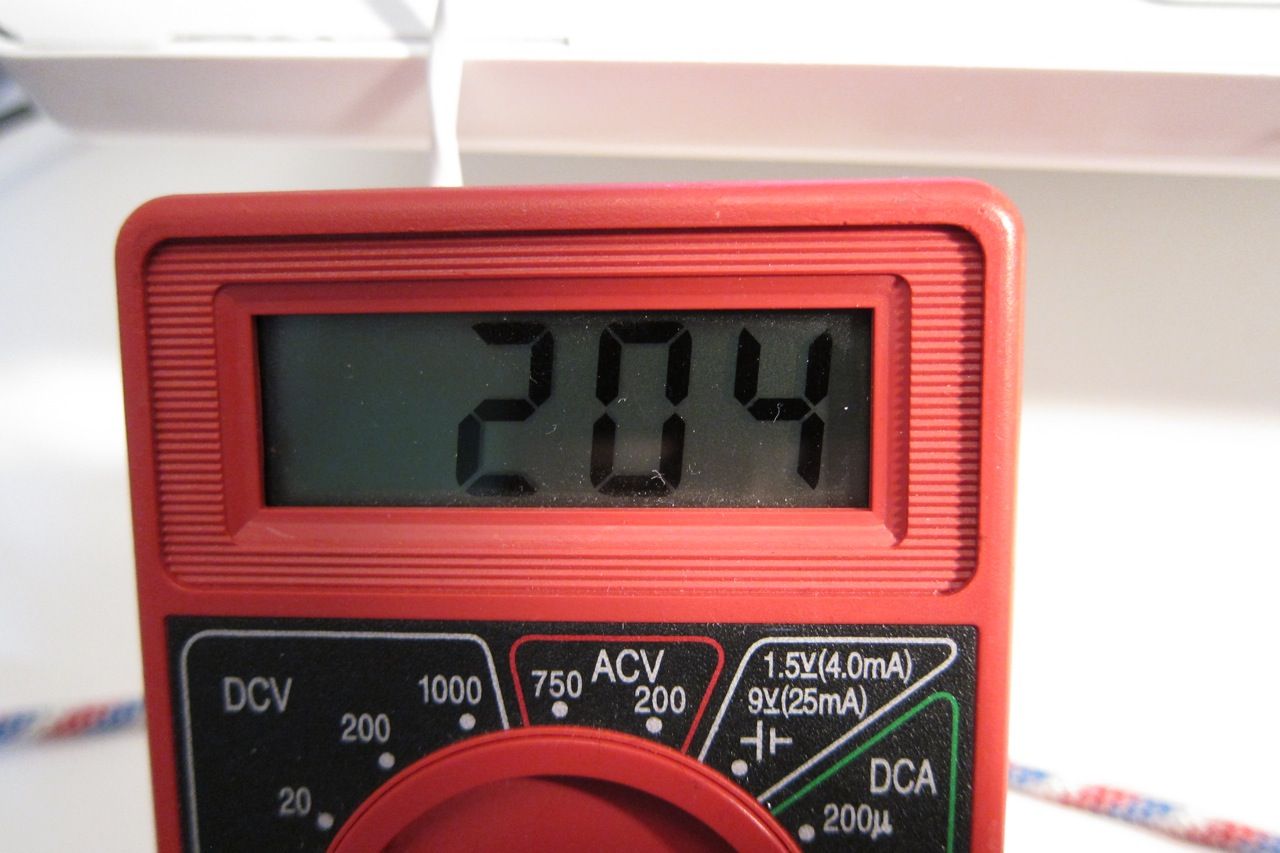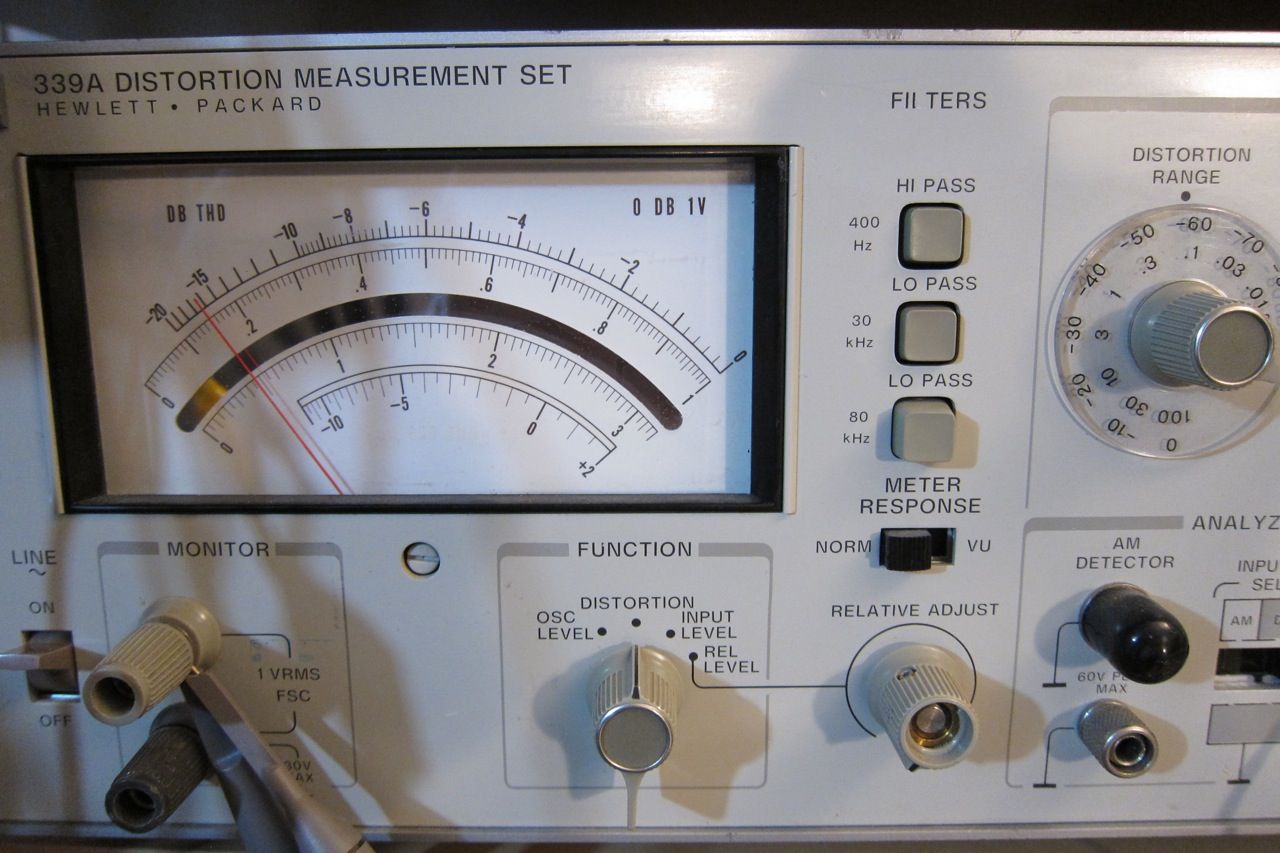 Distortion has now decreased to .016%. All that has changed is the bias. What a marked difference!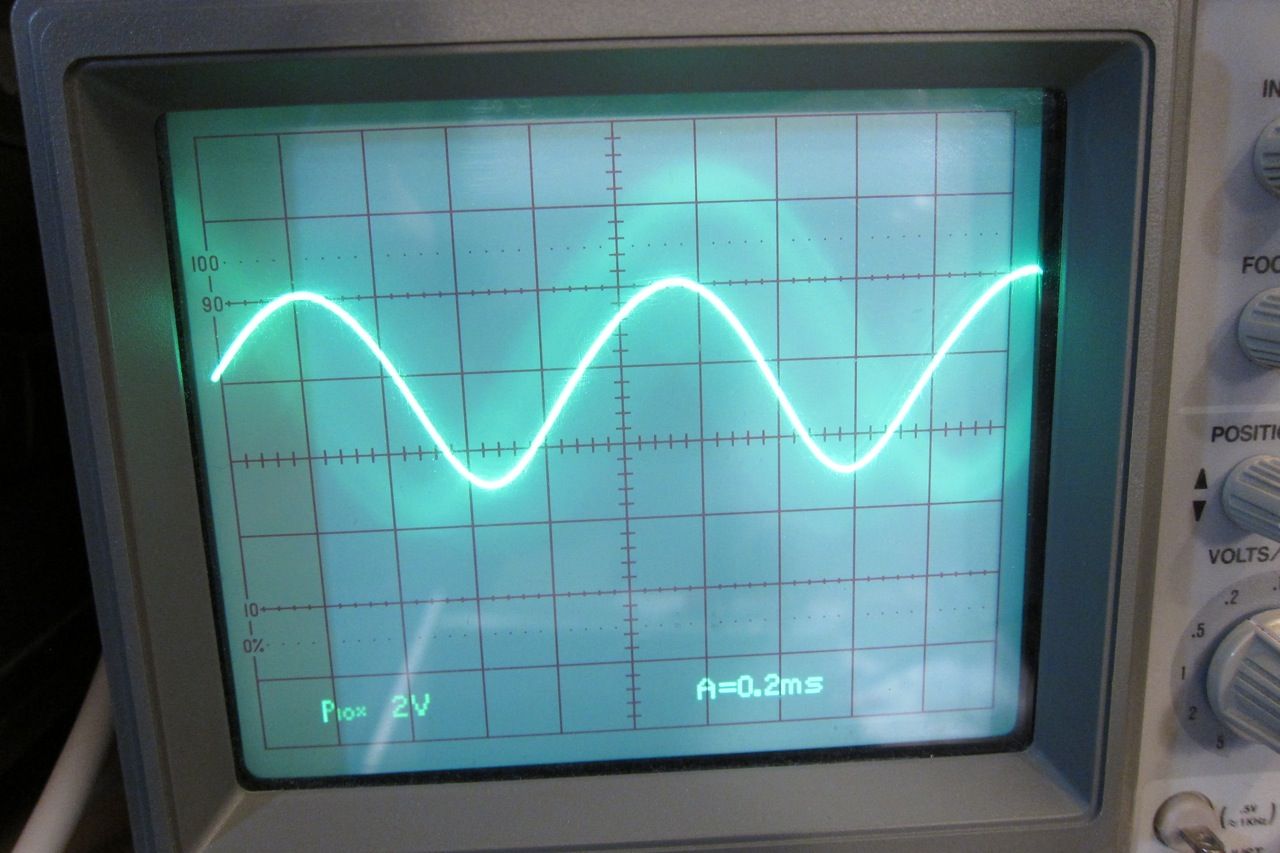 The distortion residual has lost it's humps and is looking very smooth.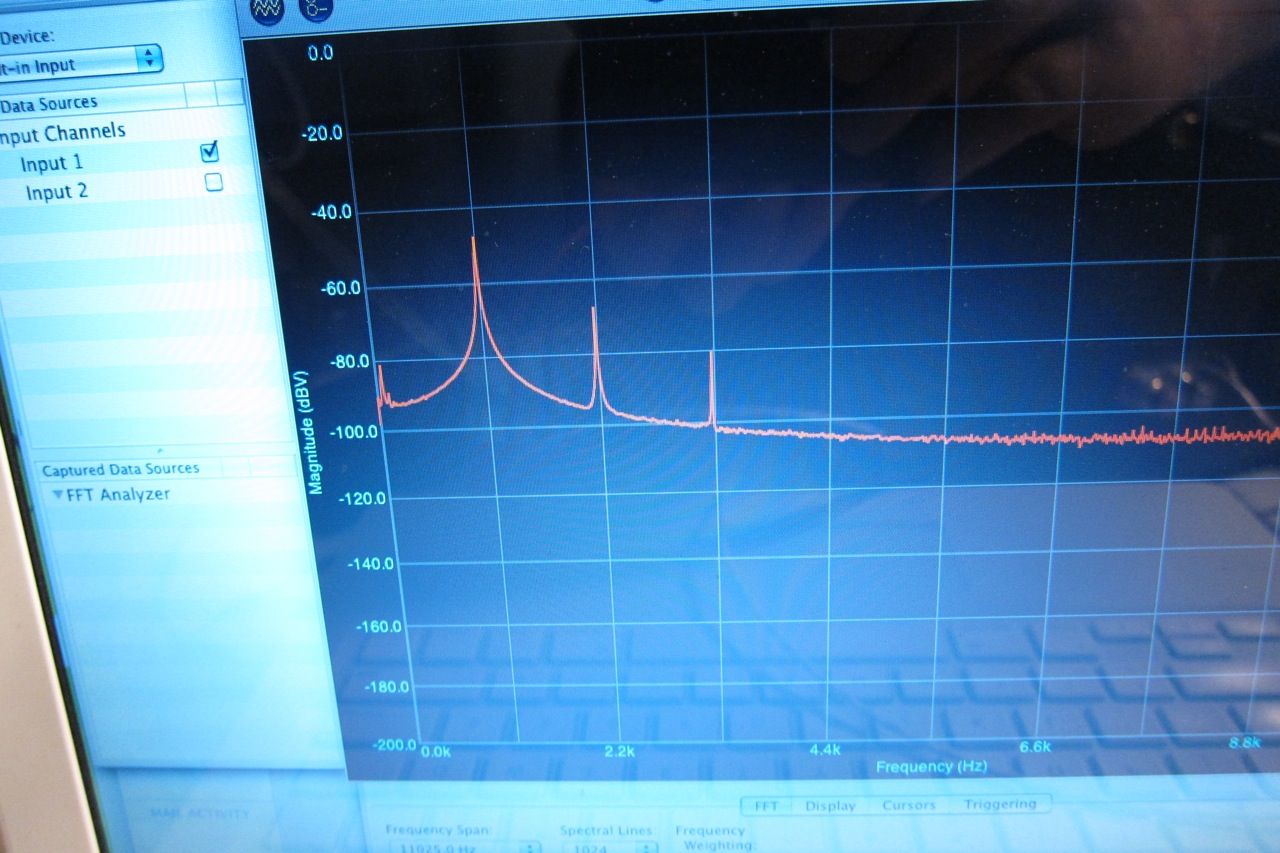 The 4th harmonic is no longer visible, and the 2nd and 3rd are greatly reduced.
Increasing further -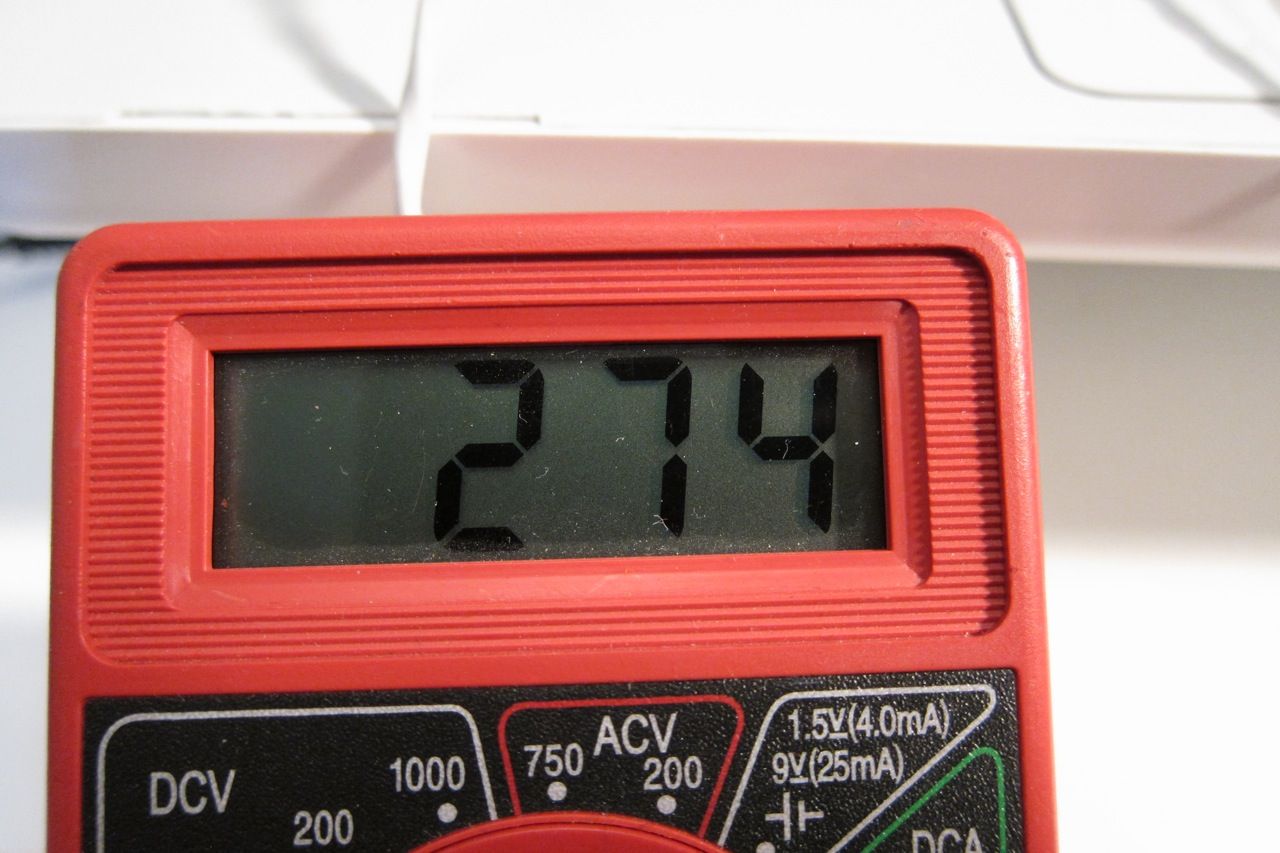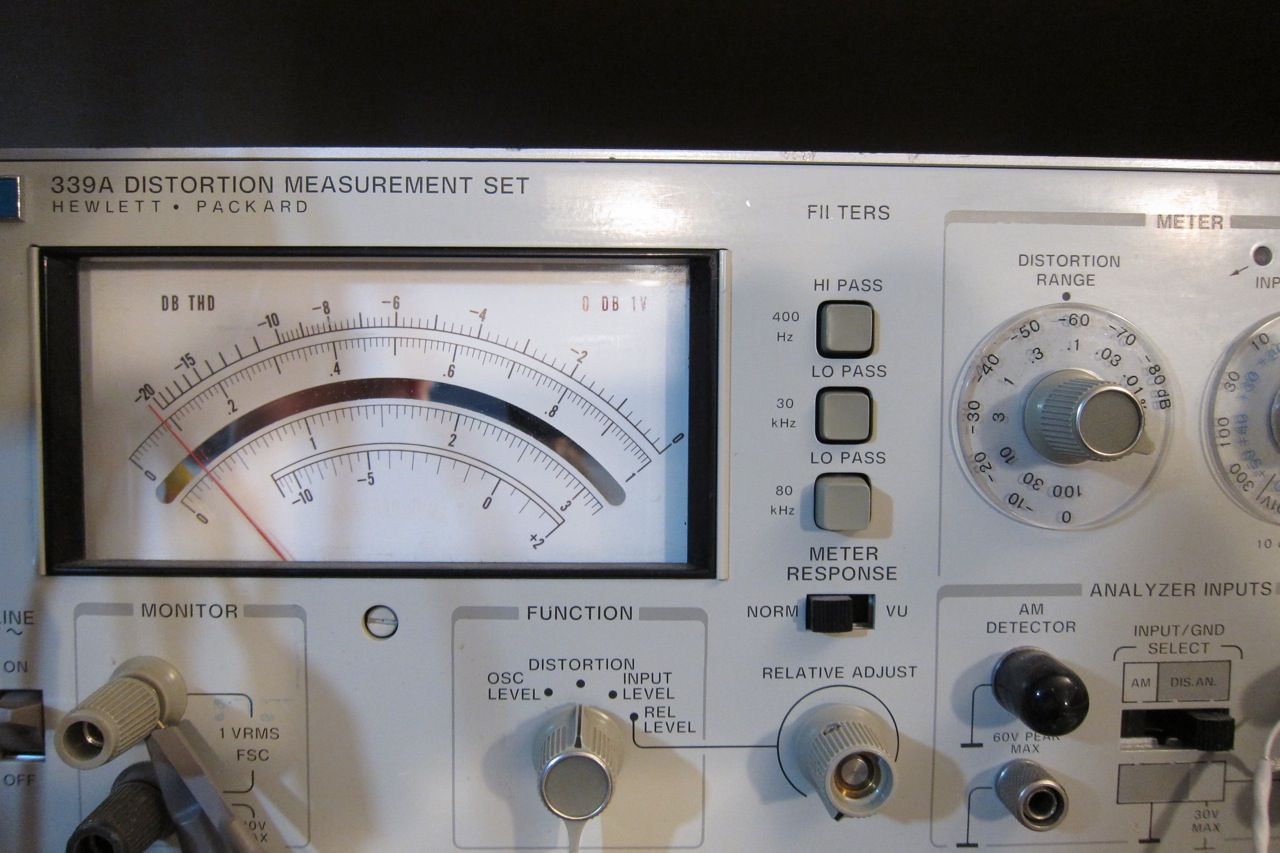 Distortion now .08%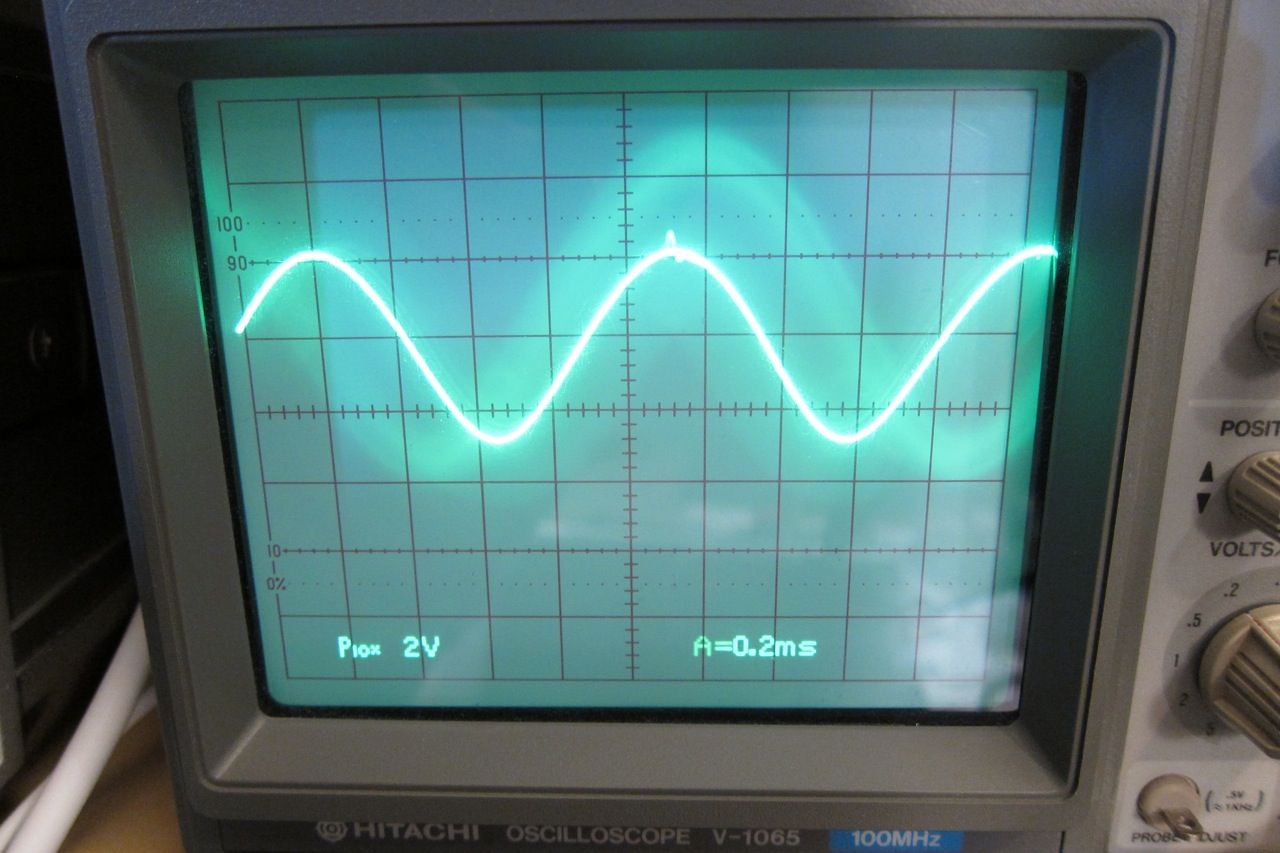 Residual very similar to above, but even more smooth. (A little bit, anyway…)
The noch on the one peak is just a probe artifact.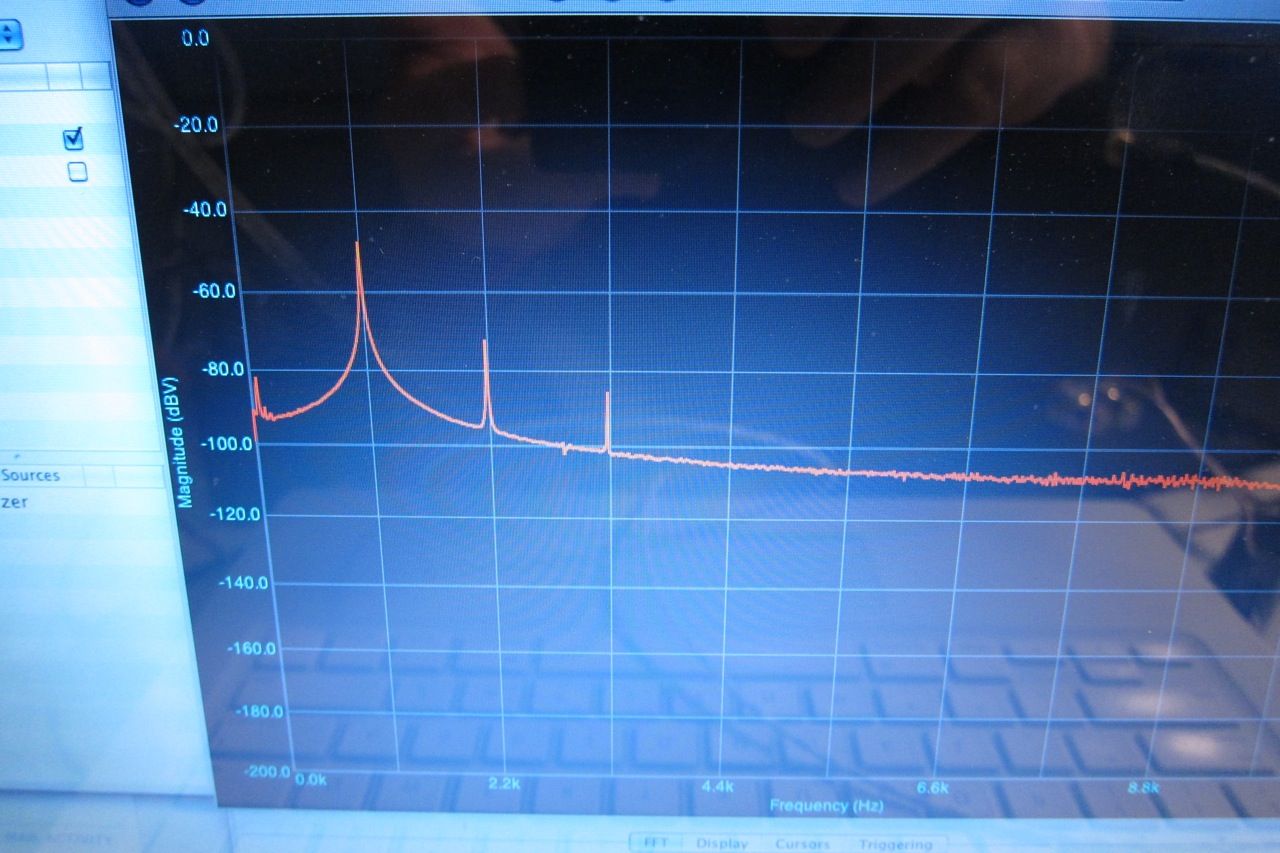 FFT showing the 2nd and 3rd harmonic even lower. Neat!
So the logical thing is to just crank it all the way up, right? Well, yes and no. Here are the reasons the way I understand it. (and people with more experience please correct me if I'm wrong.)
1) Heatsink - at some point you are going to get too hot. With the 5U that wasn't an issue. A good rule of thumb is the transistors 65C max and heatsinks 55C max.
2) Bias current vs. VA of transformer. You don't want your total bias current (in watts) to be more than 1/2 or maybe 2/3 or your transformer's VA rating.
3) Transistor dissipation. Make sure you look at the datasheet for the output transistors, they all have an absolute maximum
and
a de-rating as they get hotter. For long life don't set more than 1/2 the max dissipation.
4) Point of diminishing returns. In this example the measured distortion continued to decrease (down to .045 or so) as bias was increased to 370mV, but the gains were very small and it would added lots of heat. The sweet spot was closer to 300mV bias.
Last edited: