Years ago I remember building a triple chamber with some left over plywood from a friends build and two cheap 10" Pyle subs I had laying around, I built a rectangular three chamber design, the woofers facing each other housed in their own sealed enclosures firing into a common middle chamber (third chamber), this middle common chamber I then tuned by ear, with what I can vaguely remember being a piece of 4" PVC pipe, once the box was built I played a constant deep bass tone and started moving the PVC pipe in and out in a twisting motion until I achieved the desire bass tone I wanted, I then marked that spot on the pipe, cut and caulked it to the box. I know this all must sound prehistoric as hell but this was almost 25 years ago, no knowledge of porting, needles to say there was no software available like there is now, this was just an experiment on a lazy weekend which turned out great, the box sounded so good I had a guy make me an offer I could not refuse and ended up selling it for $150 at a local sound off event.
Here I am years later, trying to achieve the same or better results with the same design, just not sure how to go about it, I have an mind the 4th order Tri chamber box design, but have also heard great things about the ABC box also known as the Dual Chamber ported box.
I am open to suggestions, not looking for SPL just looking for in your face bass, deep and tight sound quality. I'm not sure what the volume/dims of the center chamber on the tri chamber design needs to be and that is one of the main reasons I am asking for help designing this box, but again, I am open to suggestions.
I will be using two brand new Alpine Type S SWS-12D4,
Freq Res 26-200hz
Fs 34hz
Vas 44 L
Qms 9.43,
Qes .6,
Qts 0.57,
SPL 86.5.
Alpine recommends either a Sealed box 14"x14"x11" with a Net internal vol .85 cu ft or Ported box 22.5"x12.5"x14" with a Net int vol 1.4 cu ft. vented box tuning range 32-37hz. I would like to be around
35 hz
coming out of that center chamber, I already have a 4" flared Aeroport i can cut to size in order to port tune properly, not sure if to port the individual woofer chambers or keep them sealed. Also, this box cant be huge, I am placing it behind the third row seats on a Ford Expedition which is wedge shaped with enough depth for the woofers to face each other.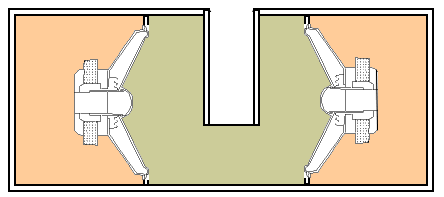 Thank you in advance for any help and suggestions.
Last edited: