Bang and Olufsen use an acoustic lens licensed from Sausalito Audio Works.
This thread is an attempt to improve upon their design.
As the lens technology is covered by patents
1072177B1
and
6820718B2
, these improvements may not be used in a commercial speaker.
But this design is fair game for DIY'ers who are making designs for their own use.
First off,
what is the advantage of the Sausalito Audio Works lens?
As I see it, the fundamental challenge with horns and waveguides is that we have two types of drivers,
and nothing in between.
There are tweeters like the B&C DE250, which can very capably cover four octaves from 1000Hz to 16Khz. And there are beryllium tweeters like the TAD 2001 that can very capably cover 4.5 octaves from 950Hz to 20Khz. The B&C sells for $220 a pair, and the TAD sells for $2000 a pair. It costs a LOT of money to get that last 10% of performance.
You would think that there would be a way to cover 1khz to 20khz without breaking the bank, but it's really hard to do that.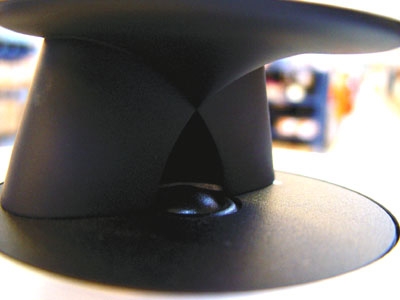 Introduced fifteen years ago, the SAW Lens in the Beolab 5 is designed to do four things:
1) It takes the output of the tweeter and scatters it across a very wide beam. I will post measurements that demonstrate that the SAW lens allows the tweeter to maintain directivity well beyond any frequency we can hear - beyond 20khz.
2) Like any waveguide or horn, the lens increases output. For instance, in the Beolab 5, the tweeter is radiating into a much smaller angle. The way that horns and waveguides increase output into a smaller angle. For instance, if you put a tweeter on a 90° x 90° waveguide, it's radiating into an angle that's 25% as large as if it was on a flat baffle.
3) In a conventional tweeter, the tweeter begins to beam. That beaming limits how high the tweeter can play. For instance, a 1" tweeter will begin to beam at 13,500Hz. (13,500Hz is one inch long.)
4) In a conventional tweeter, there's a limit to how high it can play, based on the efficiency bandwidth product. (EBP.)
This is where the SAW lens excels. By broadening the beamwidth of a tweeter, it allows you to use it at a much higher frequency than normal.
For instance, 20khz is 17 millimeters long. The conventional solution to getting a tweeter to maintain directivity to 20khz is to use a very small tweeter. For instance, JBL uses a 16mm compression driver in their new speakers.
The SAW lens allows you to "have your cake and eat it too." It allows for very wide directivity while using a fairly large tweeter.