Hi all
I bought a couple (actually 4) of Hood 1969 premade Class A amp boards from ebay. They are premade and have 6 screw terminals on them. They work at about 22-25v AC and I tried to mock up a mono amp with one of them. I should probably point out here the boards would be more than 10w.
This was kind of hard as I needed to heatsink the boards. The boards are no longer on ebay but they are very similar to
these ones
with different 2 black caps in the middle and pre-adjusted POTs. I used a large aluminium heatsink and a 22-0-22v toroid to try and mock up one channel (click for zoom):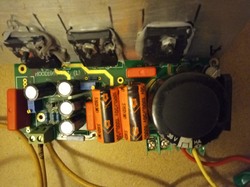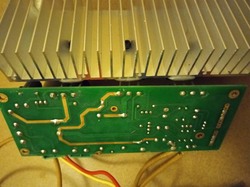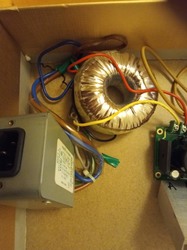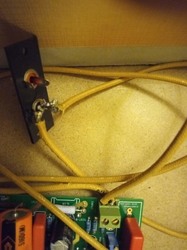 Please excuse the poor soldering - I have just got my station and it's not like a cheap iron. The speaker terminals are not shown used (I needed the wire). The mains block is from a Plasma TV and should provide some filtering as far as I know (I can remove this from the equation).
The result: bad. The amp board simply buzzed the speaker and did not amplify any input signal. I hope the method I used is clear from my pictures.
I have another 3 of these boards if the one I tried is now bad but I can't return it
Any general advice or did I do something wrong? Experts unite!
Last edited: