Hello DAC experts (which I'm not!),
the motivation for this project comes from the fact that I want to drive my active Speakers' balanced inputs with a balanced Preamp Signal.
The Preamp involved is an old, but well working, DSP DAC PreAmp with 3-Way digital x-overs and equalization capability, working with 24Bit/96kHz resolution, on digital and analog inputs. The standard outputs are cinch connections.
A closer look at the main board shows 18 x OP2134 between the AD1853 DAC Outputs and System's cinch Outputs: The first stages do I>V, filtering and unbalancing, next is analog volume control (PGA2310 based, jumpered "off" because I use digital volume), a jumpered 4 level coarse output control (which I won't need), then a buffer stage for an add-on board (which I don't use) and finally buffers for the cinch outputs (which I won't use an longer...).
So I came to the conclusion (maybe naively?) that I could switch off all circuits the above, cut and derive the signals at the DAC chip outputs and feed them into an own I>V, filtering and balanced output stage made up of just two OPA1632 (fully differential OpAmps) per signal. This would reduce the number of OPAs the signal is fed through to just 2 (one I>V & filter, one as balanced buffer) and have the (just perceived?) advantage to keep signals balanced from the DAC chips' outputs to the balanced Speaker inputs without unbalancing and rebalancing on the way...
After reading AD1853 & OPA1632 vendor application documents and looking at other available I>V/Buffering solutions, I have basically merged two app note schematics into one circuit concept which (I think!) does what's needed.
Here is the AD1853 application from the datasheet: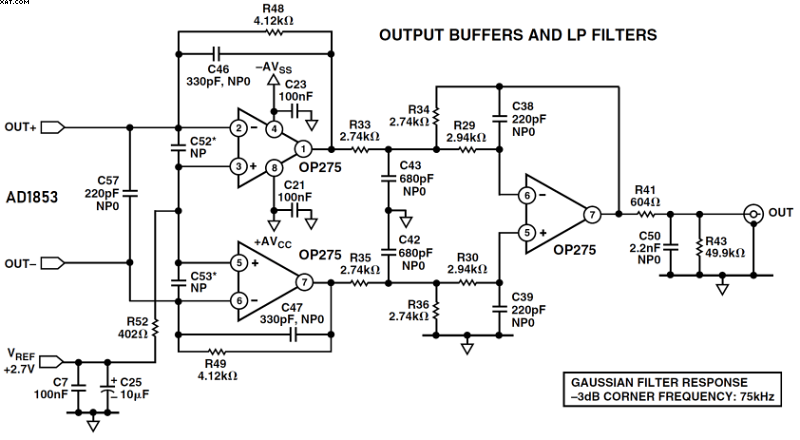 This is "my" circuit adaptation with OPA1632: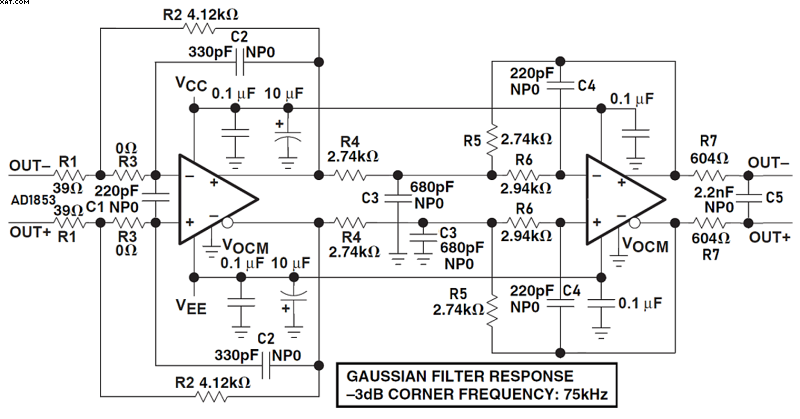 Now I would be very grateful for feedback and input on this, especially on the values chosen for I>V, filtering and buffering, no matter if that's all OK or not OK
Thanks a lot for reading all this.
Best Regards,
Winfried