Here is a passive FAST design using a small trapezoidal OB for the top and a sealed cabinet for the woofer. This speaker design was something I threw together in one night as a means to test out the FF85WK vs the eNabled variant from this
thread
. Here is a photo of the temporary speaker:
The OB is setback about 3.9in for time alignment and I placed some felt strips on the flat surface immediately in front to reduce reflections. The back of the OB has a wad of fiberlgass to smooth the back wave out.
I had a prexisting trapezoidal OB lying around from this
thread
, and the sealed woofer from this
thread
. So I installed a pristine FF85WK into the OB and proceeded to measured the response to produce minimum phase FRD files for the top/woofer/combo to use with Jeff Bagby's PCD package to design a passive XO. These drivers are pretty wide bandwidth (including the RS225) so that I went with a first order XO which also has other sonic benefits like great transients and superb imaging due to phase coherence. I then used DATS v2 to measure the electrical impedance of each driver in the speaker to produce the ZMA files needed for the XO sim.
After choosing a rather modest (low sensitivity) 75dB target SPL, I massaged the responses using a target textbook 1st order acoustic Butterworth HP/LP filters at 600Hz. It wasn't too hard to get these drivers to behave and I ended up with the following predicted response:
Here is the corresponding XO schematic (the R for the woofer inductor is the intrinsic value of the resistor). I actually used values for inductors that I had on hand so the DCR value is rather high given the thin gauge. However, I think there is a sonic benefit of higher DCR: the Qts goes up and bass extension is greatly improved. I did want to mention that this XO uses relatively low cost but high quality parts and can be made for quite little money. The 2.8mH inductor uses smaller 20ga wire and ferrite cores to achieve lower cost and built in higher DCR ($1.50), the 2.2uF caps are CBB 250v film caps ($0.33ea), resistors are 10w cement filled ($0.20ea), the big 51uF 450v cap is a motor run oil filled poly film unit for $11. Some folks may prefer to use air cores but I find that a woofer doesn't need that. Also - a 50uF audio grade film cap will cost a lot more. I find the sound of motor run caps is actually very good - especially when bypassed by a smaller 2.2uF film cap.
Here is the passive XO implementation: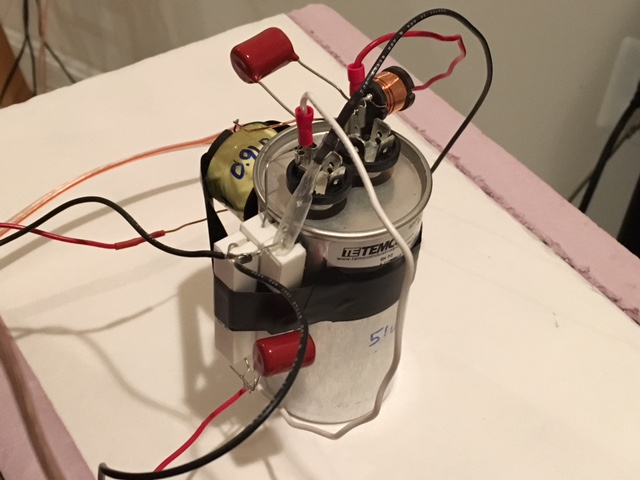 Update (6/9/2016): here is the XO used for the Blind ABX testing
Here is the measured XO response plot at 0.5m:
Here is the measured SPL and phase, showing a fairly linear region through the telephone band, F3 is around 40Hz, which is not bad given that it is a sealed system and there is no Linkwitz transform:
Here is the measured harmonic distortion, which is quite good:
Here are the measured impulse and step responses - the triangle doesn't seem long enough, maybe someone can help me here:
Listening to it, I have to say that coming from years of miniDSP and active bi/tri-amping it's kind of refreshing to have an all passive speaker that can be driven by my new class AB amps. I am using the vzaichenko/jwilhelm VHEX+ vertical MOSFET amp to drive this speaker for the test. The sound is very transparent, clear, and percussion instruments are tack sharp but not harsh/brittle. The FF85WK is proving itself to be a nice tweeter. Here is the amp used:
It's sounds so good in fact, I will probably build a dedicated cabinet and speaker.
Edit (June 4, 2016): I found out what was causing all the above strange behaviors. I got a new laptop and it has some hidden bass boost that could not be bypassed - until I used an external DAC. With that in place all is right now. The XO is a little different than shown above. I will post the new one soon.
FF85WK and RS225-8 Passive FAST
Take the xo response:
Measured phase:
Measured distortion:
Impulse Response and Step Response:
It can even play an ok square wave:
With a Cross Spectrum Labs UMIK-1 the response is a bit flatter:
Phase with UMIK:
HD: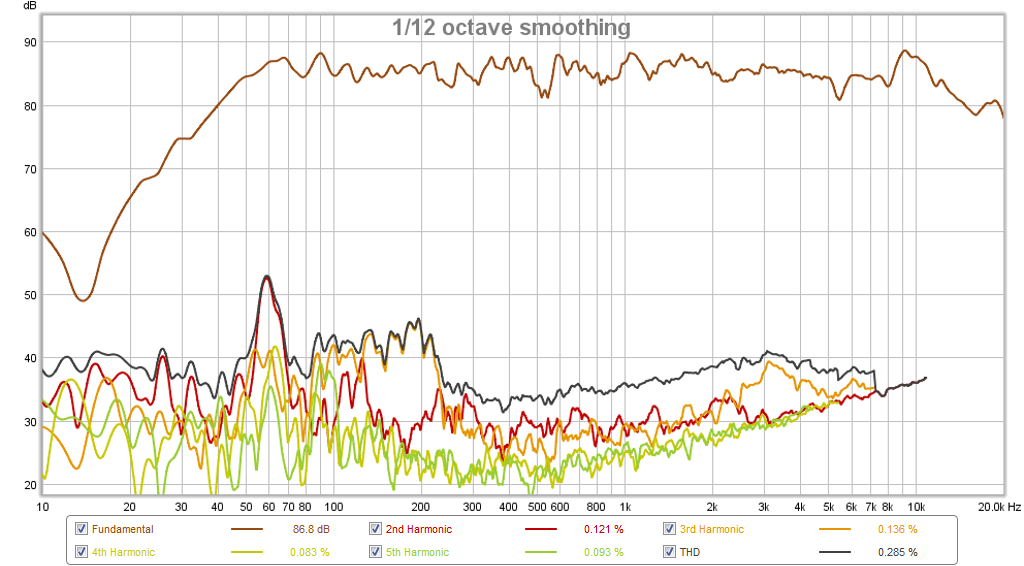 Step Response:
Last edited: