TU-8600S new production will be available in 1st week of November 2021

if you can't accquire one now, do not worry I have more stock in 1st week of November 2021.

Here are the highlights:
Lundahl LL2785B , Takman 2% Carbon and TKD 2CP601S (S with step)

are the standard

( it is not an option)
Coupling Caps options (Mundorf EVO Silver Gold, VCAP ODAM or VCAO CuTF)
For PRE-ORDER pricing--->
Ending August 10, 2021
You can start to reserve next week, the price will be USD $2,075 (price of the amp is same as before.. the only increase is the crazy shipping cost out of Japan )
Shipping for TU-8600S ($110)
VCAP CuTF $360
VCAP ODAM $200
Mundorf EVO Silver Gold $180
You must buy TU-8600S + WE300B and CuTF as a combo.

Gramophone Dreams #48: The Venus Tube, Western Electric's 300B | Stereophile.com
Gramophone Dreams #27: EleKit TU-8600R amplifier kit | Stereophile.com
Stereophile recommended components..
It is a great honor to have 2 X TU-8600 reviews within 24 months from Stereophile
(There appears to not have been any DIY kits in history of Stereophile reviews to have this honor)
I thank Mr Fujita, Herb, Mr Lundahl and a lot of DIY friends for supporting me along this DIY journey.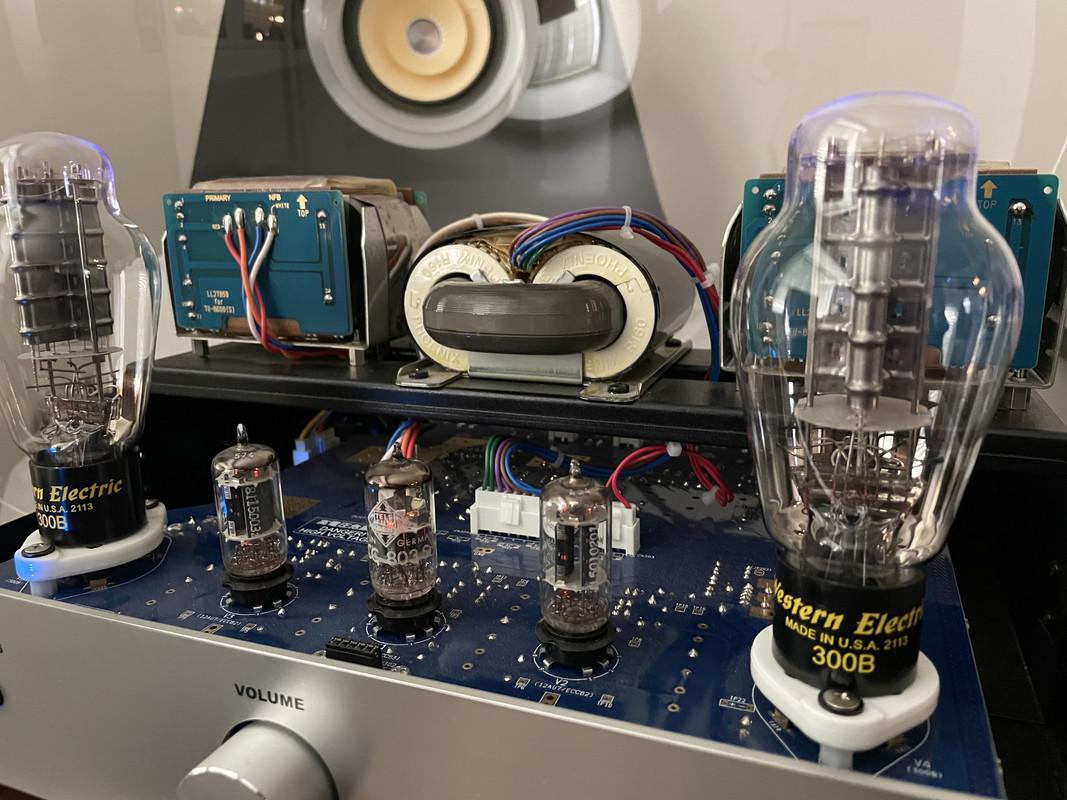 The next procuction of TU-8600S is August 2021.
(subject to disruptions in supply chains ...)
If you want a unit of TU-8600S before it sells out again, please send me an email.

In the next production, I will offer WE300B (Western Electric- New reissue) + Telefunken ECC83 + BRIMAR ECC82 X 2 with TU-8600S
Takman 2% +TKD 2CP601S ( I offer S version)

Do not think WE300B is expensive. It may seem expensive,
but there is no other 300B Tube that will offer a 5 yearwarranty.
I will say it is expensive to buy but it is inexpensive to use.

ELROG one year
Takatsuki one year
PSAVNE 90 days
LinLai 90 days
ACME 90 days
(Replacing the damanged tubes will involve expensive overseas shipping costs, the Western Electric does not.)

The Western Electric WE300B has wider bandwidth (top and Bottom).
Cossor is good with vocal (no doubt). If you want a certain range of music, Cossor is very good.
But the Western has a wider bandwidth. It means that WE300B is good with a wider range of music.



Which type of 300B tube is good for you...
IT depends on the type of music you are listening to...

Last edited: