Hello,
Does anyone would be interested by an high-end analog to digital converter ?
For my own use, i develop a new ADC .It's main use is a high performance measurements tool, for testing my DIY audio projects.
It's main features are :
Cirrus Logic
CS5381KZZ
24 bits 192kHz flagship ADC
Fully differential and single-ended switchable analog inputs.
AC and DC coupling input switchable.
48, 96 and 192kHz on the fly selectable sampling rate.
Optical (toslink) and BNC SPDIF digital outputs.
Very small from factor (120x70x20mm)
Zero calibration allow all offset cancellation.
+/-10V FS input sensitivity.
Standard SMD or TentLab Master clock oscillator
Need +/-15Vdc power supply (SSR01/02 or other low noise PS. Allow 4 wires with sense connexions)
Use MAX3000 PLD functions controlling (no uC)
Allow low-cost or Scientific-Conversion High-end SPDIF digital transformer.
This is my 2nd ADC design (the first use the AK5394 ADC).
Here the PCB design use 4 layers with massive ground plane and very clean signal path routing
Now, the schematics and the PCB design is done, but not already sent to the PCB manufacturer.
I verify again and again each one before to order it.
If some DIYers are interested by this project, i can post more details about it.
Below, You can see what it should look like.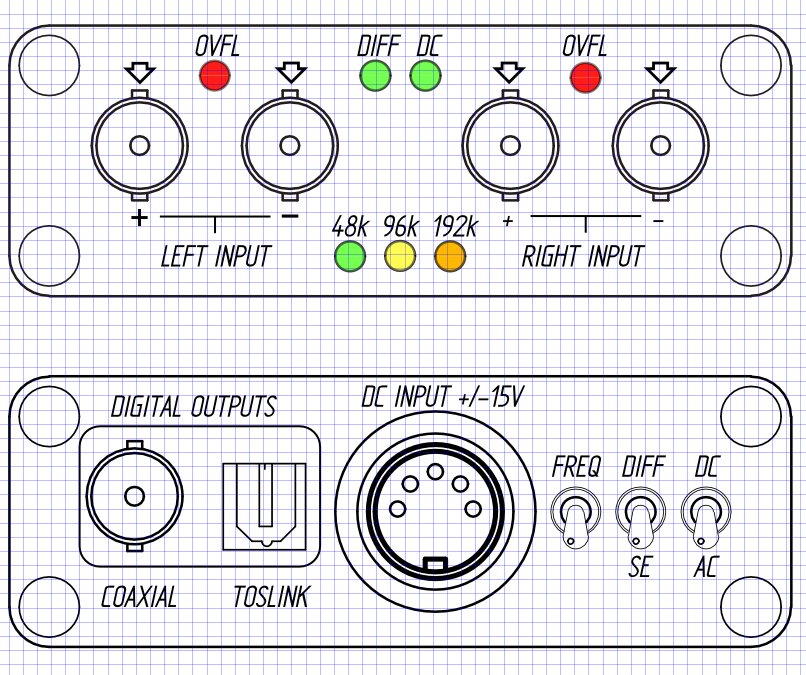 Frex