Nah. there is no way it will play like this with Muses02 whatever you construct.

I'm going to weld the cover on this DAC.
Beather the OP is tube outpit.
Fumihiko actually said paralleling is great. But each chip has to be decoupled individually. And it has increased the quality dramatically.
PHL = Phillippines and it is not K. By the way, I've seen other chips with that design, say PCM56, and that worked.
it is suspicious to me because of the belly, where the numbers have disappeared? if they are not there it means that it has been sandblasted
Parallel connection of current DACs improves their characteristics, that's why I have eight PCM1702. Then the output voltage is calculated according to the formula Vp-p = +/-Idac x N x Rf. Each IC must have its own decoupling and a very well designed PCB for all.

And as far as op-amps are concerned, most of you make big mistakes, for all new op-amps decoupling is required right next to the op-amps themselves i.e. the supply pins themselves, at least ceramic 0.1uF. Even an ordinary soic-to-dip adapter makes a difference due to the length of the lines and can spoil the characteristics, especially if we are talking about devices where higher frequencies are present, such as a DAC.
The OPA1611 cannot work well without decoupling along the pins themselves, which is nicely written in the DS itself, you just need to read it. From my practice, 10nF COG is enough to calm it down, while, for example, the ADA4625-1 needs much more.
Beather the OP is tube outpit.
Maybe...Maybe not. It depends on the taste.
@ra7

DAC chip should not be damaged.

Start with controlling all voltages directly on the DAC pins, be very careful not to short anything, (pin 28=5V, 26=-5V, 15=-15V)
Check.
Check voltages on the I/V opamp pins.
Check.
Measure +5VD voltage on all digital IC capacitors.
Check.
Do you have a digital analyzer to view data stream on digital pins? If not, turn your multimeter and measure AC voltage on digital pins. Play music and measure digital pins on the USB streamer (measure on disconnected from DAC and then on connected with DAC). You should see some AC voltage on your multimeter while playing music. Then measure digital pins on DAC chip if there is some AC voltage (pins 1, 2, 3, 4 with the GND pin 14).
I have a scope and can put it to use. Meanwhile, yes, ac on pins out from streamer and ac on dac pins 1, 2, 3, 4.
What to check next?
647-UFG1H4R7MDM for C15,C25 in AD1862 BOM is end of life.
Is there any other recommendation?
There is
647-UFG1H2R2MDM1TA
(2.2uF).
Is it proper for C15,C25?
holy s*it how much better this is now.
Soo, all these fancy cables really work?
Soo, all these fancy cables really work?
Of course. It doesn't work without a cable.
Here are pics from the scope measurements. Thanks Miro!
Pin 1,2,3,4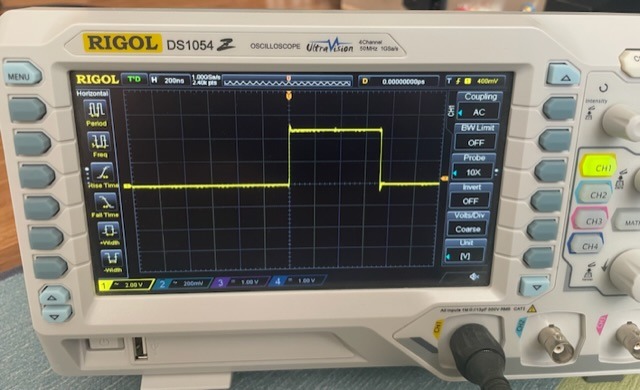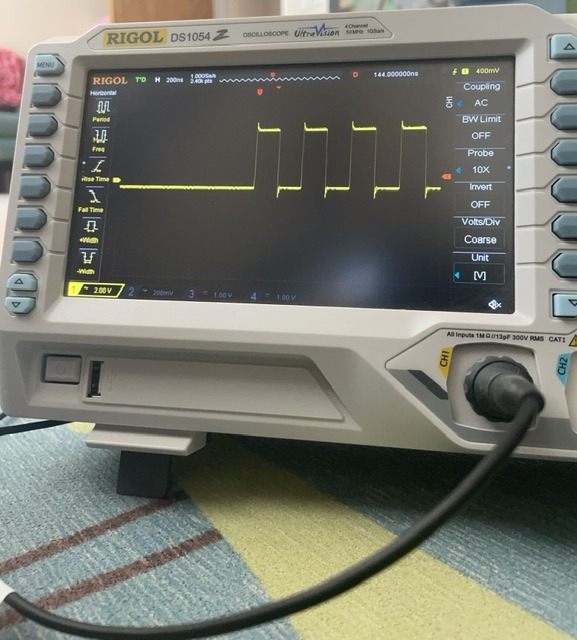 A funny thing happens, which is that after turning off the supply, the 5V line near the logic chips still retains 2V and the LED glows faint. I can see this on the scope at pin 1 of the DAC. That means the supply cap is not draining, which might mean something is open when it shouldn't be.

Edit: the 2V is coming from the USB Streamer. It goes away when I disconnect the USB cord.
Last edited:
Thanks to
@floyd89gr
I have a new PCB and a new occupation.
@ra7
Can you check the USB Streamer settings and set the sampling frequency to 44100 kHz and test the sound again?
If no sound, put the scope on pin 3 or 4 and see the scope if there is some data present and alternating while the music plays (you can compare it with the situation when music is paused).
Thanks to

@floyd89gr

I have a new PCB and a new occupation.
Mine just arrived at my door but I have no pcm63p chips....🤣🤣
DAC AD1862: Almost THT, I2S input, NOS, R-2R