Hugh has been doodling on LTSpice and he came up with something really extraordinary: a 43% efficient SE Class A amp that can drive 39w into an 8ohm load with the usual Aksa-approved harmonic profile and low phase shift. The amp uses only 6 bog-standard actives and employs the excellent Aksa Lender front end to drive what seems like standard complementary MOSFET output stage using the venerable and easy to find IRFP240 and IRFP9240 outputs. However, it is not a push-pull amp though, but operates in SE Class A with an active CCS controlled by a cleverly wired PNP CCS controller. Please note that this active CCS is no longer based on the Pass Aleph topology but a PNP-controlled P-channel with symmetric sense resistors. The amp should really be called an Aksa Lender Nirvana.
So we have 4x TO-92's, and two TO-247 MOSFETs. Together, with only a +/-27v supply, they combine to make 39w into 8ohms with a predicted 0.019% THD AT 12w, and of course, always dominant H2 and a monotonically decreasing higher order harmonics. Output impedance is predicted to be less than 50mOhm at 12w into 8ohms at 1kHz and DF is 160. Quite a powerful amp given the rather low 27v rails. 27v rails happen to be what you get when you use an SLB PSU with a 22v trafo like an Antek AS-3222. Gain is 28.5dB, and phase shift is only 5.3deg at 20kHz.
Here is the rough schematic from LTSpice: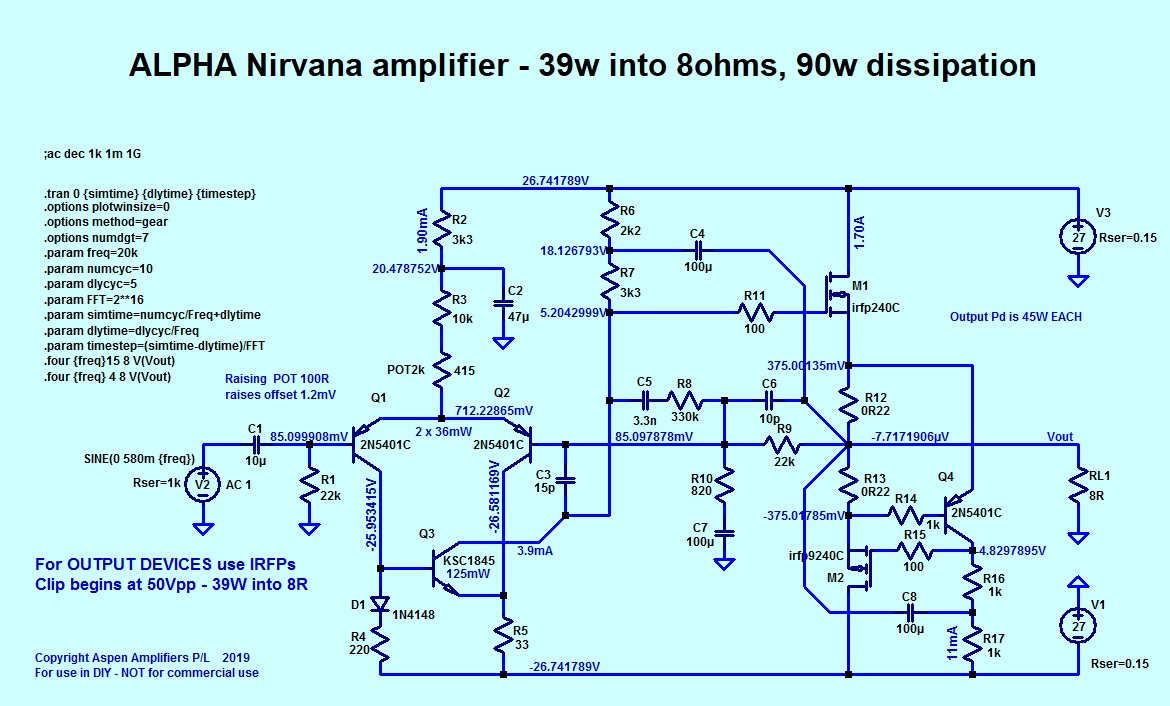 More detailed analyses and sims to come...
Later to be followed with the usual P2P vero-build, and then hopefully, a real PCB verification build and full measurements.
Enjoy!
A huge thank you to Hugh for continuing to give us these gems!
Edit May 25, 2020: detailed O-scope max power clipping tests by AndyR using his 4-ohm variant Alpha Nirvana with +/-21v rails:
Alpha Nirvana 39w 8ohm Class A Amp
Short story - good for 34W into 2.1ohms loads!
Not bad for true Class A amp (cannot ever go into Class AB - it simply softly clips when pushed).
Edit Oct 31, 2019: latest version 2 schematic of amp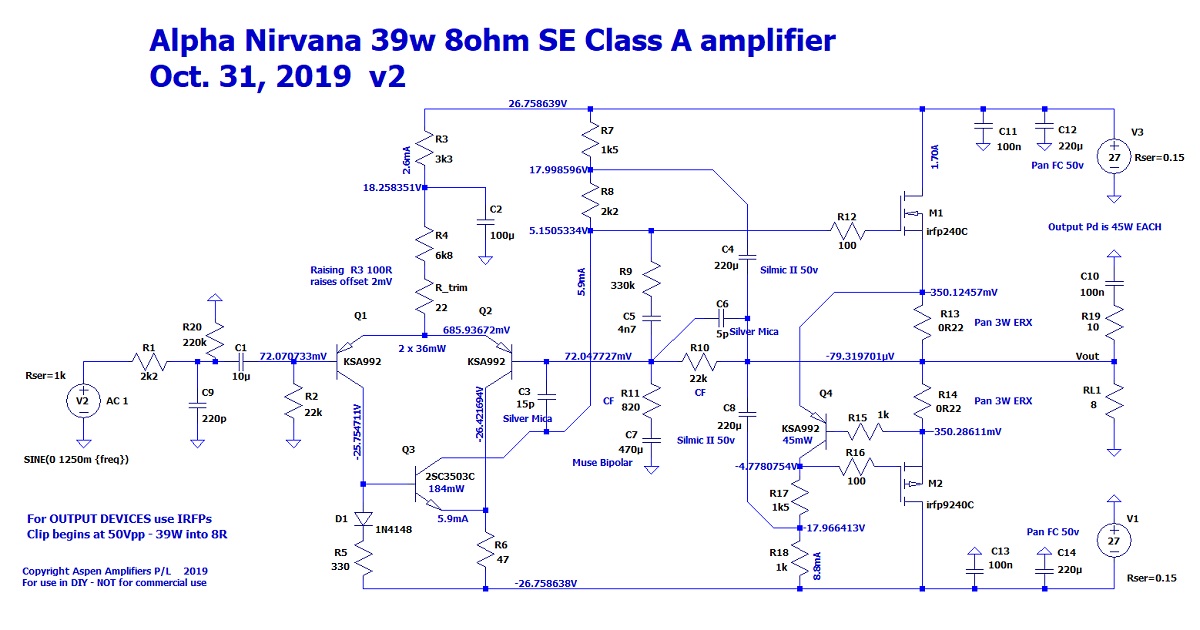 Predicted FFT with v2 for 2.83Vrms into 8ohm, THD=0.0039%: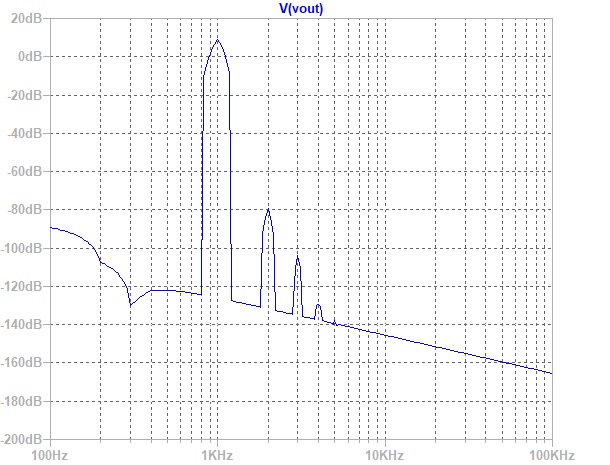 And if we increase power to about 12.5w into 8ohm, we still see a nice monotonically decreasing harmonic distortion profile. THD is now about 0.016%: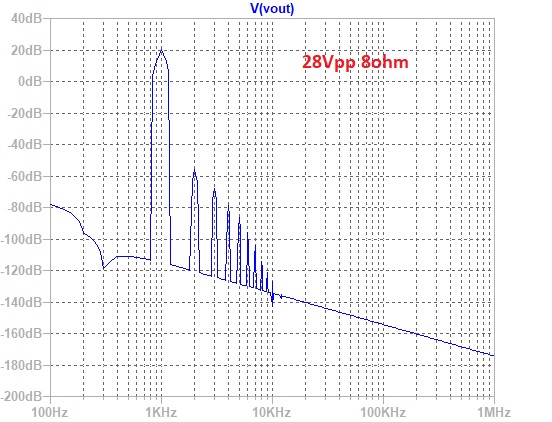 Edit Nov 27, 2019: Measured max output before clipping is 51.6vpp into 8ohms, or about 41.6w into 8ohms. This is with +/-28.5v rails.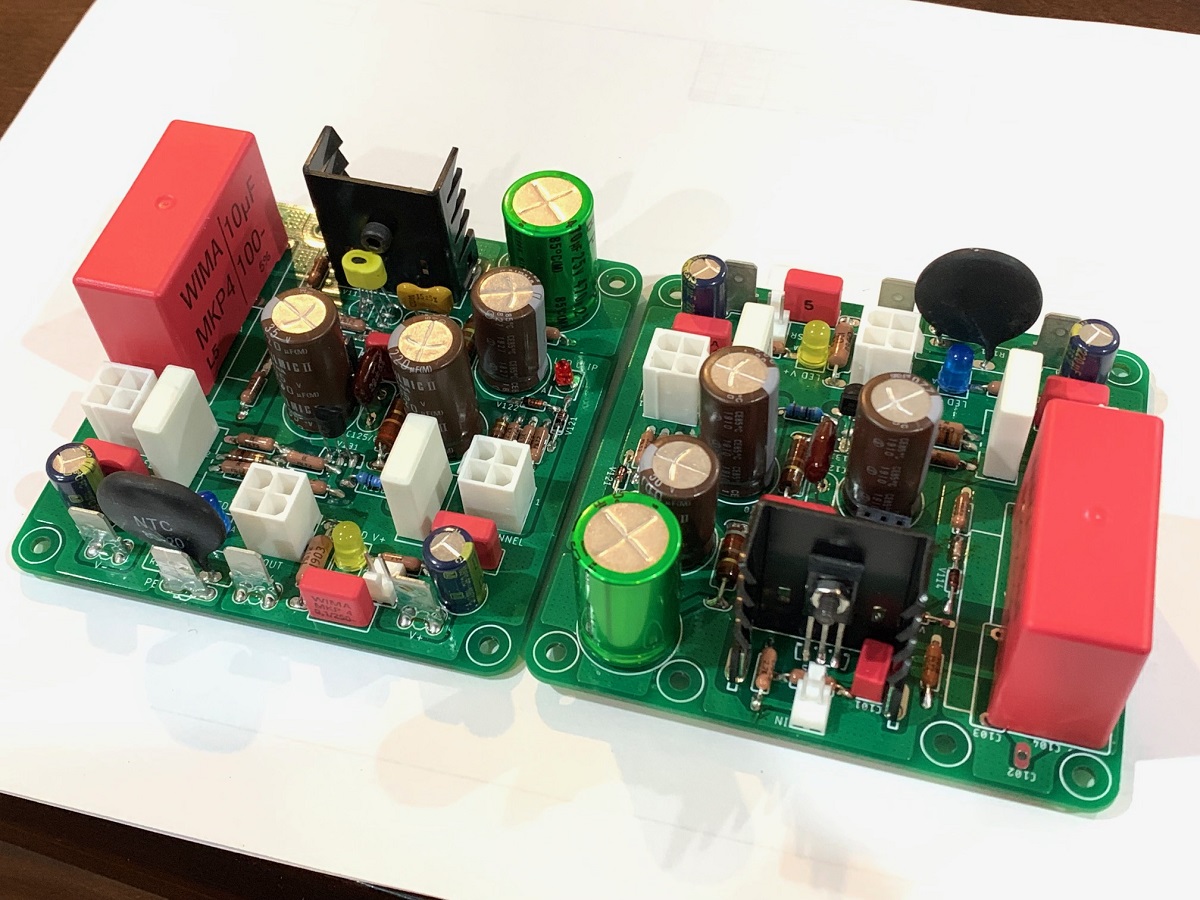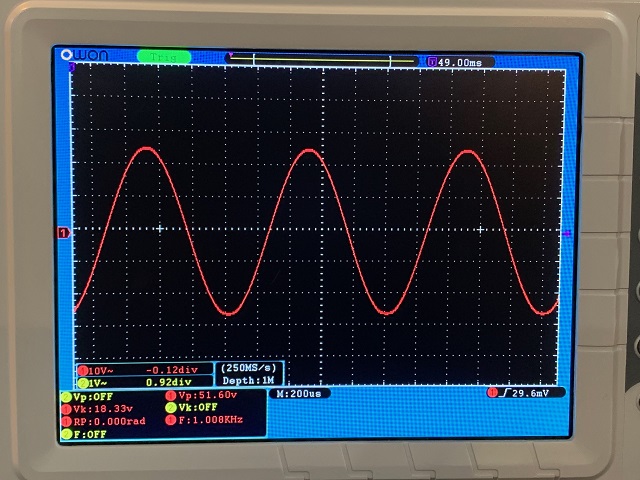 Edit Nov 29, 2019 - Grounding scheme schematic (post 279):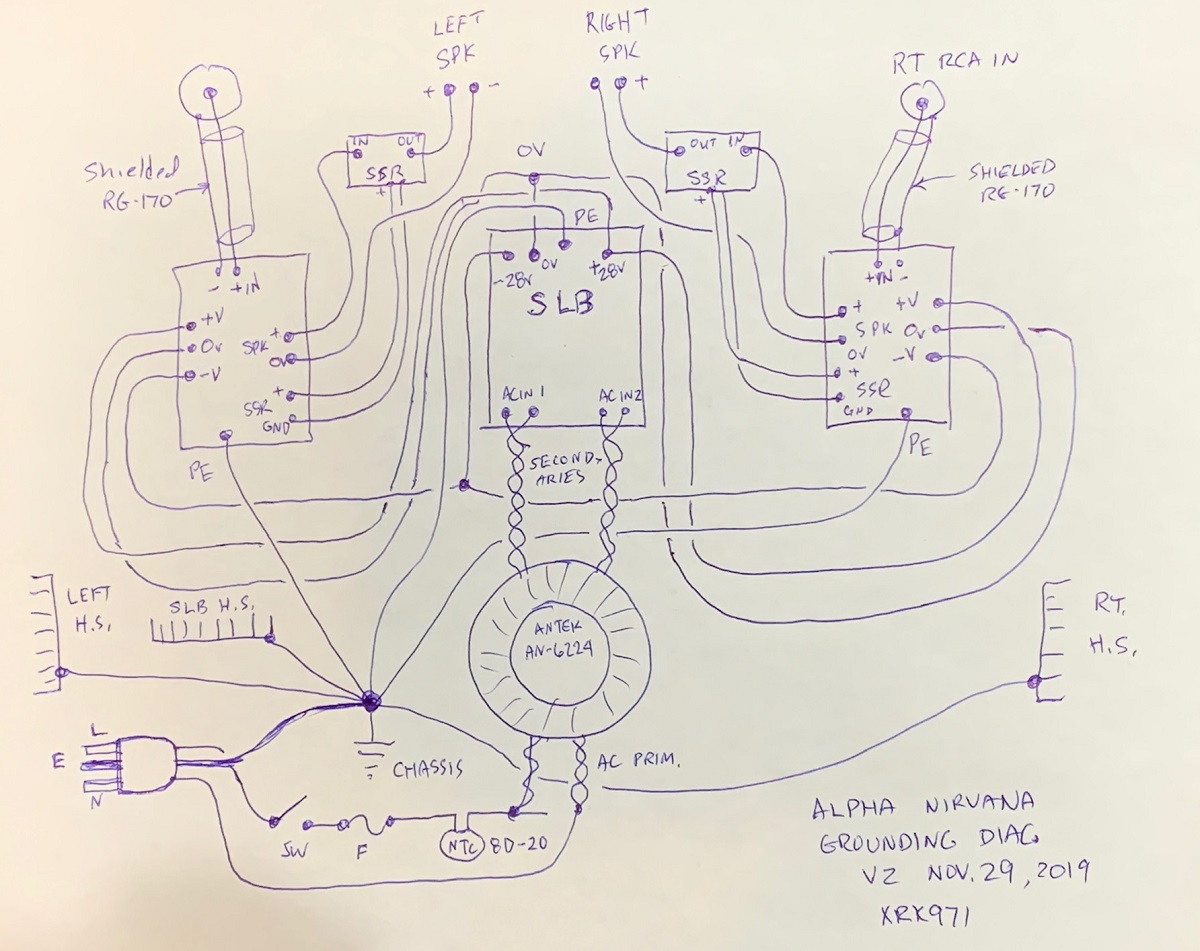 Produces background noise FFT like this:
Some measurements at 3.16vrms into 10ohms with a Cayin N3 DAP as 1kHz osc source, obtained 0.0041% THD and mostly 2nd and 3rd harmonic:
GB thread for this amp here:
Alpha Nirvana 39W SE Class A Amplifier GB
Tips and tools on how to do professional clean looking SMT/SMD soldering:
Alpha Nirvana 39w 8ohm Class A Amp
Edit Dec 14, 2019: BOM in easy to read .XLSX format:
https://www.diyaudio.com/forums/att...8ohm-class-amp-alpha-nirvana_bom_001-xlsx-zip
Mouser
Shopping Cart for BOM here
. Do not modify cart - please save to your own shopping cart as a new project before changing.
Edit Jan. 3, 2020: please note that the Mouser shopping cart above needs to have parts for snubber boards increased by 2x as there are parts for 1 board only. The BOM is for one amp board so needs to be doubled for stereo. Double following: (R1001, R1002, C1002, V1001)
Edit Dec 26, 2019: AndyR did a lot of due dilligence to put together a very nice BOM for both the 8ohm and 4ohm versions of this amp here:
Alpha Nirvana 39w 8ohm Class A Amp
Thank you, AndyR!
Edit Apr 24, 2020 - Dual Monobloc Connection Diagram is using SLB and SFP boards: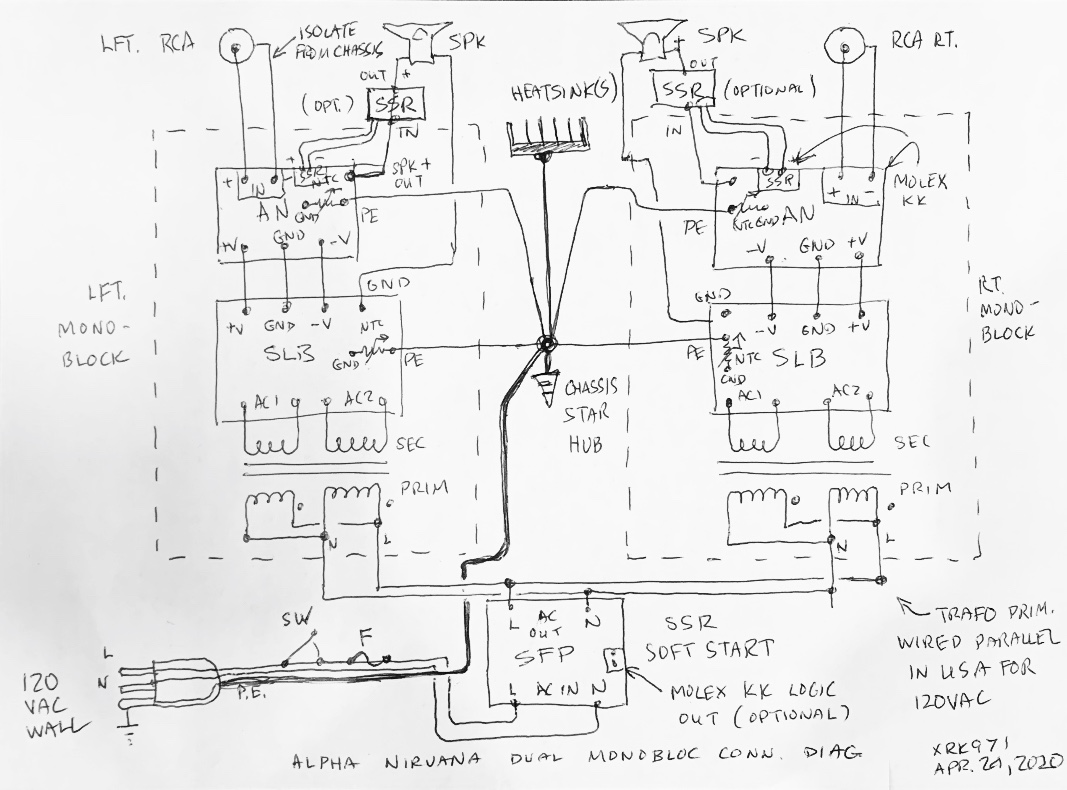 As built schematic verified and tested to work:
Edit Apr 19, 2022:
beautiful build
by Steve (Sledwards12375):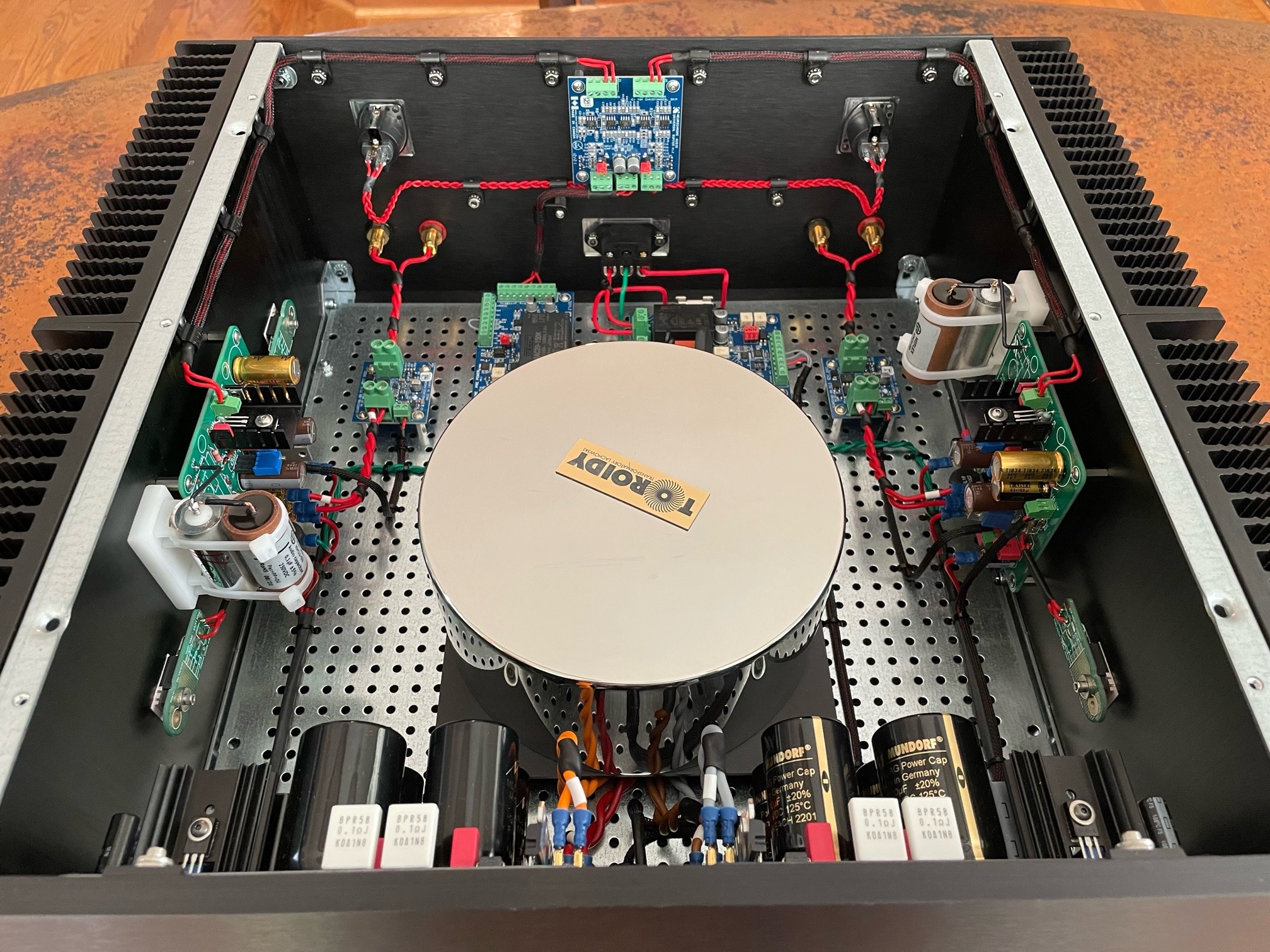 Last edited: