Hugh has been doodling on LTSpice and he came up with something really extraordinary: a 43% efficient SE Class A amp that can drive 39w into an 8ohm load with the usual Aksa-approved harmonic profile and low phase shift. The amp uses only 6 bog-standard actives and employs the excellent Aksa Lender front end to drive what seems like standard complementary MOSFET output stage using the venerable and easy to find IRFP240 and IRFP9240 outputs. However, it is not a push-pull amp though, but operates in SE Class A with an active CCS controlled by a cleverly wired PNP CCS controller. Please note that this active CCS is no longer based on the Pass Aleph topology but a PNP-controlled P-channel with symmetric sense resistors. The amp should really be called an Aksa Lender Nirvana.
So we have 4x TO-92's, and two TO-247 MOSFETs. Together, with only a +/-27v supply, they combine to make 39w into 8ohms with a predicted 0.019% THD AT 12w, and of course, always dominant H2 and a monotonically decreasing higher order harmonics. Output impedance is predicted to be less than 50mOhm at 12w into 8ohms at 1kHz and DF is 160. Quite a powerful amp given the rather low 27v rails. 27v rails happen to be what you get when you use an SLB PSU with a 22v trafo like an Antek AS-3222. Gain is 28.5dB, and phase shift is only 5.3deg at 20kHz.
Here is the rough schematic from LTSpice: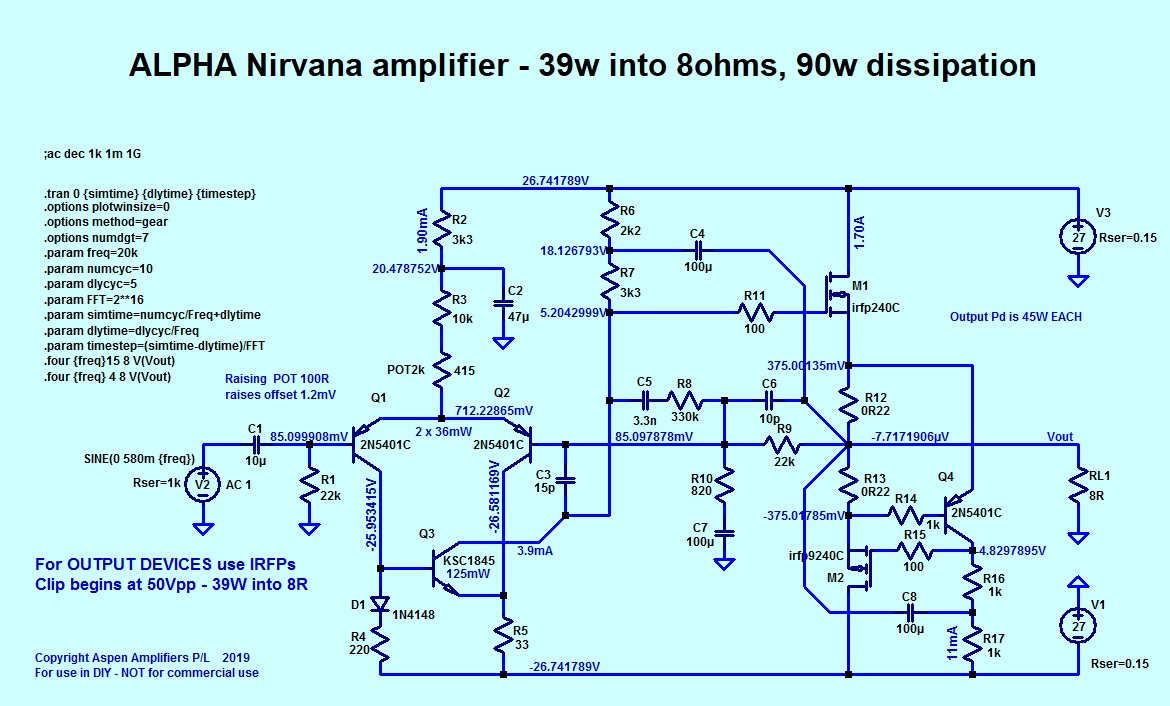 More detailed analyses and sims to come...
Later to be followed with the usual P2P vero-build, and then hopefully, a real PCB verification build and full measurements.
Enjoy!
A huge thank you to Hugh for continuing to give us these gems!
Edit Sept 21, 2023: Looking for Cliffs Notes on the BOM and some and hints on what parts to use etc by Voiceofposeidon here:
https://www.diyaudio.com/community/...8ohm-class-a-amp.344540/page-107#post-6920076
Edit May 25, 2020: detailed O-scope max power clipping tests by AndyR using his 4-ohm variant Alpha Nirvana with +/-21v rails:
Alpha Nirvana 39w 8ohm Class A Amp
Short story - good for 34W into 2.1ohms loads!
Not bad for true Class A amp (cannot ever go into Class AB - it simply softly clips when pushed).
Edit Oct 31, 2019: latest version 2 schematic of amp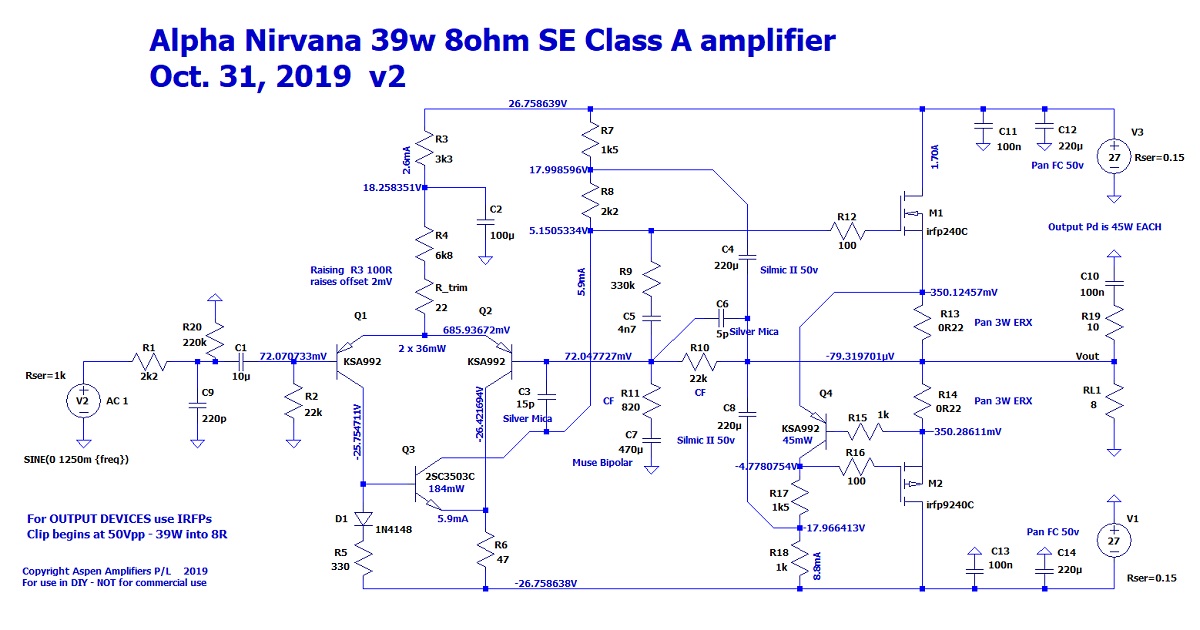 Predicted FFT with v2 for 2.83Vrms into 8ohm, THD=0.0039%: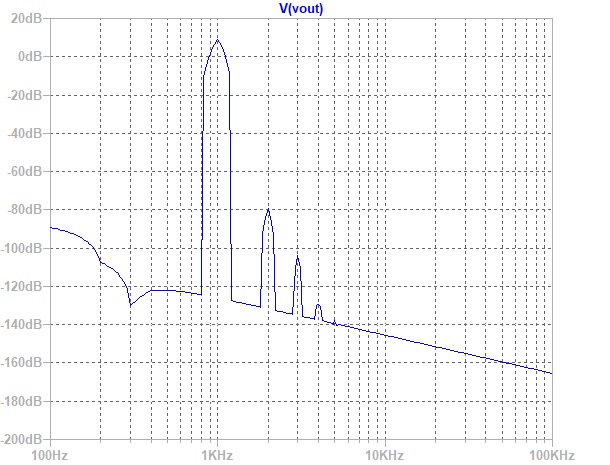 And if we increase power to about 12.5w into 8ohm, we still see a nice monotonically decreasing harmonic distortion profile. THD is now about 0.016%: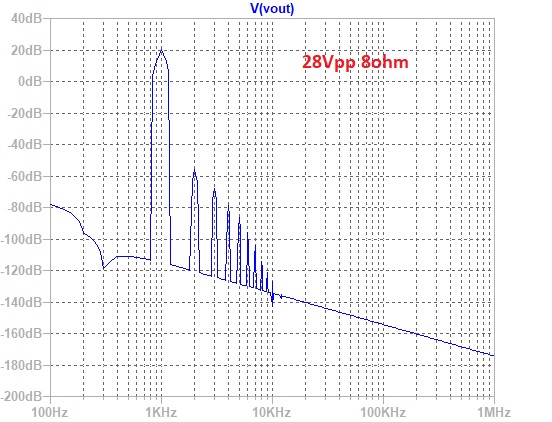 Edit Nov 27, 2019: Measured max output before clipping is 51.6vpp into 8ohms, or about 41.6w into 8ohms. This is with +/-28.5v rails.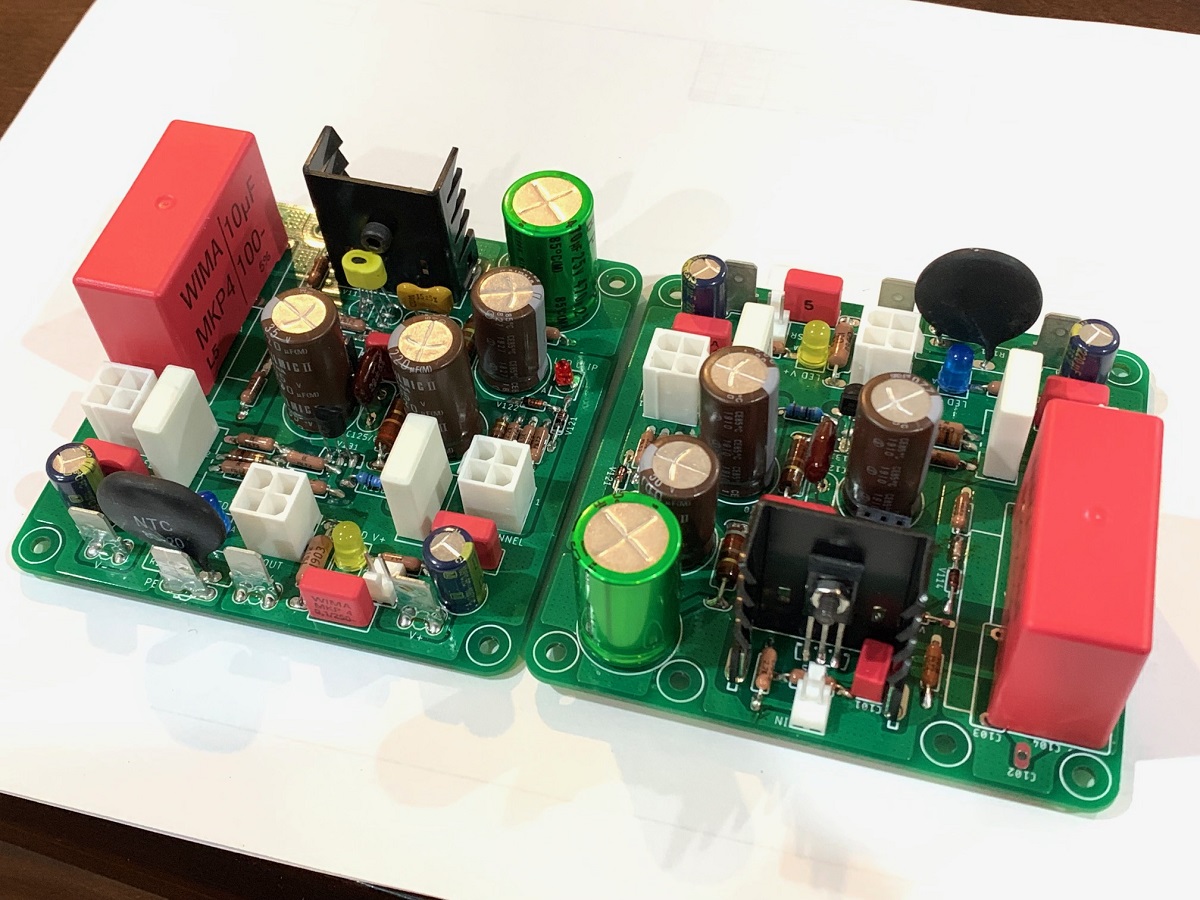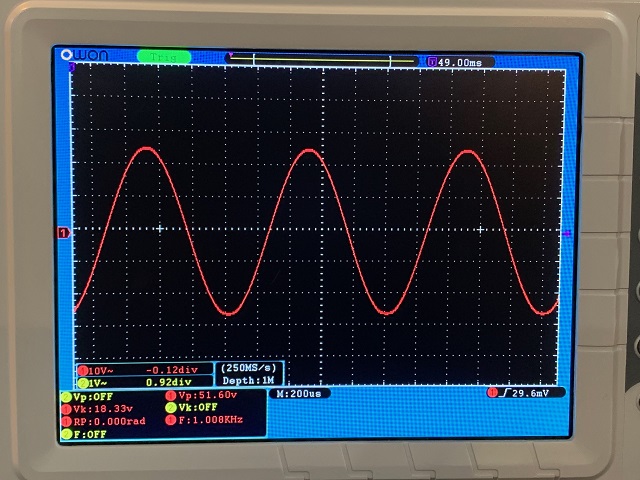 Edit Nov 29, 2019 - Grounding scheme schematic (post 279):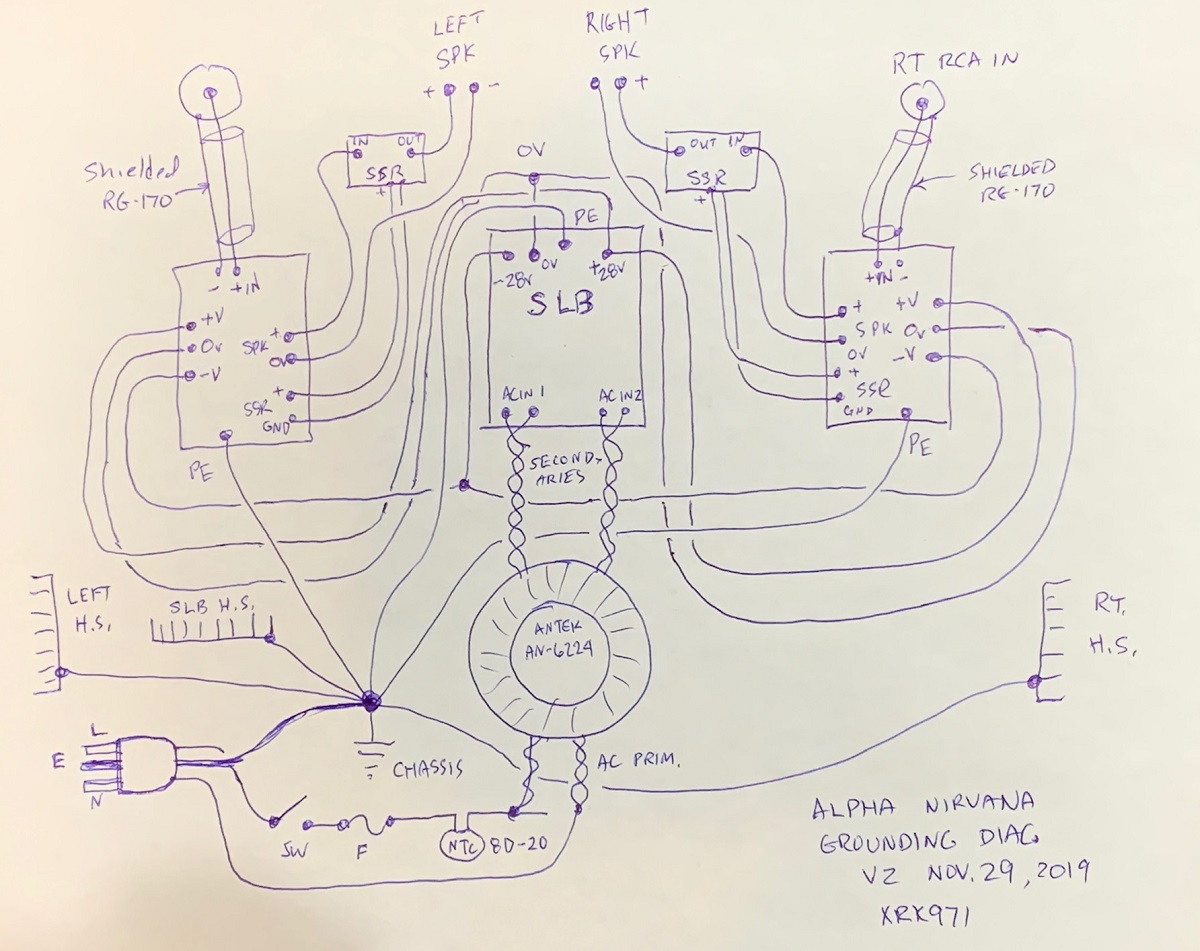 Produces background noise FFT like this:
Some measurements at 3.16vrms into 10ohms with a Cayin N3 DAP as 1kHz osc source, obtained 0.0041% THD and mostly 2nd and 3rd harmonic:
GB thread for this amp here:
Alpha Nirvana 39W SE Class A Amplifier GB
Tips and tools on how to do professional clean looking SMT/SMD soldering:
Alpha Nirvana 39w 8ohm Class A Amp
Edit Dec 14, 2019: BOM in easy to read .XLSX format:
https://www.diyaudio.com/forums/att...8ohm-class-amp-alpha-nirvana_bom_001-xlsx-zip
Mouser
Shopping Cart for BOM here
. Do not modify cart - please save to your own shopping cart as a new project before changing.
Edit Jan. 3, 2020: please note that the Mouser shopping cart above needs to have parts for snubber boards increased by 2x as there are parts for 1 board only. The BOM is for one amp board so needs to be doubled for stereo. Double following: (R1001, R1002, C1002, V1001)
Edit Dec 26, 2019: AndyR did a lot of due dilligence to put together a very nice BOM for both the 8ohm and 4ohm versions of this amp here:
Alpha Nirvana 39w 8ohm Class A Amp
Thank you, AndyR!
Edit Apr 24, 2020 - Dual Monobloc Connection Diagram is using SLB and SFP boards: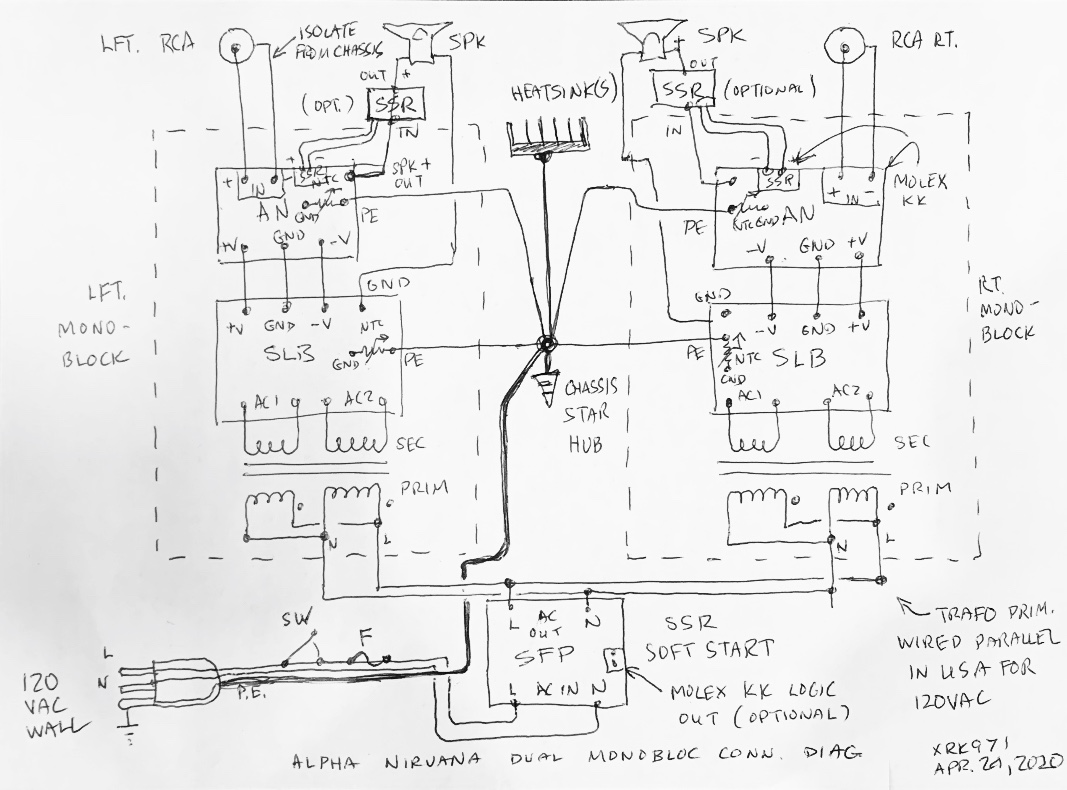 As built schematic verified and tested to work:
Edit Apr 19, 2022:
beautiful build
by Steve (Sledwards12375):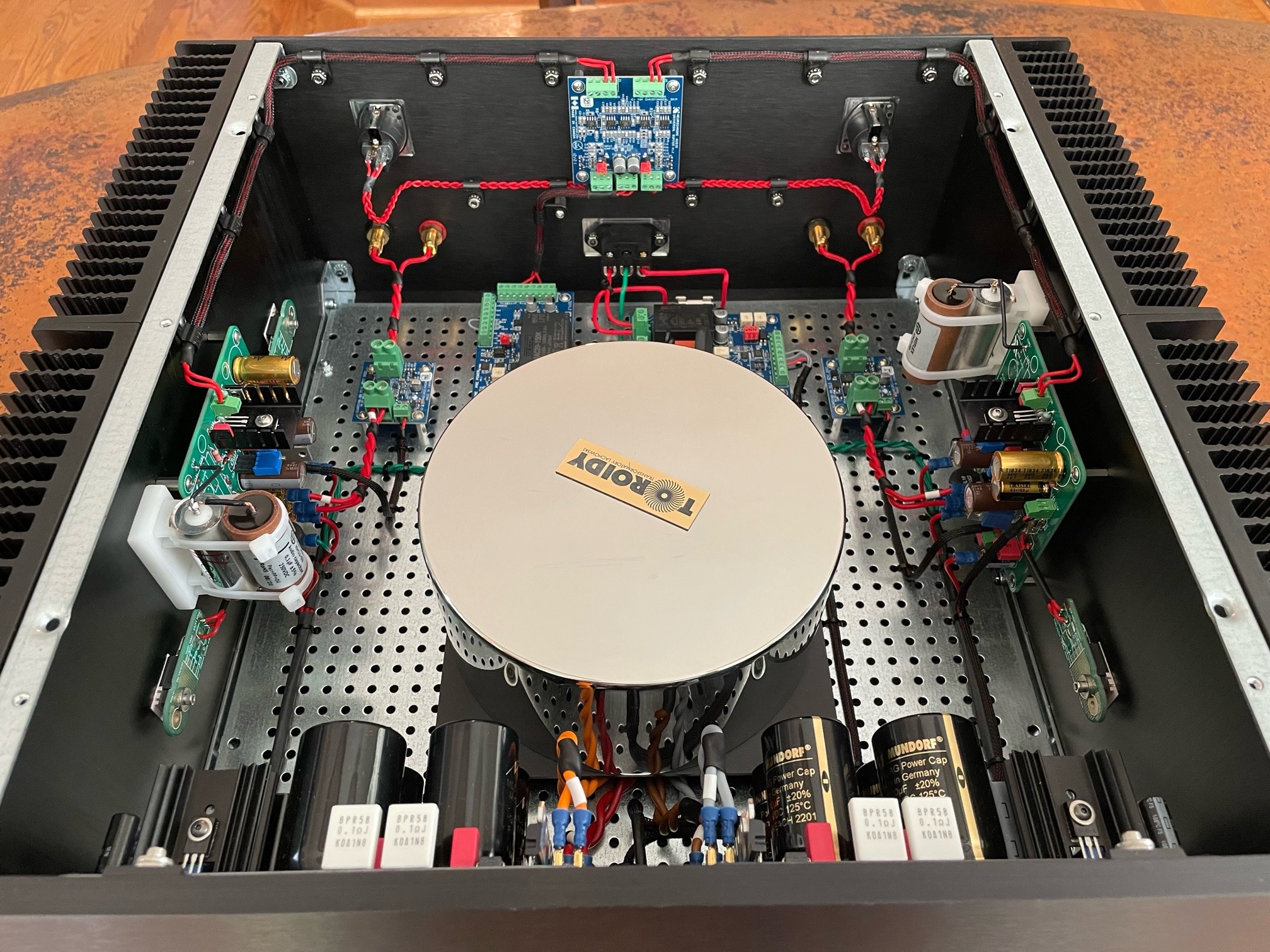 Last edited:
X,
Very impressive! Look forward to the proto build starting soon - please keep us posted on your progress with pictures and measurements. All the best, and keeping my fingers crossed. 39 watts of Class A power, usable with standard passive heat-sinks sounds like a DIYers dream come true.
Hugh,
Thank you - as X said, another gem for the DIY community... where are we going to store all these Class A amplifiers?
Maty,

19.1W into 4R, clipping at negative 13Vpk. This is not designed for 4R; it's specifically for 8R with dips to 6R. For big power, say >50W into 4R, I would change outputs and rejig some of the output stage values to maintain stability, THD and power into lower loads.

Thanks for your interest!

Hugh
Very exciting! Thank you Hugh! Subscribed!
With the 2N5401 devices, I found a source by Semtech from LCSC. They seem to cheap to be true but LCSC says they stand behind what they sell. Maybe worth a try...
Semtech|Semtech 2N5401|Transistors (NPN/PNP)|lcsc
Would KSA992 work in place of the 2N5401's as well?
Last edited:
We actually tend to use KSA992 (complementary to KSC1845) in actual builds. But if you have 2N5401's they are good too. Pin outs are different though.

45w dissipation on MOSFETs might make sense to get slightly higher rated Fairchild FQN/P's. Good thing is that no MOSFET matching will be needed. The input KSA992 or 2N5401 should be matched for Hfe with a simple tester to reduce thermal drift. This will probably be another adjustment free amp if we match the inputs for low DC offset.
Cool circuit! I see two bootstrapped Mosfetdrivers.. so why notmake them identical? Make them bith 2k2, 3k3 and 100uF?

And why use MOSFET? Wouldnt a powr
er darlington pair increase efficientcy even more?

Also wondering if a PP classA version would even be simoler and lower distortion....

thanks for sharing!
I think slight asymmetries in the circuit are result of a lot of fine tweaking to ensure that the dominant harmonic distortion is not odd (3, 5, 7, etc) ordered. Perfectly balanced will usually result in lower overall THD at the expense of elimination of even order distortion. This would result in a harsher and more fatiguing sound. It's very subjective of course, but these are what I refer to earlier as the "Aksa-approved" harmonic distortion profile.

It doesn't get any simpler than 6 actives for this category of amp does it?

Why SE Class A and not PP? Again, SE Class A tends to have a more natural sounding harmonic distortion profile (dominant H2) vs PP which tends to have dominant H3.
Last edited:
This is a CCPP constant current push pull amplifier I developed the principal in
NEW class A :Constant Current Push Pull amplifier with single SMPS and hybrid preamp
The lower output tries to maintain the current thru 0.22 ohm resistors constant. When the upper output pumps more or less current, the lower act inversely pumping exactly less or more . By this it simply doubles the output current keeping the character of the upper output as SE x2.
The speed of Q4 has paramount importance for the dynamic of the sound , I advise first to put it on socket and try out different ones .
R3 10k can also be bootstrapped by 270k and 1uf , then the potential of the emitters move up and down along with bases keeping the current thru pot2k constant.
This amplifier gives powerful bass if you use eider single switching supply with split output of better, with a single floating supply 48v/3A adjusted 54.
I'll simulate in Tina and post it very soon.
Last edited:
KK,

It is actually a single ended push pull Class A. Upper nmos sets the voltage at the load, lower pmos sets the current through the load - up to double of the quiescent setting - 3.4A theoretically from a 1.7A quiescent.

The bass is intentional but in fact the 330k & 3.3nF in series is a frequency dependent nested feedback network, which sets the loop gain high at bass frequencies, under 100Hz, for high DF. At high frequencies, the global feedback is reduced to 15 (23.5dB).

The heatsink should be large - at least 350x150x50 with vertical fins for adequate passive cooling, and at least 160mm between the two output devices, which will dissipate 45W apiece. This is just adequate for the IRFP240/9240 pair.

This is a development of the original ALPHA which has been built by a number of DIYers here since Feb this year. It is a very good amplifier, and this one is better because it's more powerful and a lot more efficient; 39W from 90.5W - 43% is pretty good for Class A and practical. This circuit is set up ONLY for 8R speakers. 4R will need different, 280W output devices and maybe arguably less rail voltage, say 18V. With 3.4A quiescent, dissipation will be 122.4W, and estimated output would be 45W.

This is not yet built but I'm hoping it will be soon. With six actives including two outputs this is a very spare design - yet I am quite sure all requirements and more are met for a reliable, good sounding, economical and efficient Class A.

This is a great opportunity to consider. There are many tricks in this circuit, and it is mature as it stands. Thank you for your interest and input, much appreciated!

Hugh Dean
Last edited:
This is not yet built but I'm hoping it will be soon. With six actives including two outputs this is a very spare design - yet I am quite sure all requirements and more are met for a reliable, good sounding, economical and efficient Class A.
Hi Hugh,
Normally, I would be onto this and slinging solder to make the P2P version by now.
Unfortunately, my other obligations are taking up all my amp P2P time - a real fun part of DIY. To collect a handful of parts, add some jumpers and solder, and boom! A new amp is born and it sings beautiful music.
I think luckily, JPS64 will have some time to do a layout starting tomorrow. I'll order the board quickly and we can test it out soon.
I am thinking of keeping it close to the original Alpha 20 PCB board footprint and UMS compatibility. Maybe add some Molex connectors to allow for flying lead mounting of the MOSFETs.
Alpha Nirvana 39w 8ohm Class A Amp