Anti-aliasing filter
---
Class-D amplifiers are digital systems in the sense, that they have for one thing fixed band-width, say are sampling, and for another thing fixed Switching Range, say a least bit, belo which level they start to stay quieter than they should. In this paper I am only interested in the band-width issue, also for one may design a new digital recording system from scratch.
First to mention, in order to not obtain too much ringing and aliasing, sample rate must be at least 2*Pi*band-width. With band-width set to 16 KHz, I set sampling rate to 100 KHz. Most Class-D amplifiers have modulation frequency (resembling sampling rate) of 200 KHz or higher. Since raising sampling rate swells data or reduces Switching Range, I keep sampling rate as lo as sonically pleasingly possible, and that is 100 KHz.
The filter must put out at most -8 Bel-full-scale at 50 KHz, because I presume, that the following system will have only 10 Bel dynamic range or will not mind a few bits of aliasing, and that source will not have higher than -2 BelFS at 50 KHz, because microphones and stuff are lo-passes. Also, aliasing shall become suppressed the most at lo frequencies, for example 51 KHz source, which would result in an annoying 1 KHz tone. With 65 KHz source, the resulting 15 KHz tone is less annoying.
Therefore I apply two 51 KHz notch filters. They are based on interference, two same-level opposing-phase signals cancelling each other. The first one basically is a T-filter, phase difference archieved by one hi- and one lo-pass of 1st order, the sum notching by 2 Bel and having large band-width. The second one is narrow and 4 Bel deep and results as the sum of 2nd-order hi- and lo-pass of 51 KHz rite-phase-angle frequency and Q=1/2, like a LR2 cross-over without tweeter polarity flip.
The T-filter has some damping at 16 KHz, so I apply a 2nd-order lo-pass with fr~20 KHz and Q~1.2. This lo-pass also helps damping at and above notch frequency. I also use each one 1st-order lo-pass at in- and output in order to make sure, that radio is kept out. A cascade of several 1st-order filters is better suited than one 1st-order filter as a non-ringing most steep hi- or lo-pass anyway (see
here
).
The result is the red line in the following plot, -1.5 dB at 15KHz, -3dB at 18 KHz, -8 Bel at 51 KHz, -5 Bel at 90 KHz and -6 Bel at 200 KHz.
Short ringing: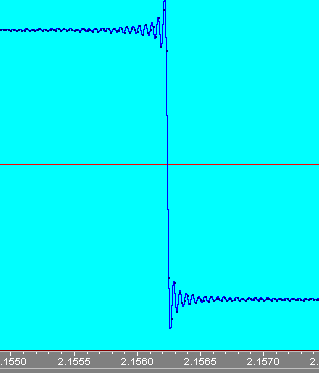 As comparison, linear-phase ("over-sampling") anti-aliasing or reconstruction filter of the Compact Disc:
This filter has higher damping and fully prevents aliasing, but it rings much longer, and half of it is time-reversed.
Step response distortion issue is, why sampling rate must be at least six times band-width. Still, data rate of a new digital recording system may not need to be higher than of the CD, for ADPCM 16-to-8-bits compression may be used. Not bit-perfect but possibly better sounding than the CD.
Comments