Hi you all,
This will be my first post around here but I have been reading quite some threads.
I was thinking for a folded horn design that needs to cover the bass and upper bass (from around 50-60 to 200-250Hz)
Some sort of kickbin. My experience so far with that frequency range is that a 15" drivers sounds very good.
Ofcourse it depends alot of the driver and design but in general I like the sound that a good 15" driver can produce.
If they are horn loaded I like it even more
the headroom and the transients....
(I have build 16 punisher horns in the past and powered with 1kw/ punisher it's insane.... You need a lot of BR boxes and power to do the same,)
So I was thinking that getting to around 50-60Hz with a folded 15" horn doesn't has to be that extremely large
So i was searching and came across a design from the old fane speaker book
Fane 1x15 Folded Horn | Ubertino Landi di Chiavenna | Flickr
or you can find the book here
http://www.ozvalveamps.org/cabinets/...ages-26-33.pdf
and there the last 2 pages.
Searching further I also came across this horn from cowan called the Horn sub JR
Horn Subwoofer
They are not that different from each other
So I ran some hornresp simulations on the cowan design.
It will not be corner loaded so the last section was removed from the simulation.
The driver I would want to use is the Beyma 15P80ND.
QTS is only 0.178 and the EBP is 181.
BL is 24.3 so I think it would be a great horn driver
Xmax is 7.5mm.
Xlim is 26mm.
So My first simulation gave this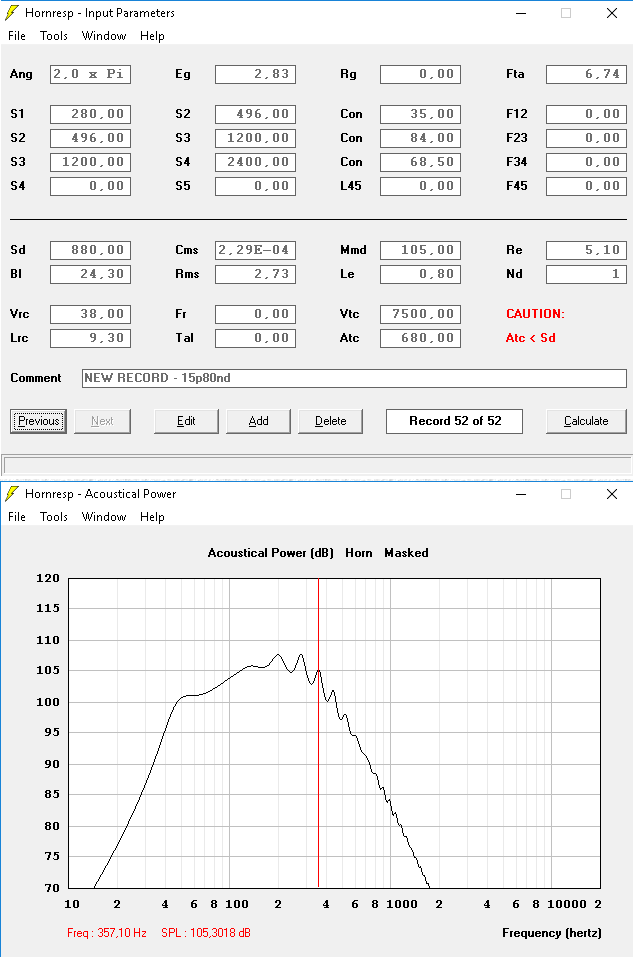 I think it's actually quite good. The enclosure is only 60cm x 60cm x 70cm
It does 101db at 50Hz. After that it goes down relatively fast.
The driver is rated for 800w aes and 1600w peak.
So when used for continues operating (800w) i get the next simulation.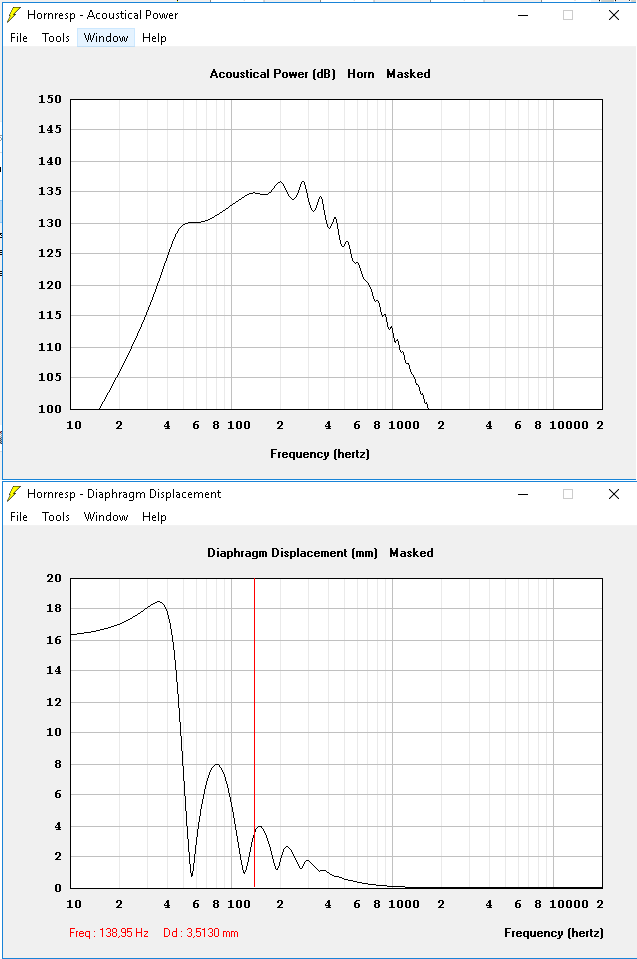 So that gives 135db of output. Falling to 130db around 50Hz.
It still does 125db at 40Hz ....so a little bit Eq is possible.
Simulating the 15P80ND in a BR enclosure only gets me to 122db at 40Hz....
Looking at the excursion it goes a little over Xmax around 80Hz but it's only 0.5mm so not a big problem.
Even without a Highpass filter the woofer is well within the Xdamage Limit altough I would not do that.
Now if I would use 4 of those boxes stacked together at full power then the simulation changes to this
That is over 140db...
It goes a bit lower also (around 45Hz)
Xmax is also reduced a little bit
You can even push further and use 1600w peak for each driver resulting in 145db... but xmax goes up. Still below Xdamag but a little bit over Xmax so distortion will rise a little bit.
So what do you guys think of this horn design? altough a little bit "outdated". Using a modern speaker I think it could work and still be transportable.
There will be some compression loss at high power but I think it will go very loud. And most of the alround music at small parties will not lose that much extention.
And what abou tthe upper extention? I would like to cross at around 200-250Hz
Looking at the graphs I think it would be possible