The thing I take from these ancient woofers is that they were highly efficient and very lively and detailed. The definitely had some thing good about them...
Most folks think it was low mechanical loss, i.e. a high Qms:
Quote:
Originally Posted by Joachim Gerhard

Q - Many "old" paper woofers still sound astonishingly good compared to modern drivers?

A - Oh, yes. We have not always went to the better. What many driver manufacturers have done the last years, is to increase the damping to make the frequency response more flat. But some old drivers, like the famous 6,5" paper woofer that Jan Paus at Seas made several years ago, (The Seas CA 17 RCY, ed. note) was optimized for low loss. So they made a compromise between frequency response and sensitivity. This driver was very good, and was used by Wilson Audio for many years.

Later, in the 80's, manufacturers started to add more mass, they added more damping, and they made surrounds with high loss. That gave an extremely flat frequency response, but also a lot of energy storage. This compared, the old drivers were much quicker. They had some resonances, but you could get rid of that in the crossover. It was this run for flat response that gave a lot of modern drivers this dull, uninteresting sound. And you can also measure higher second and third harmonic distortion in some of them. If you compare the on-axis response between an old and new driver; you will see that the energy in the treble is far higher than in the new drivers.

These so-called "modern" drivers often has a Qms of maybe 0.8 or 0.6. The old drivers had Qms values of maybe 5 to 7! We found that drivers with a very high mechanical Q sound more open, more clean and dynamic. And when you look at it, you find it is very simple, because they have less loss. The surround is easier to move, the spider is better constructed, they have better air flow, higher sensitivity. So a high mechanical Q is a very good indicator of energy storage behavior. This is one of our secrets. One of the many!
SpeakerBuilding.com - Interview with Joachim Gerhard of Audio Physic, Page 1
The high efficiency bass is a bit of a problem with modern tweeters. They struggle to be loud enough. The Eminence Alpha-8A for instance, which is quite retro in some ways, comes in near 92dB. The Beta-8A is nearer 95dB.
ALPHA-8A - Loudspeakers | Eminence Speaker
These days, you look for horn loaded tweeters to match that, except for a couple of modern domes like the Audax TWO34 or one SB Acoustics dome that gets near 95dB. I used a less efficient old 90dB 8" Elac bass here ( modern equivalent is
SEAS CA22RNX
, IMO ) with a similarly retro Monacor HT-22 90dB cone tweeter:
More modern Crossover, of course, with lower distortion:
And the LR4 maths which drives the design, though the above is actually around 3kHz crossover: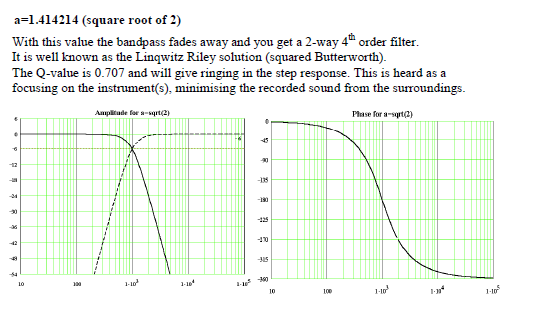 A very good 2 way, IMO. A lot to like for a relaxing sound. You take the beating from the narrow dispersion, but good and much more mellow than dome tweeters, IMO. And very retro inspired.
__________________
Best Regards from Steve in Portsmouth, UK.
---
Last edited by system7; 22nd September 2019 at

08:38 PM

.