This is a thread dedicated to the eXtremely Sexy Dipole (XSD) speaker that originated as a
cardboard prototype 8 years ago in this thread.
I built it 8 years ago using cheap $5 woofers and cardboard. It sounded so good, I made a note to myself that I must revisit this one day as a proper speaker in wood.
That day has come and I am so glad I returned.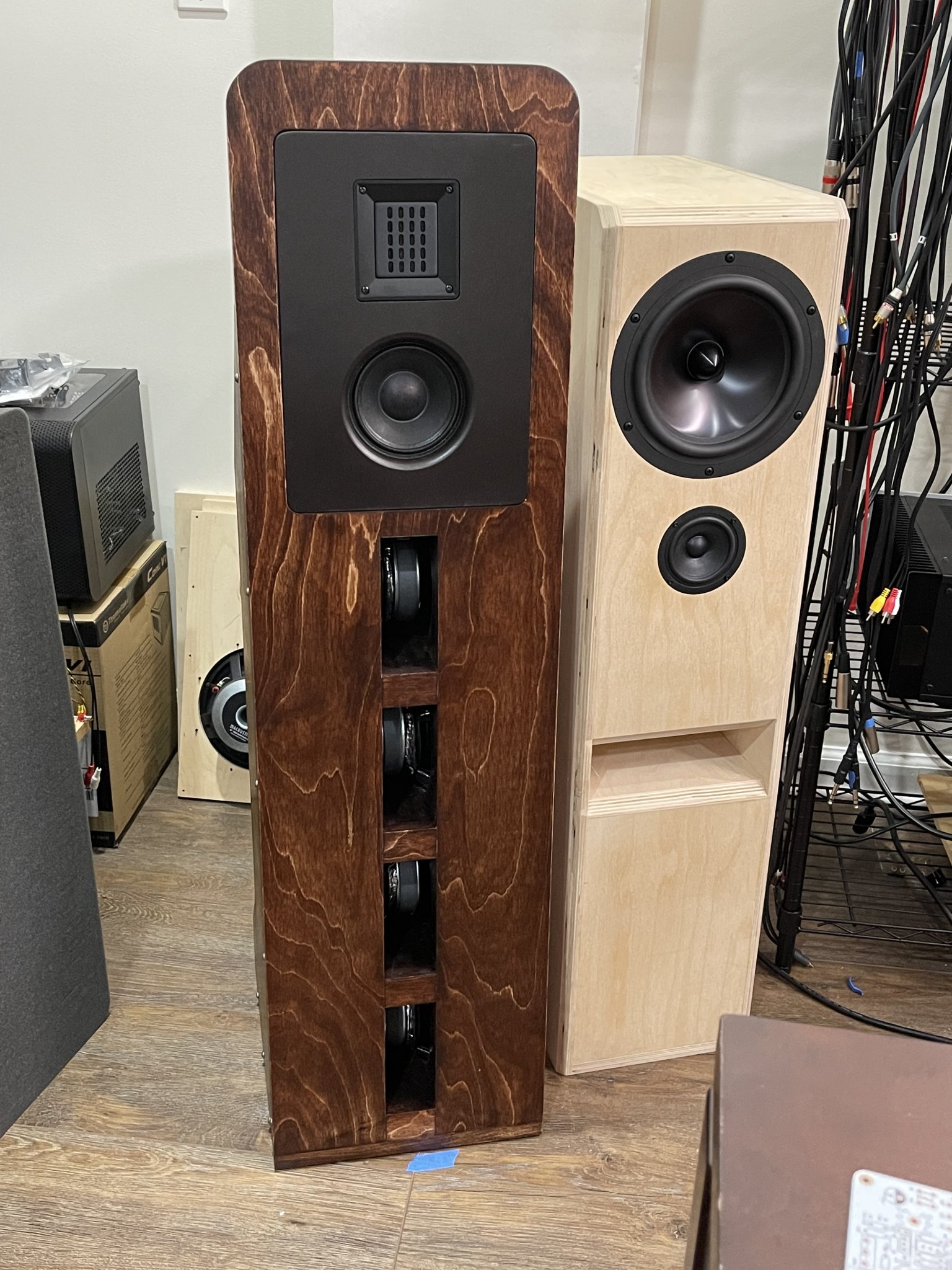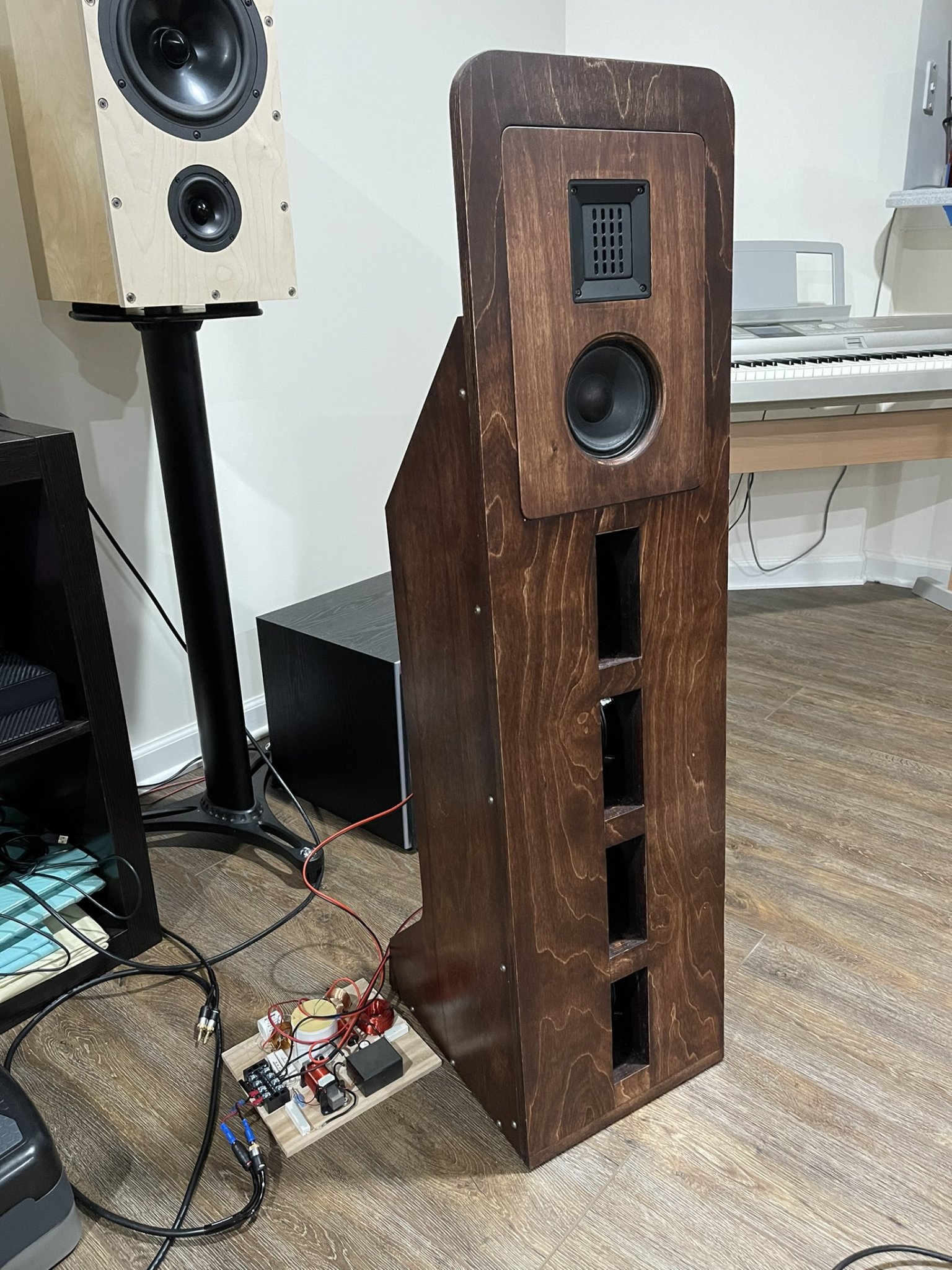 Predicted (black) and measured frequency response (yellow):
Harmonic distortion at 1W:
Impedance as seen by amp (it's a 4ohm speaker):
You can listen to the sound here with the midrange driver I finally decided to use - PRV 5MR450NDY:
Passive crossover design (values redacted because this is a commercial design):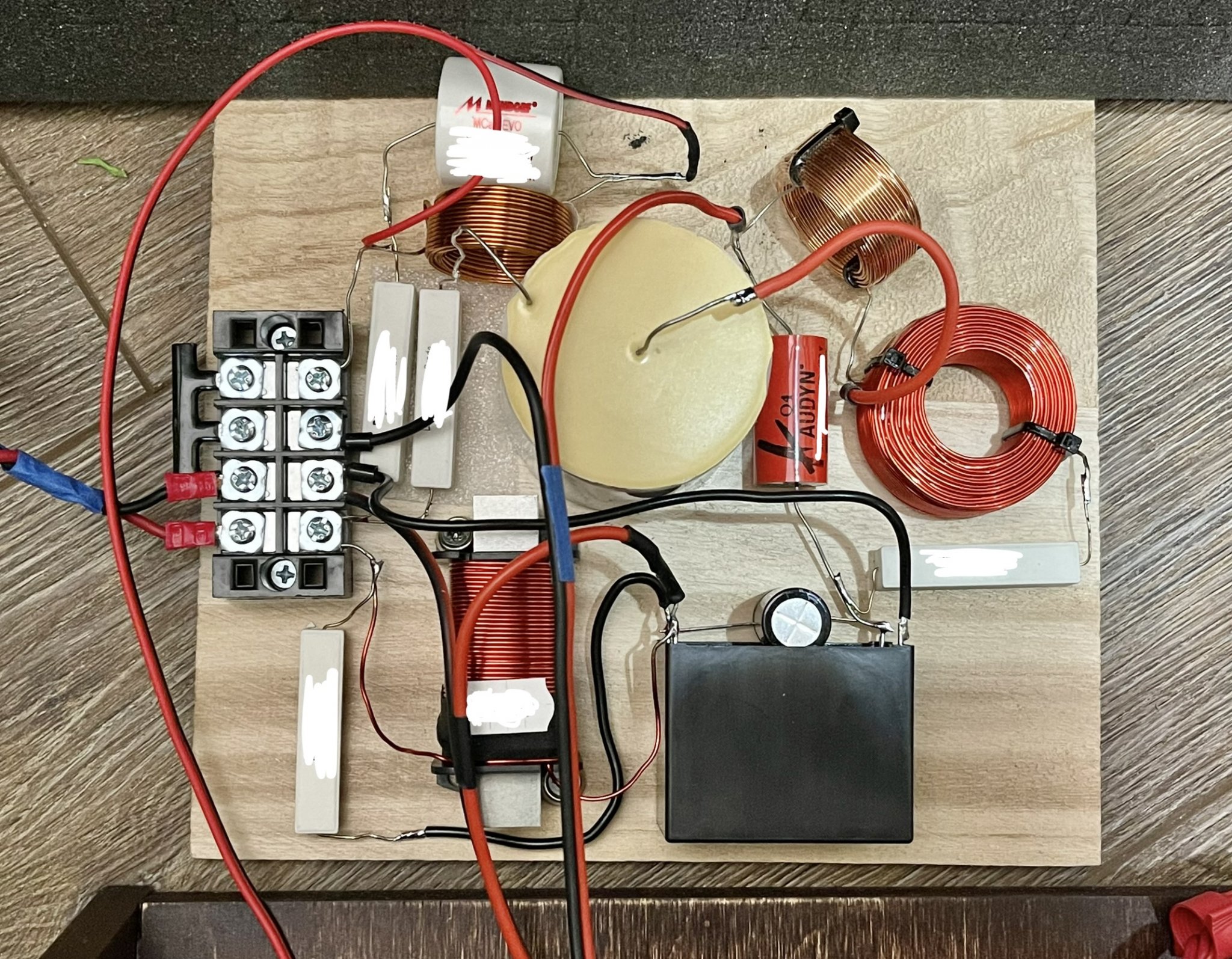 You are welcome to build it using active DSP and I will give you all the info needed for the crossover slopes and frequencies (470Hz and 4700Hz). I managed to do this 3 way with only 12 components. Possibly 11 if I replace the big electrolytic/film combo with a single large value film cap. If you want to do a passive crossover, you will have to be on your own. I'll give hints but please understand that as a commercial product I can't give that out for free.
Detail of the planar tweeter (GRS PTT2522-4) with custom CNC'd waveguide and PRV 5MR450NDY midrange (those of you with hawkeyes might notice the PRV is labeled 4ohms - it's actually an 8ohm, mislabeled as 4):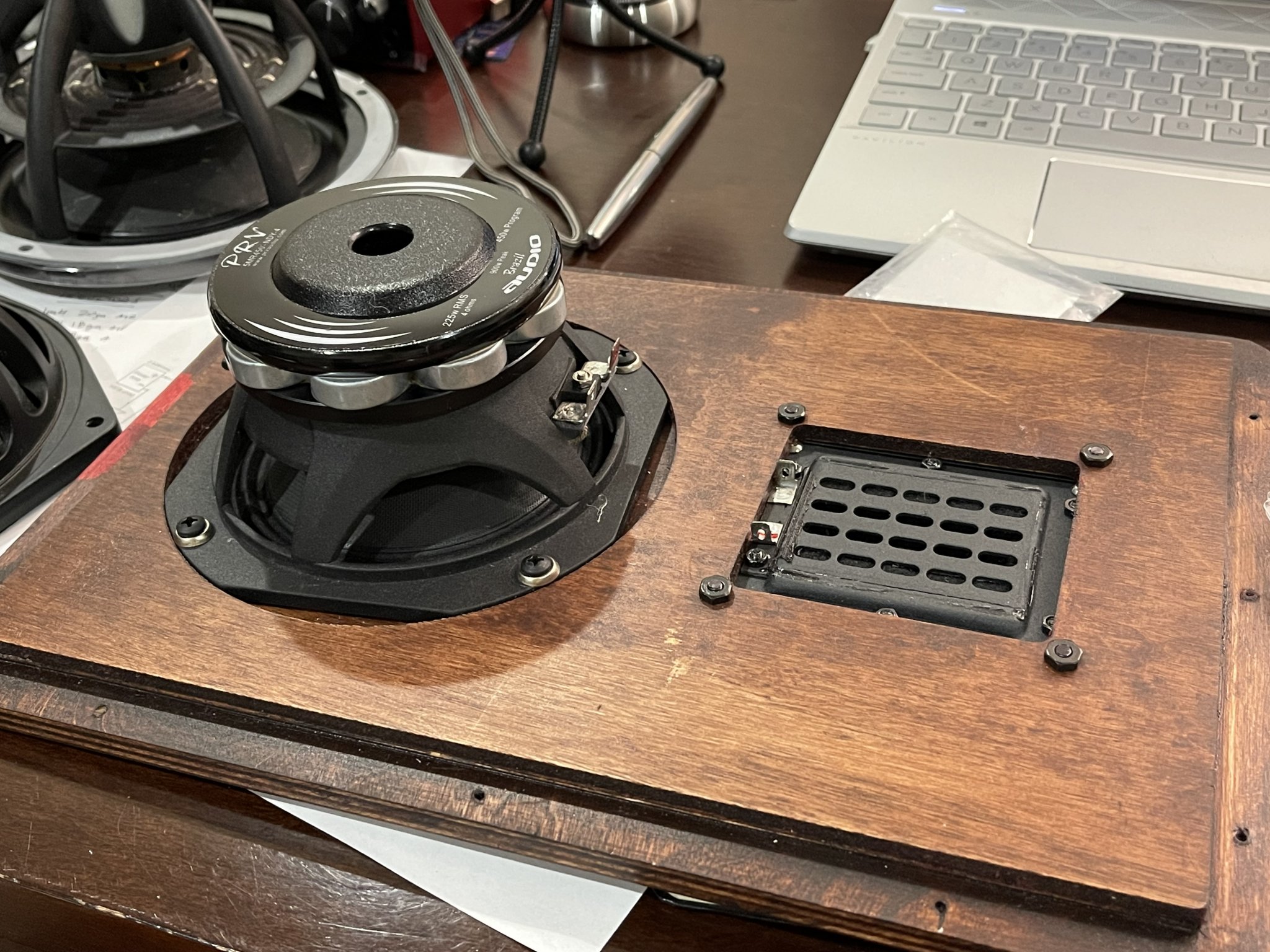 Detail of midrange and tweeter from the front with painted baffle board (paint is Rustoleum Uni"Oil Rubbed Bronze" for those interested):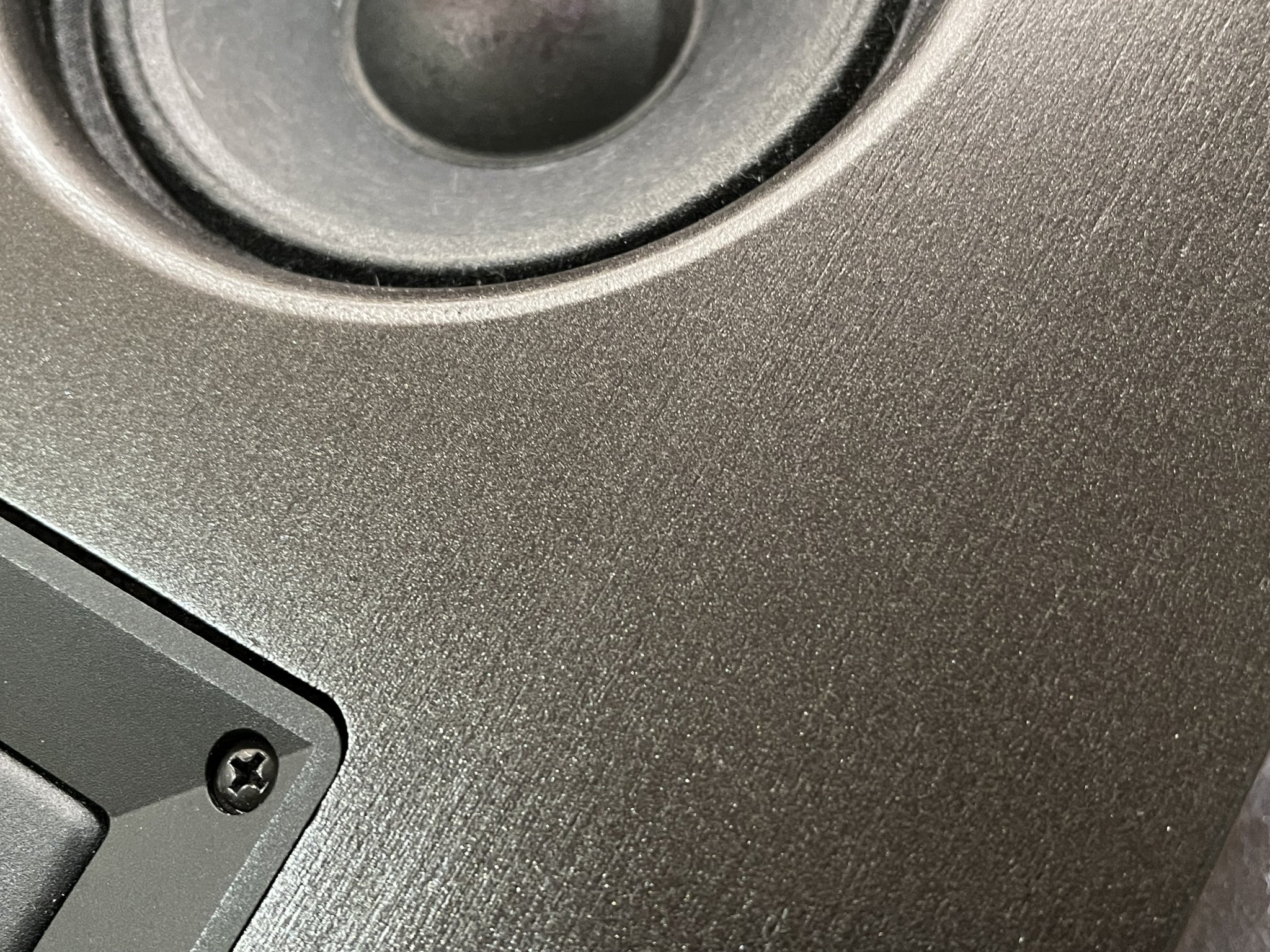 Here's an earlier version using a 6FE100 mid. Very nice but the PRV is better: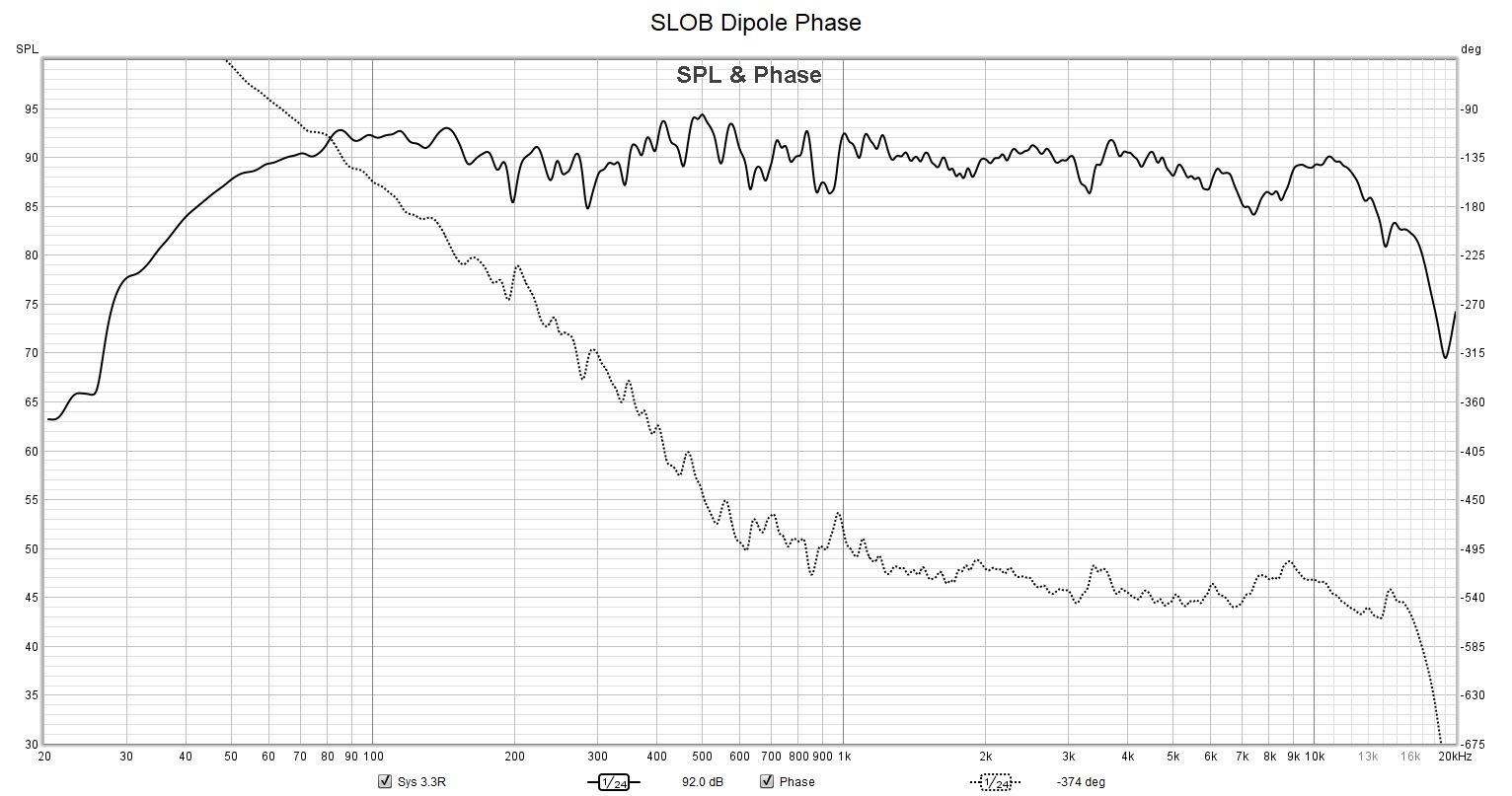 You can see that the phase variation of the tweeter and midrange through the 4700Hz crossover range is very smooth as the phase is almost flat. This would indicate a near quasi transient perfect time alignment of the midrange and tweeter. This will give very convincing percussion and snap for things like drums, guitar, piano, stand up bass etc. The woofer however, because it's a slot loaded design, has some inherent time delay that's not so easy (impossible) to make transient perfect with a passive crossover and a flat baffle. However, this doesn't detract from the realism as the bass below 500Hz doesn't define the timing realism from a listening standpoint. Plus, this is an open baffle design and the sounds come from many reflecting surfaces front and back of the speaker just like a real drum or bass would sound in a live performance.
Here is how the slot loaded woofers are setup. They are arranged cone to magnet but wired so both diaphragms push the air out of the slot on a positive signal. This allows the natural asymmetric suspension non linearities to self cancel. The magnet inside the chamber also reduces the chamber volume and this allows a higher upper bandwidth for the woofers. The chamber depth from front to back dominates this but the volume plays some effect. The slot dimensions are 2.25mm wide x 5.5in tall each. The idea is to have the slot cross sectional area to be about 33% of the cone area (Sd). This will give a good tradeoff in slot loading to enhance the bass efficiency and to not have too much of an overshoot. By keeping the depth of the slot as short as possible, we can keep the upper bandwidth higher. We are able to get this woofer array to play up to 470Hz before a natural band pass fall off occurs. We can use this natural falloff coupled with an electrical low pass filter at the same frequency to get a 4th order steep falloff for using only a 2nd order filter. This reduces woofer mid range leakage above its passband. Also, with opposed drivers, the cone motion vibrations end up self cancelling. So the speaker has very little vibration despite delivering a massive bass punch.
Speaking of punch and slap, this speaker has perhaps one of the best I have heard. At 91.5dB (some mid bass is at 94dB), it does not take much amp power to do this. I can easily reach loud (but clear) 85dB to 90dB SPLs at listening position with only maybe 6Vrms. It's a very dynamic and powerful big sounding speaker. But at the same time, can play softly while still delivering very nuanced bass. Bass from dipole that is tall like this 4 slot array also has less floor bounce issues and almost no room modes. You can walk around and the bass is very uniform. The woofers I used are GRS 6.5in poly cone rubber surround 8ohm budget drivers. 16 of them will cost you a little over $200. The amount of air that can be moved by 16x 6.5in woofers is not to be underestimated. It is incredible and about a little more than two 15in drivers per side. But the front profile is much more family (wife) friendly 12in wide. The floor footprint is 12in wide x 14in deep. It stands about 45in tall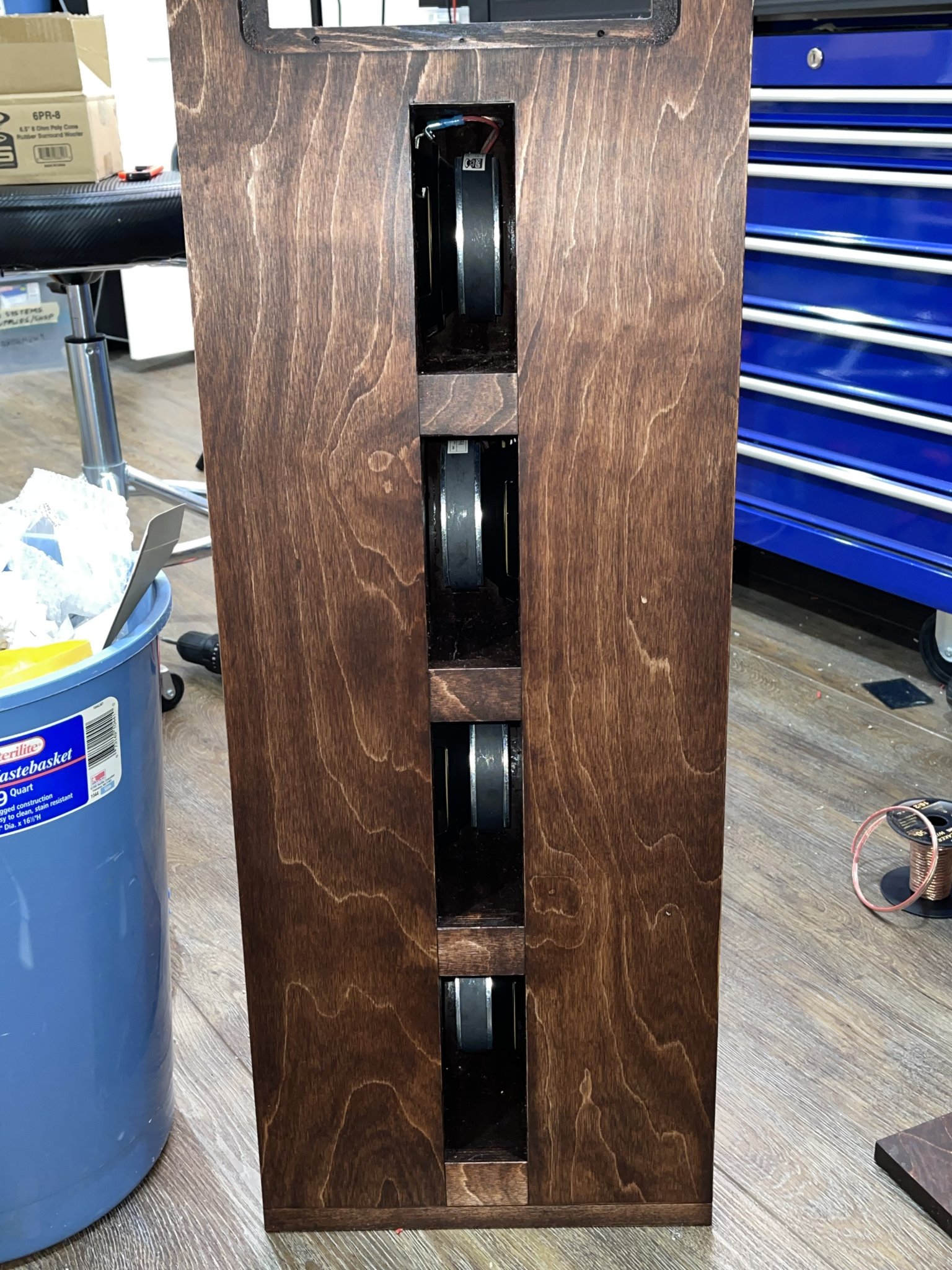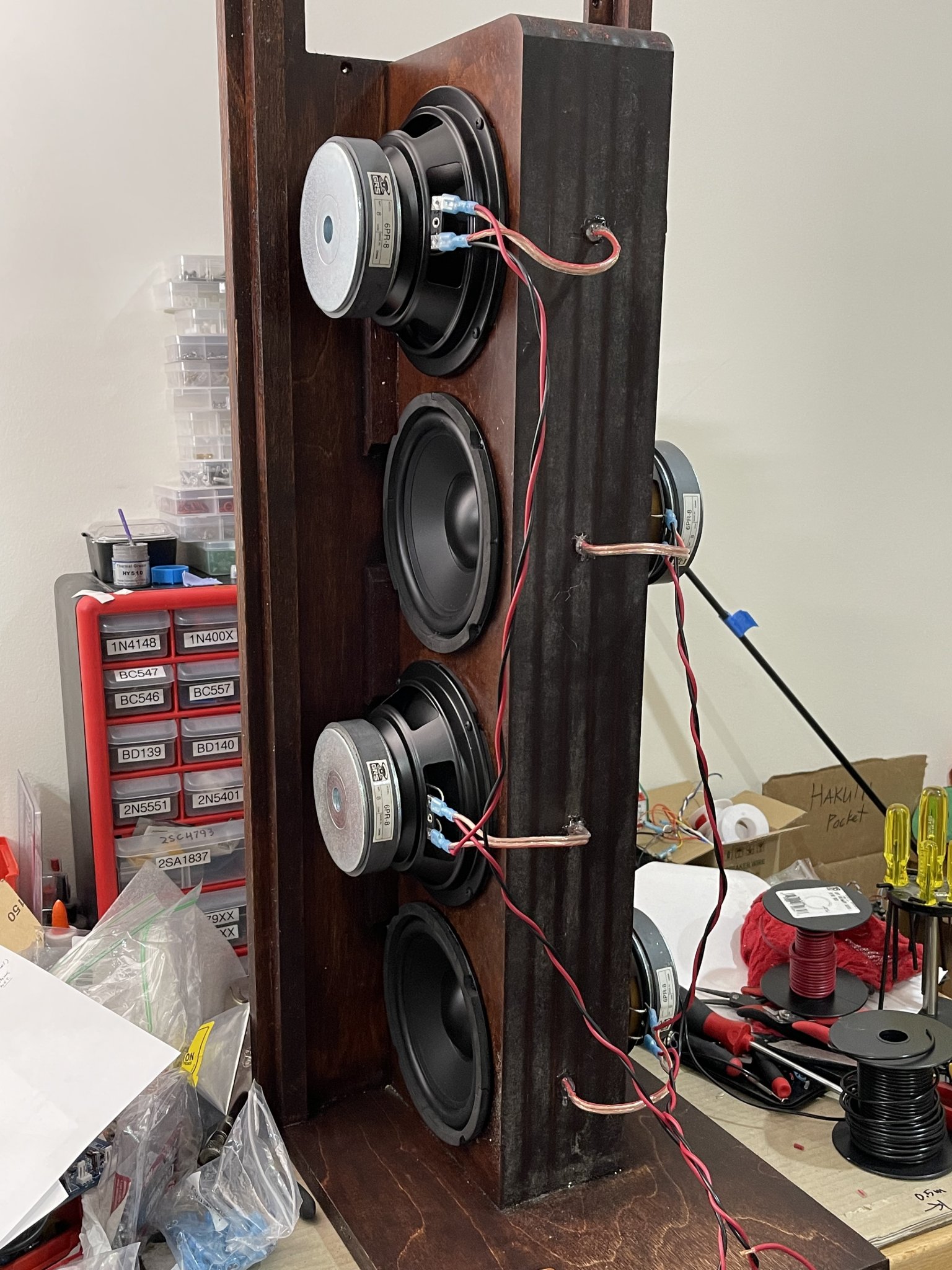 The bass arrays are built using 5 sheets of stacked 3/4in MDF: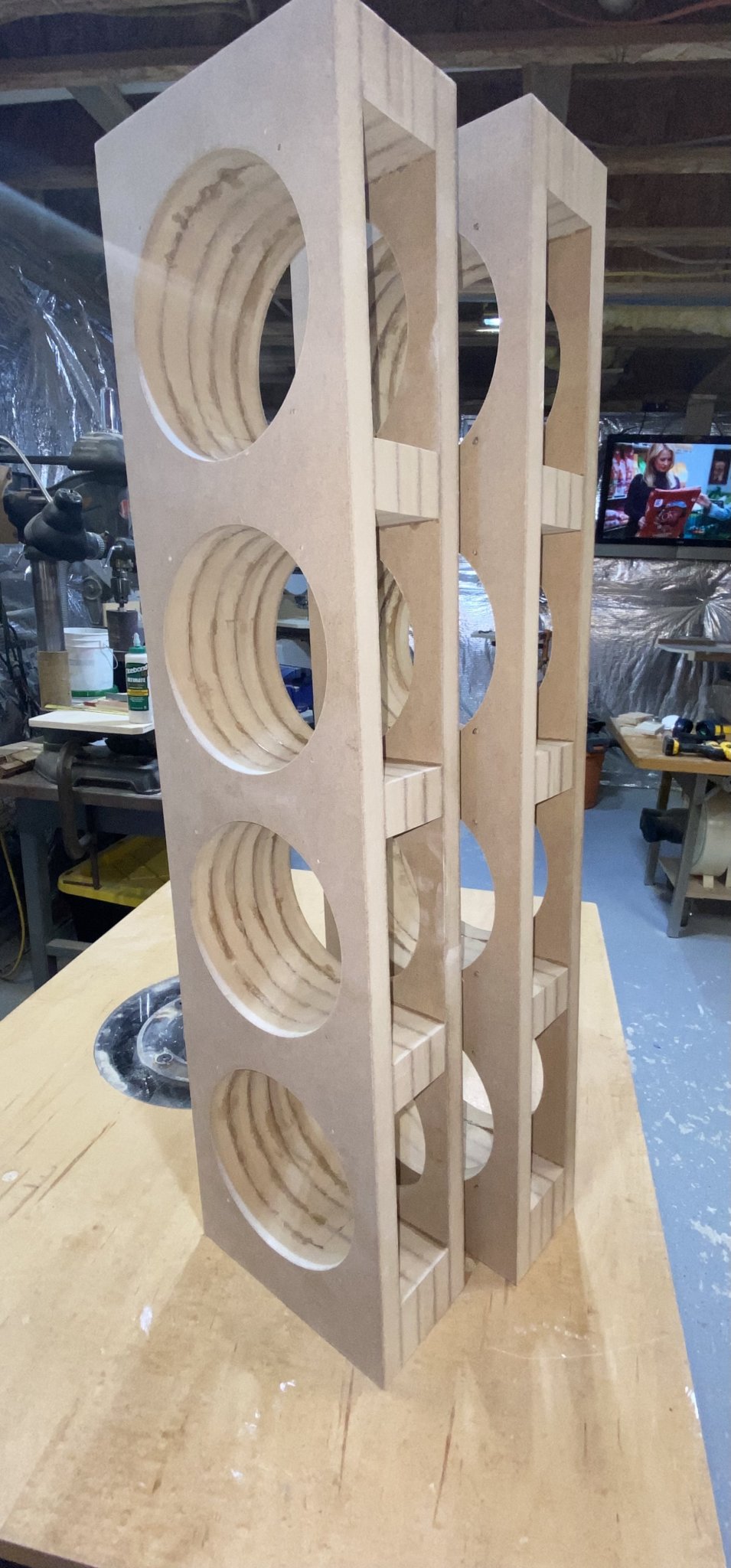 About 8in deep side U wings surround the woofers to extend the bass as if the baffle were closer to 28in wide: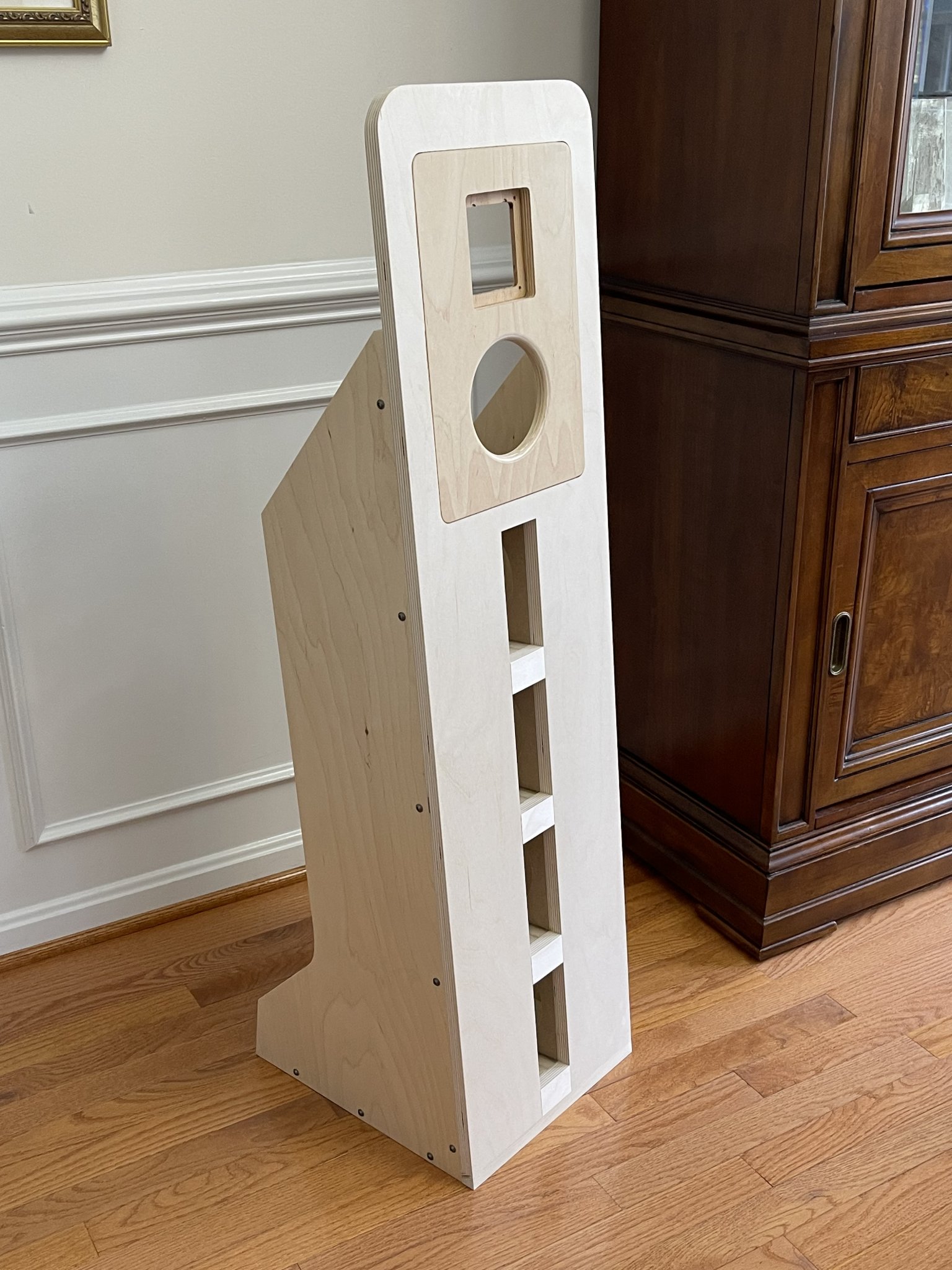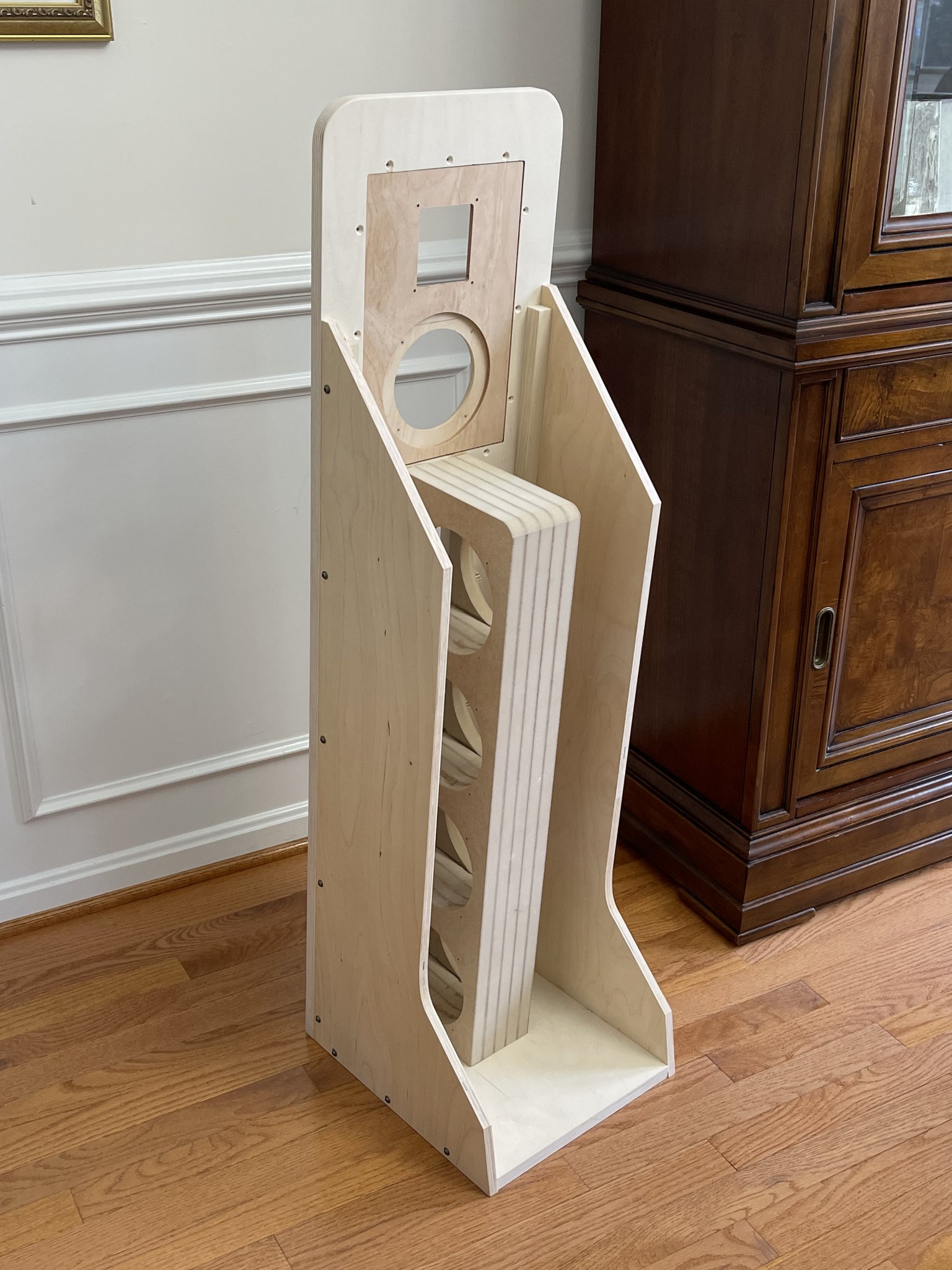 Lining the back wings with felt it acoustic eggcrate foam helps to make the sound cleaner. It's optional though. Sounds quite good without it.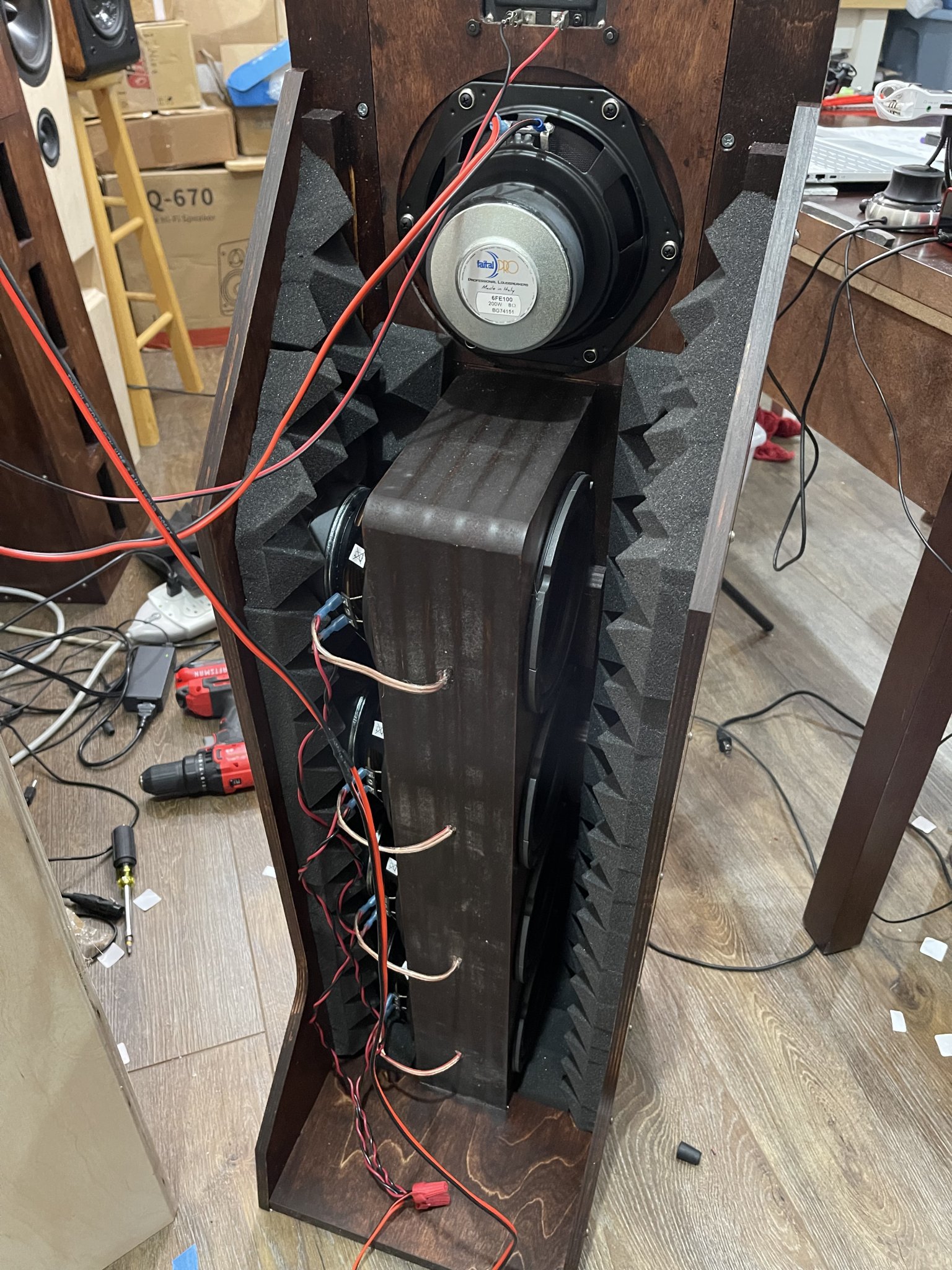 I should mention that the woofers are wired 4x parallel, then two pairs of those in series, then a pair in parallel at the end. Make sure the opposing ones are wired correctly so that they both squeeze air out when the signal is positive. This results in a 4ohm nominal impedance and a sensitivity of about +12dB on top of whatever the nominal 8ohm rating is after baffle step losses. So for an 85dB driver we get about 91.5dB at 2.83v (that's 2W into 4ohms). What this means is that the drivers barely move for significant SPL and that leaves a lot of headroom so that the distortion is very low.
For anyone interested in building this speaker as a personal DIY project, PM me with your email and I will get you the dimensioned version of this sketch.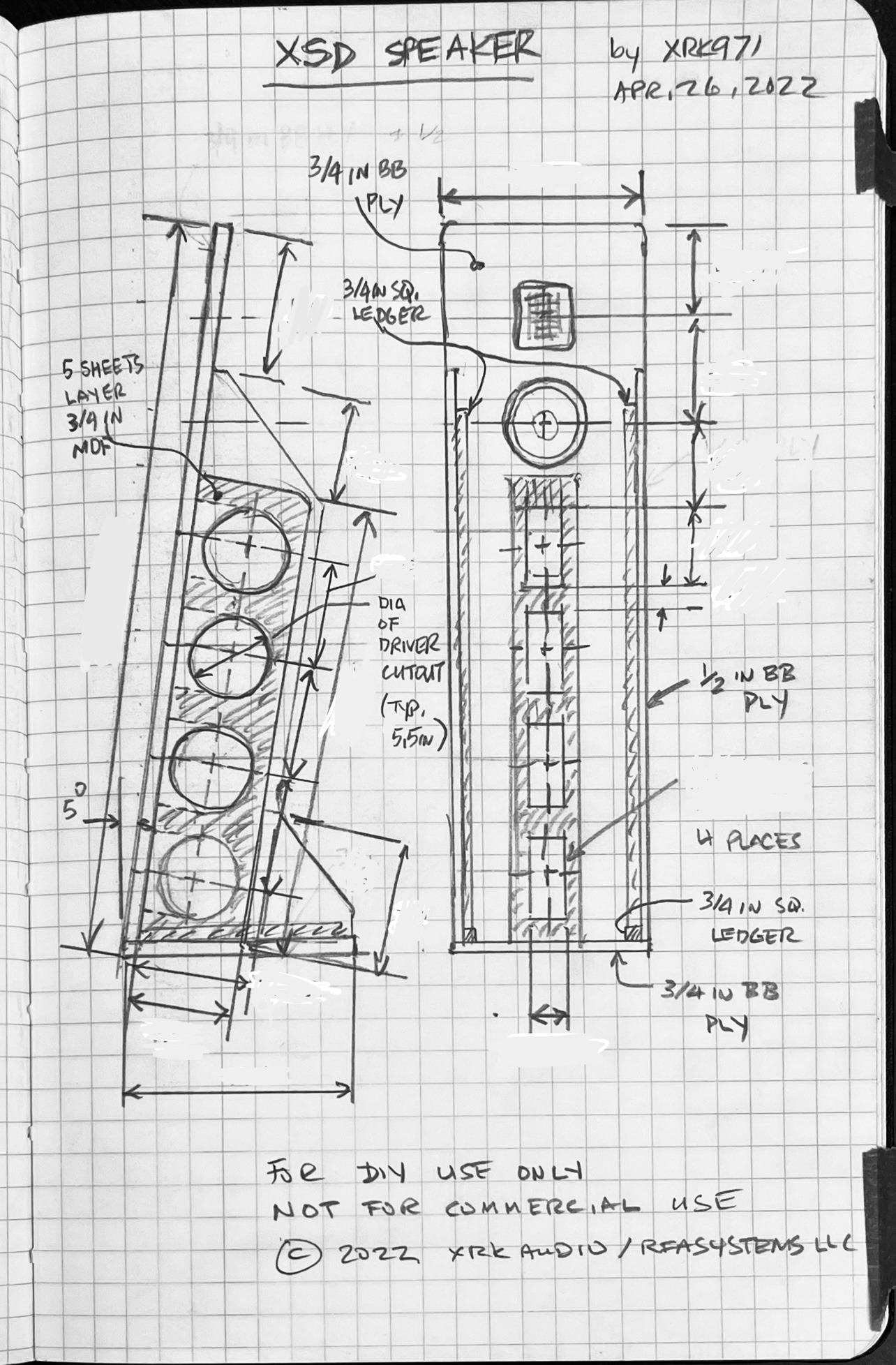 I'll give you hints on how to do the passive crossover if you like but I would recommend going the active DSP route with three amps. Make sure you use one capable of 4 ohms for the woofers. It's an easy to make DSP crossover.
In my opinion, it's one of the best sounding speakers I have built or heard. The dynamics and visceral impact staggering. It is very realistic and can play any music genre well. It excels at dynamic music like orchestral stuff, complex metal guitar bands, jazz ensembles, classic rock, hip hop, techno, pop, and of course girl and guitar easy stuff. I am really impressed by its abilities and hope you give it a try.
If you like to listen to music with large dynamic peaks, this speaker will not disappoint. Bach's Toccata and Fugue in D minor has a pipe organ crescendo that is registering here at 98dB at listening position 2.5m away in perfect clarity and the speaker isn't even breaking a sweat. Nominal volume was around 83dB.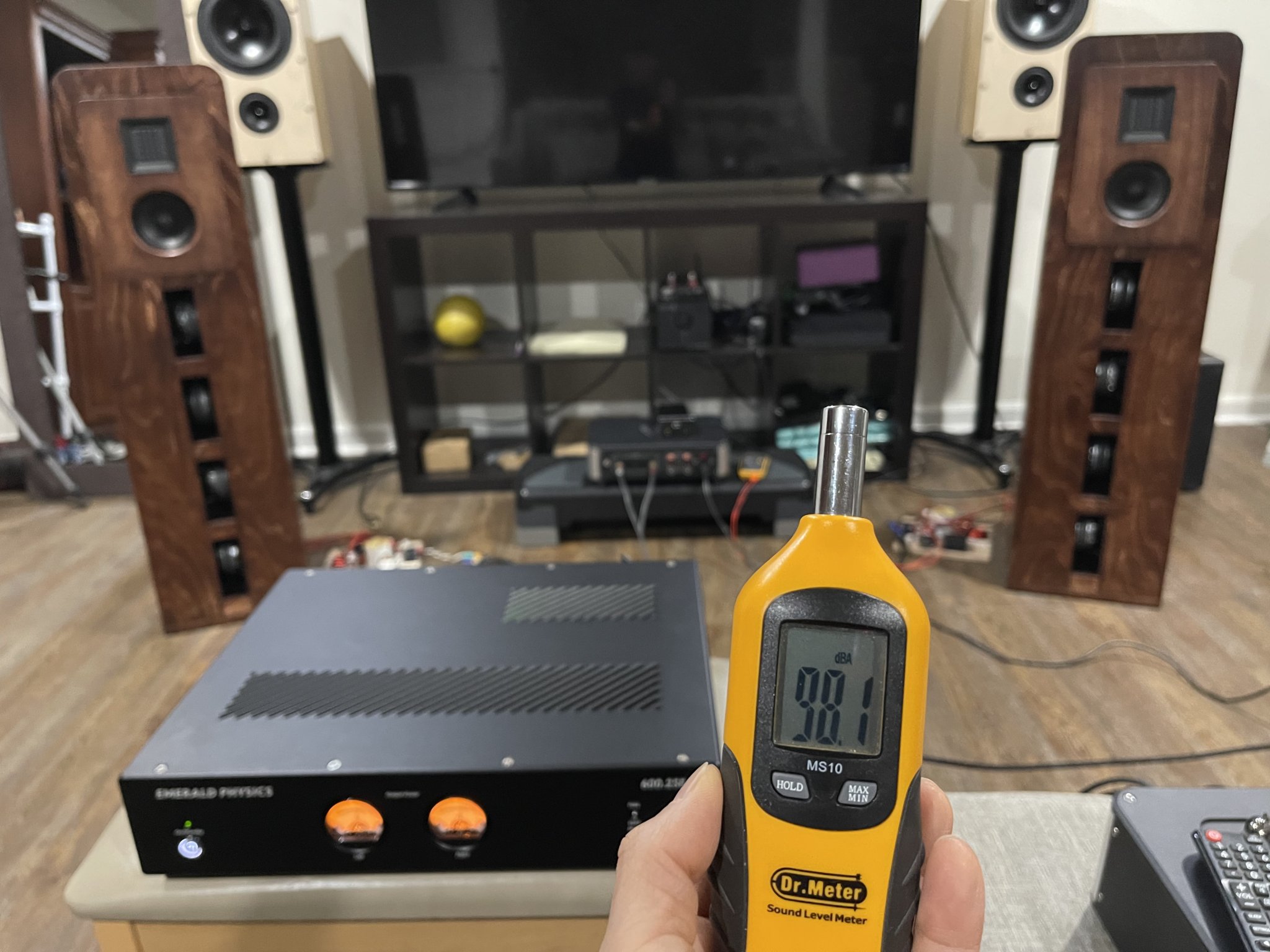 Edit May 14, 2023: I'm offering a XO kit and the CNC waveguides in the
GB thread here
.
Last edited: