Just finished up doing a 3-way plus sub active build in my car, now i'm moving onto a set of speakers for my computer.
Current drivers and amp that I will be using:
-Vifa XT25BG tweets (have the sc version in my car, absolutely love them!)
-Scanspeak 18W/4434G00
-Driven by a Sansui AU-555A (want to recondition the amp internally, 33w x 2 @ 4ohm)
-Dayton HO 12" dvc subwoofer
-Minidsp for EQ and highpass on the towers
Right now im figuring 2500hz for the xover point (want to try out making passive xovers for a change), will need an l-pad for the tweeters since they have a bit of an edge over the midwoofer in sensitivity, and I have read about possibly needing a notch filler on the tweet at FS, but I plan on using 2nd order xovers so I am not entirely sure if that is necessary.
Still looking for a good plate or separate amp for the subwoofer that can do 400w at 2ohms or 8ohms, I would dabble in building one with one of the kits here but I'm still doing some reading on those.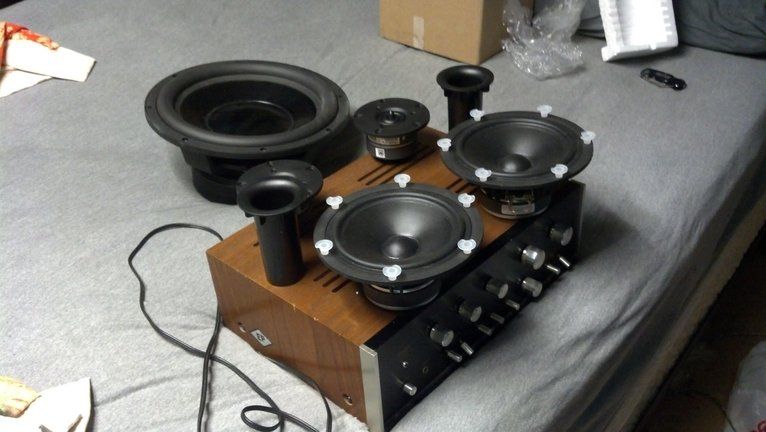 For the scans im aiming for .45 cuft with a 1.5"x2.73" port (tuned to a little over 52hz, this is what WinISD wants) and for the dayton sub a simple 1 cuft sealed box.
In short, am I going the right direction with the crossovers and what would be a decent amplifier to use for the subwoofer, does not need any fancy adjustments on it since the minidsp will take care of it.