Ok, after coming to (or rather, being pushed to) the conclusion that I would need some kind of follower arrangement if I wanted a manageable input capacitance on the "Tater Patch", I reviewed
John Broskie's TubeCad Journal
for some ideas. I had printed the pdf on "Complimentary Distortion Compensation" earlier, and decided to configure my circuit around the concept to see how it would simulate. Well, the distortion was incredibly low, but, it did this by squashing the 2nd harmonic, leaving the higher harmonics. In other words the harmonic spectrum resembled a P-P. If I wanted that, I would be focusing on a P-P. I then ran a simulation of just the "follower" output stage…yowser!! The distortion wasn't as low, and, the higher harmonics were still present, but it did have a nice regression with the bulk of the distortion being 2nd and 3rd harmonics. So I put the voltage amp stage back, but this time I didn't "match" the load, instead I presented it with an easier load and came up with this circuit…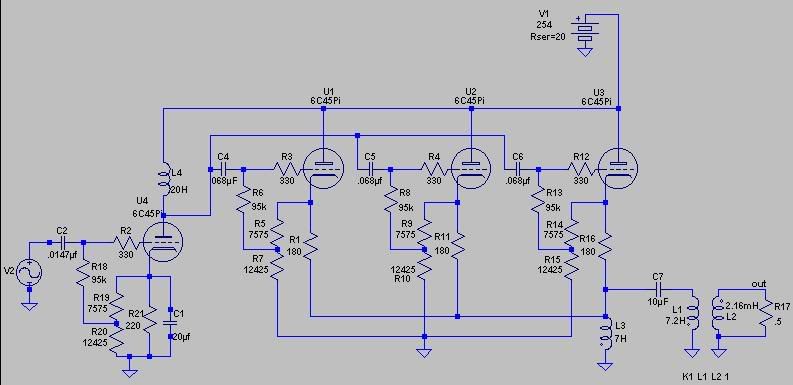 First off, I'm not convinced the 6S45Pi is the best choice for the voltage amp, I still have a pretty high input capacitance. I would welcome some suggestions here. Because the follower output doesn't suffer from the Miller effect it is easy to drive, so I should have a lot of options here. That said, the circuit "seems" to have some pretty stellar performance.
The
1 Watt
and
4 watt
distortion is very low for a SE amp, and the
1 Watt
and
4 Watt
FFT's show that there are higher order harmonics, but they are so low I believe they would be buried in the noise floor.
With the values shown, the –3db point is 80hz, a little lower than my target of 100hz but it's doable. With a source impedance of 5k,
its down 1.5dB at 100khz
.
This is the part were the "Frontal Lobe Brigade" is invited to tell me what I'm overlooking this time. I was forced…forced I tell you!!…to reconsider my approach once, I wouldn't be surprised if it happens again.
Let the critique begin…..
Casey