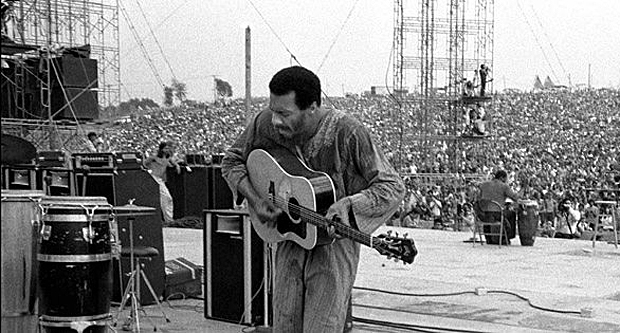 Richie Havens, who marshaled a craggy voice, a percussive guitar and a soulful sensibility to play his way into musical immortality at Woodstock in 1969, improvising the song "Freedom" on the fly, died on Monday at his home in Jersey City. He was 72.
NPR Media Player
One of the great souls has passed. Richie Havens dead from a heart attack yesterday at age 72. You know how it is when a certain performer comes along and seems to really embody the spirit of an age. In it's very best sense, this was Richie Havens, folk singer extraodinaire. In the summer of 1974 I had the privilege of spending a day with him back stage. He was full of grace. I again has the privilege of hearing him at his last concert at Villa Montalvo in Saratoga, Ca. I enjoyed the chance to speak with him after the concert. Still full of grace, still the great soul, that had a thousand songs to sing to heal the world. I had brought a copy of his autobiography thinking I would ask for an autograph. Just an excuse maybe to tell him how much his music had meant to me over the years. And not just me. He was the opening act at Woodstock with a 2 hour and 45 minute set that hundreds of thousands heard on the spot, and millions appreciated all over the world. Pass on to the Conscious Circle of Humanity in the Heavens Richie. Your music and spirit live on.
Status

This old topic is closed. If you want to reopen this topic, contact a moderator using the "Report Post" button.