I haven't been here for a while, but when I was, I was usually in the loudspeaker sections. Anyway...
I have an old Baldwin organ amp which dates back to the mid 50's. It was converted over to stereo operation by Will Vincent a couple years back on the cheap as some kind of deal between him and a mutual friend of my brother's. Well since it was a quick and dirty conversion, none of the original caps were replaced.
A few months down the road, my brother was listening to his system (I was there too), the amp started making very loud ticking and popping sounds through the speakers, so much so the speaker drivers were jumping violently and it scared the pooh out of us! We seriously thought that the speakers might have gotten damaged, but luckily they didn't. However, when it was working, it sounded darn good as I had tried it out on my system for a few days before hooking it up to my brother's system. It blew away the Adcom GFA-555 Mk II amp I had at the time in every way possible.
To make a long story short, I'm planning on recapping this amp to use in my system on my NHT 2.9 loudspeakers. They're rated at 86dB @ 1w/1m and the amp is rated somewhere between 23-28 watts per channel with its P-P 6L6's. The driver tubes are NOS RCA 5751's and it uses not one, but TWO 5U4's. The good thing about using this amp with these speakers is that I now live in an apartment and the speakers never see anymore than about 2-3 watts max, so this old Baldwin amp will be more than enough power.
As for caps, I've got a list...
PS & Filter caps (old 3-section aluminum cans)
(2) 50uF - 100v+
(4) 40-50uF - 450v+
Coupler Caps
(4) 0.1uF - 600v+
Bypass Caps
(2) 100pF - 600v+
When I get some time, I'm going to check all the resistors.
I've found some Xicon 47uF-450v at PE that I think I can use to replace the old 3-section can caps (PS & filter). For the coupling caps, I found the Audiocap PPT Theta caps which get great reviews and are about the most I want to spend. As for the bypass caps, my father has some new 120pF - 400-500v Mica caps that I can use. He said the original Mica bypass caps are most likely good, but I'd rather change them out anyway.
So I was just wondering if you guys had any suggestions or anything for me and this amp. I'm all ears!
Many thanks in advance!
As always, here's a few pics of the amp in its current state...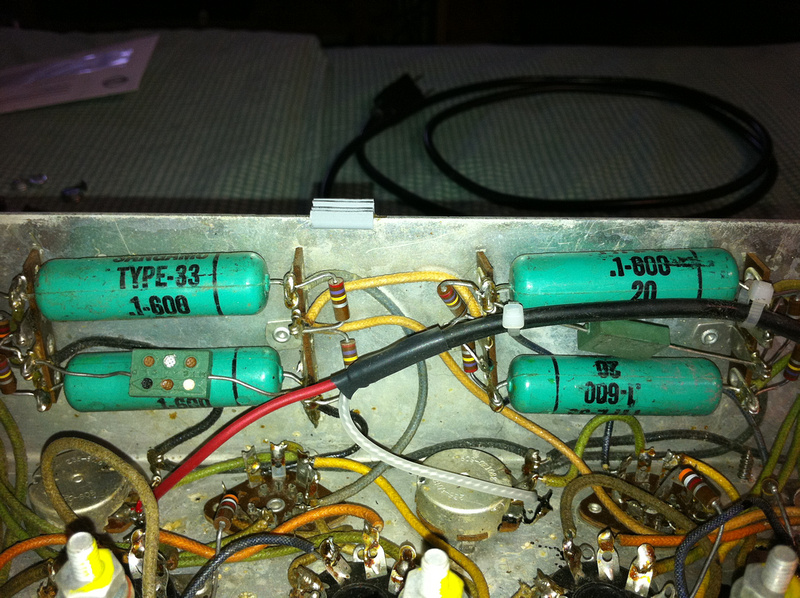 BTW, all of the tubes tested perfect. I was told the 6L6's are brand new and only used for a couple months.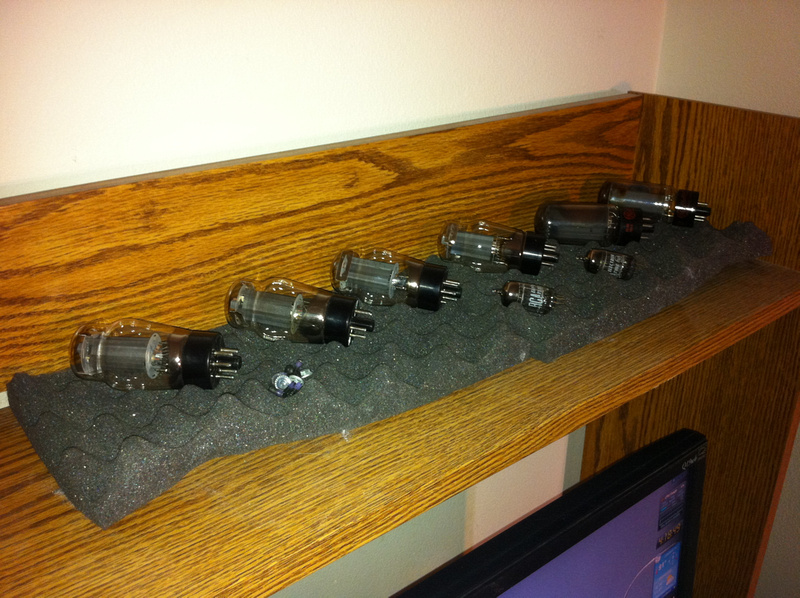 Last edited: