Hi everyone,
I am new to audio. I decided to buy used Mission mid sized speakers 8 Ohm for $60 and used a
50W+50W TDA7492P CSR8635 Bluetooth 4.0
to convert them to a nice set of speakers.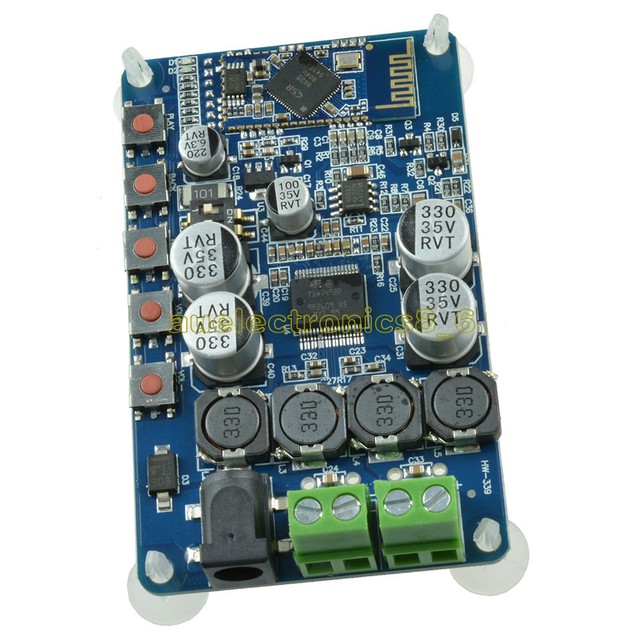 Although the start up noise (why do they have that?), popping when bluetooth connects and a warning tone (very annoying!) that sounds if bluetooth disconnects, I really like the sound.
I connected the same amp to my ceiling speakers but they are distorting alot in the low end (from what I can hear). The cables for the ceiling speakers are super thick, much thicker than my speaker cables for the mission.
Do you know of how to mitigate this issue? I am happy to be directed to another product (preferably with bluetooth 5 HD codecs if possible) if need be. I can solder etc so not afraid of a little DIY.
Thanks for your ideas!
Agree about annoying tones! I've one class-D that speaks chinese to me!


Your ceiling speakers are 4 ohm perhaps, this chip cannot drive less than 6 ohms (which means 8 ohm speakers).


I am troubled by the size of the ceramic caps near the output terminals, this would suggest they are using non-linear ceramic caps in the output LC filter, which is a no-no. NP0/C0G ceramics would be a lot larger I think. Normally film caps are used here. Perhaps this is part of the problem.
Ceiling speakers distorting a lot in the low end.

I could be wrong, but the "ceiling speakers" part may well be the one to blame (i'm thinking those crappy type speakers they have as "PA" in shops and whatnot, for at best some low-level background music, or some voice-announcements).
More specs on the speakers.
Model Number D61-6
Part Number SCD26100-6
Tweeter Dome Silk
Tweeter Diameter 1" (25mm)
Woofer Cone Poly/Rubber
Woofer Diameter 6.5" (165mm)
Frequency Response 48Hz-20kHz
Recommended Amplifier Power 25 watts - 125 watts
Sensitivity 89dB +/- 3dB
Depth 3.46" (88mm)
Diameter 9.61" (244mm)
Cutout Diameter 8.75" (222mm)
Speaker Series Director
Speaker Shape Round
Speaker Size 6"
Square Grill Dimension 8.5" x 8.5"
Nominal Impedance 6 ohm minimum
Division Origin
Adjustments N/A
Mounting Depth 3.46" (88mm)

It says 6 Ohm minimum...

If anyone has any suggestions for a good amp for these speakers (without breaking a budget of $100 max) I am keen to hear your thoughts. Thanks.
Did you try with another (borrowed) amp to see if it is the speakers that distort? You know, diagnostic 101?
Why buy a new amp if it is the speakers??
Jan
Did you try with another (borrowed) amp to see if it is the speakers that distort? You know, diagnostic 101?
Why buy a new amp if it is the speakers??

Jan
Unfortinately there is no one to borrow from.
Btw if I connect my chromecast without any amplification it still distorts!!!
Looks like that's working basically as "open baffle", with no actual defined enclosure around it. Thus, the woofer can flop about and be "overdriven" by low-frequency content, without really being cushioned / limited by anything.
Hmm that sounds like a design limitation? Would I have to baffle it from behind? My ceili g is really low so that will be a challenge!!
No, this will not help. If you demand the same low frequency from it, it will just do the same, baffle or not.
Try another speaker at the amp. Then try another power supply. It may not be able to give high current peaks for low burst´s.

If all this is not the cause, why not buy some finished amp that has a good reputation? There are some "Breeze" labeled products that start at 25$ and work well.
Well the ceiling speakers are 8 ohm, I suspect they just aren't mounted correctly(*) and are vibrating and making noise at LF - or they are just rather underpowered or need a proper enclosure to handle bass well. Looks like a reasonable passive crossover at least.


(*) solidly to the structure of the building, not just to plasterboard ceiling. Ceiling speakers are definitely a compromise whatever.
If you insist on having Bluetooth, which is always a downgrade in sound quality, the best way to do it is an external BT device.
The problem is that any BT receiver is a sender too. In such mini-amps that are preferred, because shipping is less expensive and the WAF higher, there is no room for proper shielding the components from each other. So this is always problematic.
I do not say there are no BT mini-amps that work acceptable, but the better way is to take a nice amp and an external BT device without crappy sound chip and combine.
Status

This old topic is closed. If you want to reopen this topic, contact a moderator using the "Report Post" button.
Newb: Help with distortion