So first of all thank you so much to those that helped me through this. Many of you chimed in at the right time to save me from pursuing a course of failure.
I'm not just satisfied with the results, I'm blown away. I've been running 2 channel all day with a big smile on my face. I also put on a couple of movies to see how my new rears (my old fronts) sound from the back. Maybe a bit overkill but it's pretty awesome. I'm definitely going to make a center to match my fronts. My Polk Audio center just doesn't keep up with the range of sound of the fronts.
This was my first build and it's based on Holtz's mini statements. I chose to go with a different tweeter, 4-ohm series instead of 8-ohm RS180's, and my own crossover. I also beefed up the cabinet a bit.
I started with 3/4" MDF and followed the design of the mini's. I fiberglassed the inside back wall and all the corners. I added 1/2" to the top, front, and one of the sides. A 1/4" was added to the other side. I did it figuring it would offset the drivers relative to the baffle. I also cut in a little more for the 1/4" side at the back to minimize common diffraction points. I'm not sure any of this actually has a positive effect but I'd like to think so
I padded the walls with the egg crate foamy stuff. I used fiberglass insulation for the mid range section. They weigh about a 100 lbs each. On the outside I used a chestnut poly stain to feed the MDF and prep it for paint. I let it sit for about 2 weeks then sanded it down and added 3 layers of aged copper. I'm going to run them like that for about a month and then add the final coats of whatever I decide on.
Screwed in are the RS180-4's, W4-1337SD, Aurum Cantus G2 Ribbon.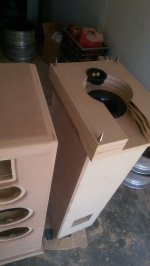 The crossover is pretty simple. I did the measurements in the room and designed the crossover based on them. I also plugged in my simulated drivers in to the same crossover to see if I would get similar results. It was pretty awesome to see how close they were. That Jeff guy is pretty great.
This is the results 33" from the mic with the speaker roughly in the middle of my 13x12 room. This measurement was done when I had the crossover components scattered across the floor and alligator clipped together. I also only had half the screws installed for each speaker. Just wanted to see if the crossover was going to work in reality. I'll post updated results when I get around to it.
In all I'm very happy with these. They sound so much more balanced then anything I've ever heard. Nothing stands out yet I hear sounds I never new existed in songs. I know this project is pretty amateur but you gotta start somewhere and I've got the bug now. I really enjoy reading all the posts on here. Some amazing stuff you guys do. Thanks again to all those that helped me out.