I am trying to replace the compression driver on my RF7 ii Klipsch speakers. I am trying to upgrade the driver with either Fostex D1400 ($1200/pr) vs TAD tD-2001 ($3000). I was wondering if anyone had any experience with either and would like to get recs, or if you know of another driver that would suit better. My goal crossover would be around 700-750Hz crossed at lower end and around 8-9K crossed at the higher end. Is TAD worth twice as much as the Fostex in terms of sound?

I have separate amplification for each driver and electronic crossovers, currently midrange crossed at 1khz and supertweeter (fostex t900a) at 7.5Khz. The midrange on the Klpisch sucks, for the better word. It is much better with separate amps and the new crossover when compared to the original, but still really poor.

Would appreciate advice
Thanks in advance!
I expect you would make more headway buying a larger horn. Do you expect the horn in the RF7 ll to run you down to 700Hz that won't be nice no matter what you throw at the drivers. I would not want to see you waste a lot of money on this path. Take a look at the Epic series CF3. Best regards Moray James.
I did think that the horn would go down close to 700-800hz level based on what I got from the Freq response curves with the current driver (see attached). I may be mistaken though. Can I safely assume that the horn will allow a crossover point at 800Hz? Could the sound quality still be compromised even though the freq response look shine?
What do you mean by looking at Paul's crossover? Do you mean where it is crossed at or how steep his crossover is? I am using electronic Linkowicz-Riley 24db/oct.
I think that is a great suggestion for the price and performance, but that horn is really ugly. I do not think my wife will let me have those in our living room, LOL. Want to keep the aesthetics cool as well.
I am going to try the Fostex. If do not see the improvement I may couple them to the Fostex H300 or H400 horns, specifically designed for the d1400 drivers. I still will face the dilemma of fitting them on to the current speakers.
http://www.fostexinternational.com/docs/speaker_components/pdf/woodhorn.pdf
BTY, here is my system and the current room response 4-5 meters away. Excuse the Bass, I am running the low end through a bass boost since I like it.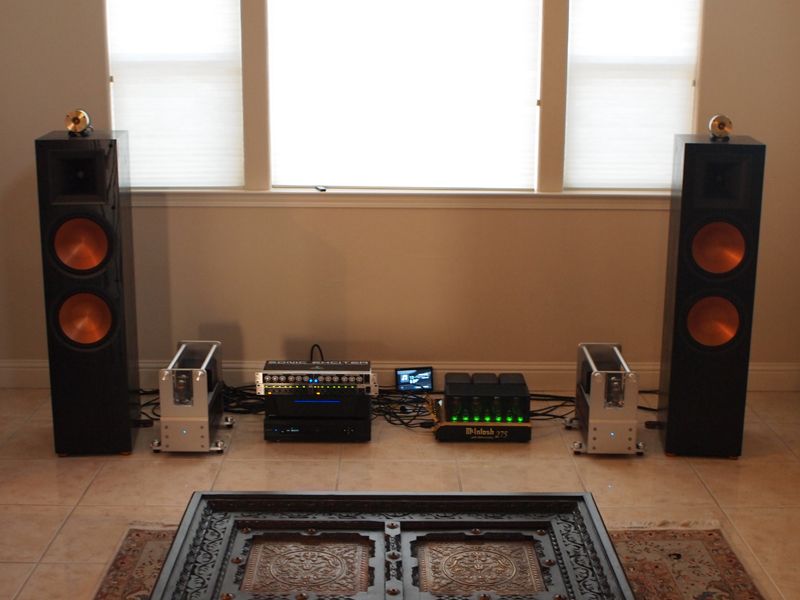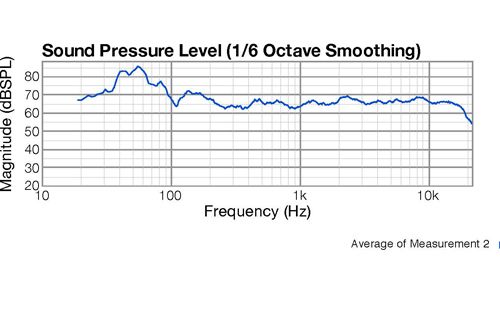 Last edited:
Thank you, Scott! That is a great suggestion, these Radians seem to be nice from the specs and the reviews. I will test them out, just placed an order.
Hope it works out for you. Beats the hell out of a $1200+ gamble!
(..parts express, if you ordered from them, also has a nice return policy if it doesn't work out.)
I did order them from parts express. Can't wait to test them out. ..will post side by side comparison results with the original Klpisch drivers
I also ran into these Azurahorn horns (
Azurahorn -Le Cleac'h Acoustic Horn Loudspeakers
). Has anyone heard of them? These horns could look really cool if one can get them positioned aesthetically in a correct combination with the rest of their system. I wonder if I can somehow swap the RF7ii horn with these. It will be larger, but will also look really cool, especially if it was say a pearl gloss light blue or dark red color.
Not only have several heard of them, the designer of the horn flair posts here.

Integration might be difficult. For proper alignment they would be positioned considerably forward of the baffle (..the horn's "mouth"). You could end-up with something aesthetically approaching this design (..but without the small horn underneath the larger one):

http://cdn.slashgear.com/wp-content/uploads/2010/01/500x_teac_avantgarde_g2_speakers_2.jpg

A smaller option for a different horn might be:

http://www.parts-express.com/pdf/294-802s.pdf
I thin the Klpisch's own horn is pretty close to your second options here. The Kpisch's is a Tractrix horn with a 8 inch mouth diameter, and based on my measurements, seems to have a 800hz cutoff frequency.
In terms of the Avantagrdes, that was exactly what I thought when I saw Azurahorns. I could get the Kpisch speakers look like the Avantgardes ..and it may not be too bad as the 550 Azurahorn has 11 inch mouth almost the same as the klpisch cabinet width
I thin the Klpisch's own horn is pretty close to your second options here.
I think you are correct, BUT the RCF H100 might sound a bit better with lower diffraction.
Just to update my original post.

I finally ended up getting a much cheaper option than Fostex or TAD suggested by ScottG. I got the Radian 475PB-8 1" Aluminum Horn Drivers ($360/pr) to replace the original Klipsch K-701-G drivers found in my RF-7 ii speakers.

The removal and the replacement of the drivers was really easy, took about 20 minutes. As I had the horns out, I also ended up painting the horns gold/bronze to match the woofers and the Fostex tweeters (see attached).

First, Radians are about 50% bigger than the Klipsch in size and probably twice as heavy. For the frequency response, there is not much difference, possibly slightly flatter response with the Radians (all in-room responses at the listener level at 4 meters). Also, it seems the Klpisch actually goes slightly lower down to 800hz compared to the Radians with the same horn.

Now the sound. I am very pleased with the change. I think the vocals sound significantly more clear and open, it is almost like a night and day change. I do not feel the congestion and harshness any more. The freq response cannot explain the difference in sound that I am hearing. I also spend a lot of time trying to get the speakers time aligned. After lots of impulse measurements and delay adjustments, I finally have them aligned perfectly and it sounds sublime. I can say my current setup easily bests the Mcintosh mc601 / B&W 800D combo in Magnolia. Can't be happier.




Last edited:
Status

This old topic is closed. If you want to reopen this topic, contact a moderator using the "Report Post" button.
midrange compresion drivers: Fostex D1400 vs TAd Td-2001