Had a little free time on my hands this weekend so I decided to make some dust in the garage. The wood was free from a local cabinet shop. I was really disappointed at the lack of quality the wood they use has. Its full of voids and isin't really straight. But for a small computer speaker I can live with it.
The box dimensions are from Vikash on his W3-871 build he did a few years ago. Original credit was from John 'Zaph' Kutke's W3-871S design with notch filter. My box's will be going to a friends body shop for some mild bondo work on the voids in the plys and then a piano black finish or maybe a flat black finish to match my HP desktop PC.
The speakers are originally from a Logitech setup. Its very obvious a TangBand and most likely a W3-335(I believe thats the model number). I will have to tweak the notch filter but that is part of the fun.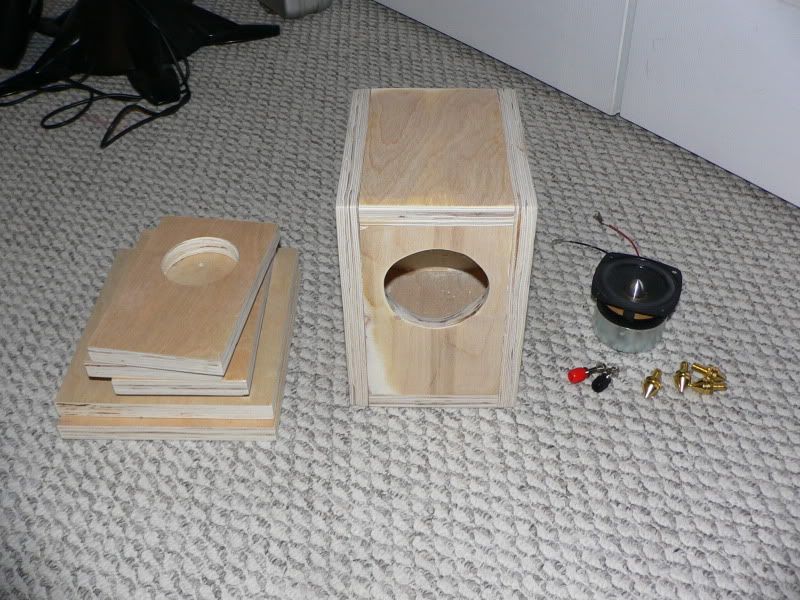 Yeah, logitech must buy a lot of TB drivers! But the plastic cabs they use could be much improved with something like you've built there. The sonic improvement will be noticeable. Personally, i don't think you can go wrong with a small TB driver in a small space. Try them without any circuit and see how you like the sound... i never heard the driver you have tho.

Zilla

Yeah, logitech must buy a lot of TB drivers!
Zilla
This is a good thing to know! You can often come accross computer speakers for very cheap in thrift stores, which I usualy overlook. I'll be on the lookout for Logitech branded ones!
IG
Status

This old topic is closed. If you want to reopen this topic, contact a moderator using the "Report Post" button.