Dear all,
I have developed scilab scripts to optimise my ONKEN enclosures. I write a paper on this topic which can be downloaded
here
.
These scripts are used to identify vented-box parameters from impedance measurements : enclosure losses (port Qp, leakage Ql, and absorption losses Qa), the system tuning ratio h and the system compliance ratio alpha.
Additionally, these scripts calculate the free-field frequency response based on measurement of the acoustical pressure within the enclosure.
The following figure shows the computed and measured system frequency response.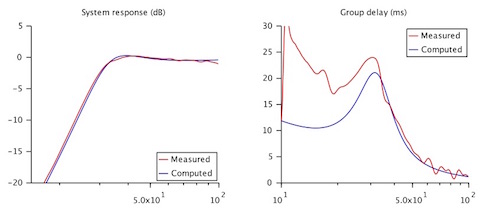 The simulated response is very consistant with the measured response.
Comments are welcome.
Jean Fourcade
Toulouse