Time to clean out the shop. Mostly new and a few used parts. All prices plus shipping unless noted.
New pair of Focal Audiom Utopia 6W4311b NIB $290.
Add a Hiquphon OW1 and build a set of these:
MurphyBlaster Productions
Rythmik Audio 12" DS12 Servo Sub and Amp in a 2.5cf sealed bare MDF cabinet.
Shipping the cab could be pretty pricey. So I can ship finished sub or just driver and Amp.
With or without cabinet Sold.
New DS1200 Kits DIY kits go for $599
Rythmik Audio • Servo subwoofer Products - Custom Install series
2 New Energy 6" Mid Bass drivers kevlar cone and aluminum phase plug. $55/pair
Assorted crossover parts, resisters, capacitors and inductors most new Axon, Erse, Mills. pm and I'll send a list.
New Mirage 200Watt (800 Watt Peak) MM6 plate amp. $Sold plus shipping lower 48.
PM zip code and I'll quote shipping. Sold
Rythmic Audio Sub
Focal 6W4311b
Mission MM6 Plate amp
Energy 6" driver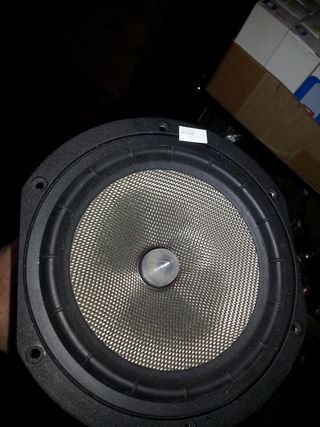 Last edited:
Updated list Focal Audiom Utopia 6W4311b, Erse, Axon
Updated List:
Here is the list of resisters, caps and inductors. See pics at the bottom
I have more so I'll add them as I come across more of them.
I can fit all of it in a small flat rate box for $6.80 USPS.
Caps
$1 each or all for $5
Axon (Most were in service for a short period of time they came from a DIY center channel that was never used then parted)
Axon-
4.7, 6, 6, 12, 12, 15 and 30
Resistors
$12 for all
(most are new some used for a short time.)
Sand Cast: $.50 each
3- 3ohm
2- 15ohm
Axon: $1.00 each
4- 20ohm
4- 7ohm
1- 6ohm green ($.50)
1- 3.5ohm green ($.50)
1- 3ohm
Inductors
Air Core $1. each or all for $4.00
I'm pretty sure they are Erse I bought them from Eliot at Zalytron
.10
.47
.56
.68
1.8
Erse Steel core$5.00 each or all for $25
2- 3.3
2- 1.0?
2- 7.5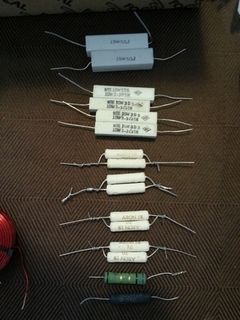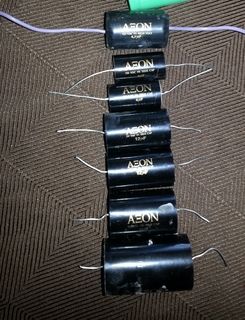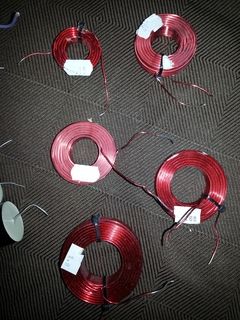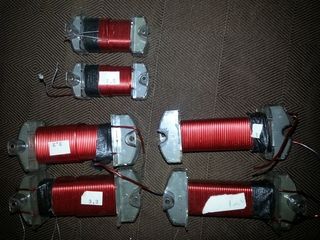 Updated: One Focal TC120TDX2
Used.
Single Focal TC120TDX2 tweeter
Asking $75 or reasonable offer.
Audio Points 1.0AP-A cones (1/4-20 tread)
and
APCD2 floor protector disks.
They in unopened original packaging BUT have been in a tool box for the last 7 years so they may have some dings. This will in no way affect the performance of them.
Cones $80, Coupling Disks $25
Both for $95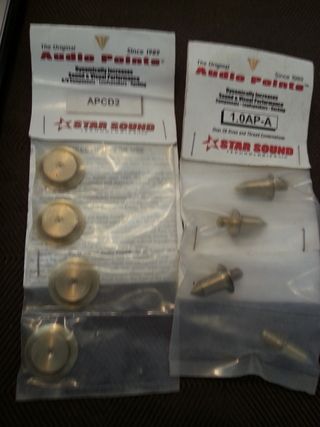 Mirage MM6 Plate Amp
Mirage MM6 Plate Amp sold.
Amp received in perfect aesthetic and operational condition.
Thanks for the smooth transaction!
D
Status

This old topic is closed. If you want to reopen this topic, contact a moderator using the "Report Post" button.