Well, I finished my Ball Mill to pulverize my break chips, and its..its..*sniff*..beautiful man *sniff*....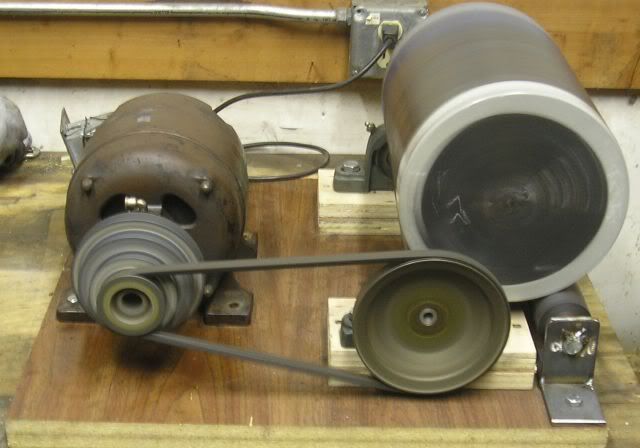 ...OK, it won't win any prizes in the looks dept.,but it works exceedingly well. In the picture it's humming along at around 60 rpm beating the chips into submission. I used 8 cast iron "T" fittings at about 2 lbs. apiece for the "balls".
This is a picture of the break chips, clinging to a small pocket magnet used to retrieve screws, before processing ..
The first thing I did was to heat the chips to around 1400 deg F (red heat) burning off any oils/breakfluid contaminants, and then cooling them rapidly by pouring through the air into a cast iron pan. The rapid cooling causes the chips to become brittle from the stress. I then ran them in the mill for around 6 hours, this was the result…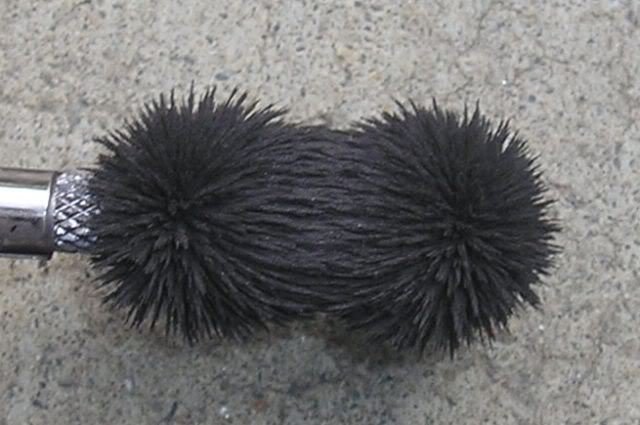 Two thing jump out, how densely packed the powder is around the flux lines, and how black it is. Grey iron is peppered with little pockets of graphite, this is the form the carbon takes in the metal. It is along these pockets that the metal breaks when struck. As the iron is reduced by the mill, the graphite is freed from its metal prison.
The next step is to separate the graphite from the iron powder. This is done by float separating. I put about a cup or so of iron in a glass jar then poured lacquer thinner to about the 2 cup level. I then stirred it hard enough to suspend the iron. After it settles, a layer of graphite forms on top of the iron. I then stir it just hard enough to suspend the graphite. While the graphite is still swirling, I pour it off into a filtered funnel, cleaning the thinner for the next batch. The iron is then spread out in a pan OUTSIDE to dry. After doing 2-3 cups of powder, (it was still black, telling me I need to repeat this a few times) I got the graphite you see here…
It is graphite, rubbing between your finger and thumb, it feels like oil. First unexpected benny, a supply of graphite lubricant
. The mass of the powder before and after cleaning went up 7%
. That's more than I expected. I am re-running the powder through the mill for 30-40 hours to reduce/clean it as much as I can. Right now its loose-filled mass is around 67% of solid iron.
After I clean the powder that's in the mill now, I am going to ballpark its relative permeability by burying a coil in the powder.
Stay tuned…
Casey Brown