Hello,
After some demand, i open a wiki page for started a group buy of PCB
to build the ADC project describe in the thread
HERE
.
If you think to be interested by it, i highly recommend you to read it !
If you need further info about the design, you can post a message in the wiki.
Of course, all designing files will be send for each buyers.
(A very complete folder).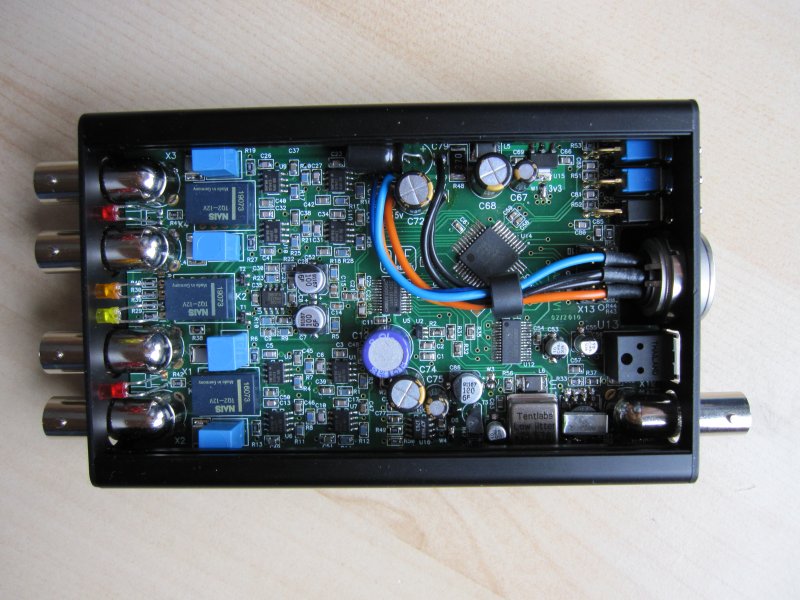 You can download the full schematic
HERE
.
A little manual of the ADC can lso be read
HERE
.
All others files will be send to buyers.
Note that a logic array (EPM3064) must be programmed,
so you need an ALTERA JTAG programmer.
For buyers who don't have it and don't want buy it, i can provide PCB with the EPM3064 soldered and programmed for extra 15€.
I have add a column to select or not the option of mounting/programming the
Logic IC (EPM3064).
The price for 1 PCB would be 40€ if less than 6 PCB is ordered and 35€ if more than 10.
This price include worldwide shipping in priority letter.
The buyers list start here :
cellspacing="5"
|-
| class="tcat" | Name || class="tcat" | PCB Qty || class="tcat" | Programmed [yes/no] || class="tcat" | Location || class="tcat" | Payed || class="tcat" | Shipped || class="tcat" | Received
|-
| neb001 || 1 || yes || USA || Yes || Yes
|-
| ccliu || 1 || yes || Taiwan || Yes ||Yes || Yes
|-
| Valeriano || 1 || no || Italie || Yes || Yes || Yes
|-
| AR2 || 1 || yes || USA || Yes || Yes || Yes
|-
| NoSmoking || 1 || yes || USA || Yes || Yes
|-
| carpin || 1 || yes || Netherlands || Yes || Yes || Yes 21 dec
|-
| tapefoot || 2 || yes || ? || Yes || Yes
|-
| grenert || 1 || yes || USA || Yes || Yes || Yes!!!
|-
| herb1diaz || 2 || yes || USA || Yes || Yes
|-
| luvdunhill || 1 || no || USA || Yes || Yes || received!
|-
Added the 13/01/2011
I add a column named "received".
Each buyers can send me PM e-mail me or edit himself the list, in order to follow if all all letters are well arrived.
Thanks.

IMPORTANT DESIGN NOTES
1/Resistor values of R49 and R50 are inverted,
For proper work you should solder as below :
R49=750 Ohms (but no 249)
R50=249 Ohms (but no 750)
2/ For the 10M resistor(R6,R13,R19,R27),the precision in the BOM is a mistake. You can use 1% or 5% value without any problem.
Just use metal film type, no carbon(high noise).
Frex
Last edited:
Hi Frex,

thanks for your great projects, why don't you list this GB in the appropriate section (Group Buys) for raising the number of people interested in it?
regarding myself I'm fine with 6 pcbs order, but maybe others could be eventually interested, too.

kind regards
Vale
Hello Valeriano,

It's a good idea. I've added a topic about it in the group-buy section.

We will wait a little then.

Frex.
Hi Frex.
almost there
9 pcbs in preorder, only one missing.
if all participants agree, two more weeks for closing this GB should be enough. what do you guys think?
regarding input buffer stage.. reading the discussion in original thread
http://www.diyaudio.com/forums/equi...onverter-project-audio-measurements-tool.html
post#32 .. you choosed OPA134 for its low input bias current and its low current noise.. for making hi-Z sources measurements.
what do you think about OPA140 and OPA827 ? these seems to have better specs overall vs OPA134
thanks
regards
Valeriano
Last edited:
Now, 11 PCBs are pre-ordered.
I think to closed the buyers list this sunday.
I will send then all individual Paypal invoices.
to recall, the price will be ;
1 PCB = 35€
2 PCB = 65€
+15€ with EMP3064 soldered and programmed.
(The price include worldwide shipping in priority letter, but no insurance is include.
If you want a registered letter, ask me before !)
A full design folder will be sent by e-mail when payment is done.
Regards.

Frex.
Hello again,

Valeriano, about the OPAMP, of course you can use the OPA140/OPA827 instead of OPA134.
But, for the OPA140 it's a new product and it will be hard to find it. For the OPA827, i think it is much more expensive for a not signifiant improvement.
If your signal source impedance is always low (below 1kOhms), you can use others bipolar input OPAMPs with lower noise like AD797/AD8597.These are the lowest input noise OPAMP available. Of course, these are also expensive parts !
Regards.

Frex.
DIY CS5381 Analog-to-Digital converter PCB Group buy