Best regards
Interestingly I completely missed your post Diego. I found it interesting and I started playing with it, and naturally I came to this version:
Performance is incredibly good, even better! than the NoNoizator variant I made with CCS. Not much but it's there, especially at LF.
There's always 1.25V across the CCS, which makes it work fine, and also I get this better performance at half the denoiser circuit current!
I have good performance with even lower current, but noise starts to increase a bit. I think 200R is a good compromise for a total of around 6-7mA (LED current included!) total draw from the denoising circuit.
So we remove a BJT, a diode, few resistors and also that large coupling capacitor! More than this, the startup swing isn't there. It just slowly starts.
It does take a while to get to nominal Vout, 2-3 minutes, but there's no more overshoot.
Vout is set by R32 in the last photo, and phase seems similar to the NoNoisator version, apart from LF.
I find it really interesting, more performance for less parts, stability should (!) be similar, and there's no more overshoot.
I guess this is a DC-coupled denoiser?
Also I'm clearly building a board to measure this circuit, I'm really curious. I attached a LTSpice sim file with both NoNoisator and this version, for both high and low gains for both 12Vout and 5Vout. PSRR seems a tad better, noise a tad worse due to lower current in the denoising circuit, output impedance is a tad better.
Ah yes, I also have control over the PSRR peak and I can place it around 100Hz by adjusting R34 from LED, R33 for current in denoising circuit, and C26 sense cap value. But I have to measure this, I'm just going by the simulation at this point.
As it stands I still find the lower gain version interesting, very good performance for least parts.
Here's a PSRR comparison between the CCS NoNoisator and this latest version:
And another between the two gain versions of this latest circuit: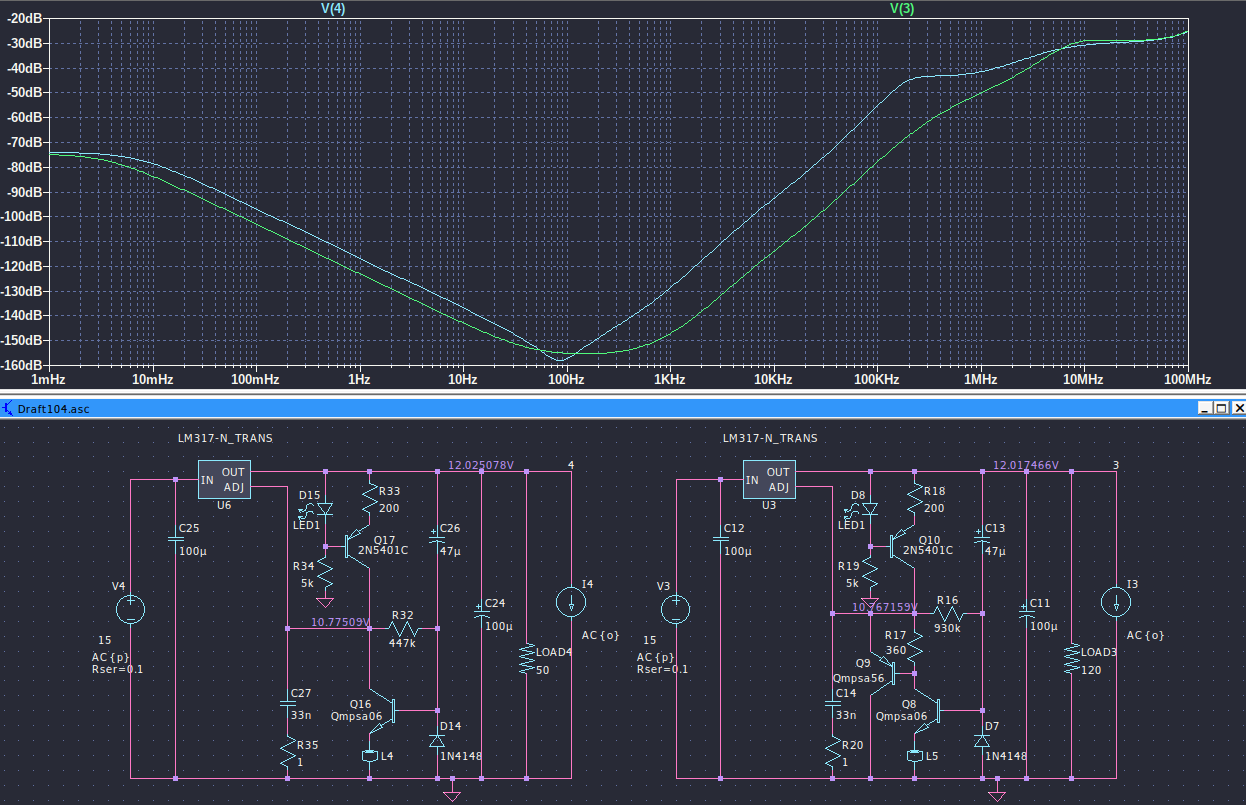 edit: also in this circuit the CCS BJT seems to matter now, and it "likes" high gain ones. BC560C seems to also work good in that spot.
2nd edit: actually the latest PCB design allows for this configuration. Just omit the respective parts and close JP8 jumper, and I guess short the coupling cap.
Last edited: