I've been faced with a catch-22 lately:
1) I can make a tapped horn that plays really really low,
but the box size is insanely large
2) I can make dipole subs that are really really small,
but they won't play down to 20hz.
Seemed to me that you could combine these two things, and put a dipole woofer IN a tapped horn. So I did.
The 'cardioid tapped horn' looks virtually identical to this patent from Cerwin Vega. Except the woofer at the throat of the horn isn't in a sealed box, it's a tapped horn.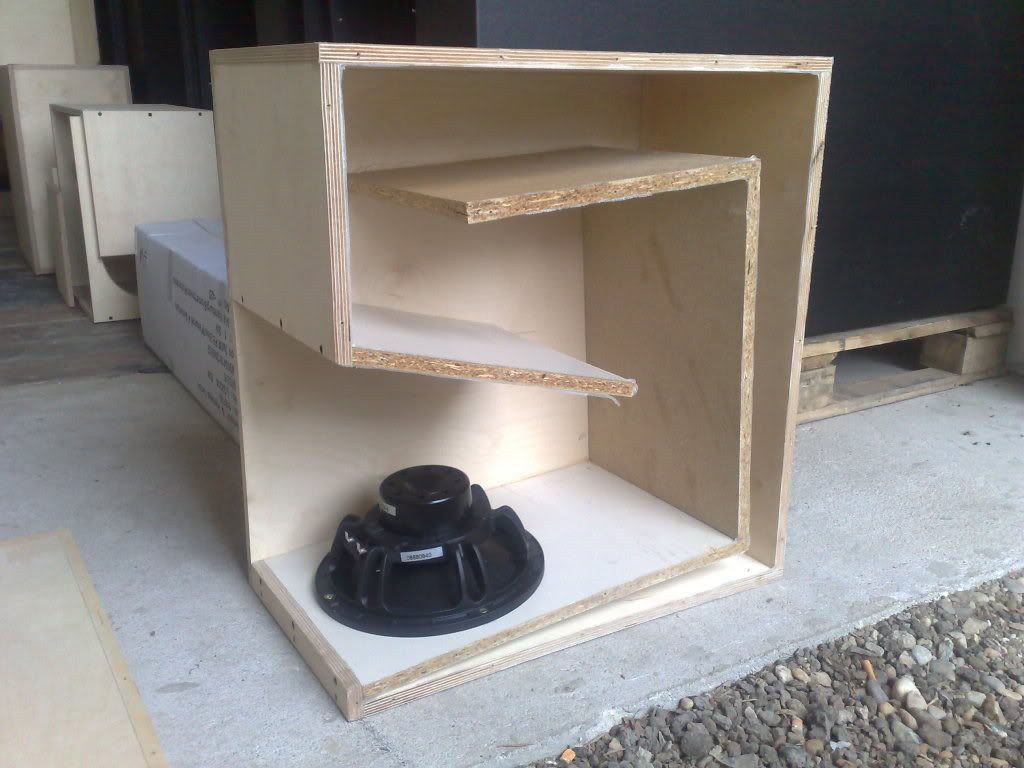 Here's how the cardioid tapped horn works:
In a tapped horn, we're raising the efficiency of the woofer by (duh) putting it in a horn.
[IMGHTTPDEAD]http://rudolffinke.homepage.t-online.de/audio/Dipol/W250/Syscomp/H-frame.JPG[/IMGHTTPDEAD]
A U-Frame is a type of dipole subwoofer. Because it's a dipole, it has a figure eight radiation pattern.
By combining the tapped horn *and* the U-Frame, you wind up with a cardioid. Same idea as combining a sealed box with a dipole.
The reason that the tapped horn is particularly attractive for this application is because the tapped horn excels at low frequencies, while the dipole does not. The dipole has a small footprint, while the tapped horn does not. Put them together and you have a nice 'yin-yang' combination.
Here's an Akabak sim of the speaker with a single watt. Efficiency is very high above 50hz, because you have both a fifteen and a ten radiating into the same space, and they're tightly coupled. The low frequency efficiency isn't as good as a tapped horn, but it's better than a dipole.
Here's the same speaker, but I've set up labels so you can see the output of the dipole fifteen (in blue), the tapped horn (in red) and the combination (in black.)
Should be a fun / easy sub to build. The tapped horn woofer is an Alpine SWS-10D2, retails for about $100. The dipole woofer is an Alpine SWS-15D2, retails for $125. For this type of sub, you want a BIG woofer for the dipole and a SMALL woofer for the TH. This is because the TH has higher efficiency.