This is not a recent build, but I have been meaning to post it for several years. It is also a precursor to a 3-way speaker build thread I intend to post that builds on this one.
Design Requirements
I was replacing an old NHT1259-based sub that had been in the corner and had sufficient output for the room, but I wanted lower distortion, more headroom and it had to be hidden. I was also planning on replacing closed cabinets with an open stereo rack that would be perpendicular to the wall, and obscured from view by a screen. This would allow me to easily access the front and back of each component, and had no doors that would trap heat. I could have built subs into the front corner wall, but this would have been an involved project entering attic space below a sloping roofline, and I decided it would be easier to push the stereo rack to the ceiling and leave room underneath it for the sub (centered on the front wall). Here is a rendering with the outgoing sub under the new rack:
Being directly under the stereo rack (but not touching it), I knew I wanted to limit vibration, so I decided to build a push-push sub. Limiting it to the width of the rack above it did not leave enough depth for back to back drivers, so they would need to be rotated and fire along the length of the room instead of left to right. However, I did not like the idea of them firing into the wall and the back of the screen, so I decided to have them face each other and radiate out a slot.
Design Details
(2) Dayton Audio RSS315HF-4 12" Reference
HF Subwoofer 4 Ohm in sealed cabinets.
Dual drivers face each other for force cancellation, which works quite well. Cabinet vibration is almost imperceptible.
Both cabinets are cut from a single sheet of plywood, well braced, and doubled up on some walls.
The cabinets are joined by heavy, threaded rods which are concealed by aluminum tubing. I think the tubing is causing the high frequency ringing during sweep measurements, but it is far outside the passband.
Rubber gaskets under large diameter washers ensure an airtight seal for the threaded rods.
Copious use of shellac prior to priming ensures no seams are visible through the paint.
Spray painted using rattle cans, but finished with General Finishes flat water-based poly via HVLP.
Total dimensions (including 4" gap between cabinets) is 23" W x 19.25" H x 16.25" D
Internal cabinet volume is approximately 30 liters with a QTC of 0.83, but as built, it measures like 20 liters with a QTC of 0.96.
Crossover and room EQ provided by MiniDSP 2x4HD
The room is an odd L shape to the back left, and with an additional bump out and a sloped ceiling to the right. I did not try to simulate room gain or modes. I did simulate and measure the nearfield response, and I measured the response at the listening position with room gain. Coincidentally, the room gain flattened most of the low end falloff and I did not have to apply any EQ to raise the low end. The sub is crossed over to the main speakers at 80Hz and room modes are equalized out at the listening position below 150Hz.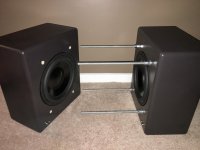 More build photos available
here
.