Sorry if this has been hashed out before. If so, please point me to some posts. And to be up front, this setup plays fairly loud and clean.
I want to build all new because I can and have the itch to and I'm sure I could improve on the stereo listening end more than the movie end.
Current setup is a 120" screen so speakers are about 9 feet apart on center. I know it's not a very symmetrical setup with one speaker so close to the wall, so please factor that in.
23" from wall to back of screen
8" riser that speakers/stand will sit on
7 foot ceiling height
Seating distance from speakers is 12 feet.
Main question is what design is best for my setup. Current speakers I built over 20 years ago. Peerless CSC 6.5" woofers and silk dome tweeter. Top woofer is ported in rear, bottom in front. Meniscus designed crossover using LEAP back then. Why I put one port in the back? Cause I wanted to lol. Not sure how this affects overall sound and response.
So what I want to know is what design would be best in my situation. Sealed design, ported, driver arrangement. I'm very open to most designs. It could be a WWMT tower, WWMTWW tower, simple 2 way with excellent imaging, 3 way, you name it.
What I desire is a compromise between spl, frequency response and imaging.
At times I do listen in Reference Stereo mode on my Emotiva XMC-1 through an Parasound A31 amp as the current MTM speakers do sound fantastic and reach pretty dang low. Many times I question if the subs are playing. Probably due to current placement boosting the low end? I'm sure the rear port (2" for both front and rear) being so close to the wall (maybe 3" away) isn't optimal as well as overall placement for these, though maybe I got lucky and won't do much better???
Center uses 6.5" Vifa drivers and silk dome tweeter with crossover recommended by Meniscus also, but built after the fact and never really finished off.
PLEASE NOTE!!!!! Willing to build a 3rd center that vertically matches the mains as I no longer have a TV mounted behind the screen and will be removing the mount. However I am almost always watching movies alone and sit in the sweet spot so a wide dispersion center is not really required.
I'm attaching a few pics for reference on what placement is and what I'm working with.
I will most likely build out of MDF with Walnut veneer to match the 2 XXLS Peerless 12" subs and new 15" Ultimax ported sub I'm currently building.
I use REW and a Mini DSP HD for sub integration and everything integrates really well IMO.
I'm sure I may have missed some info so please ask and I will add to this.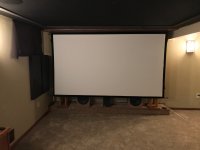 I am also not opposed to building a stand alone set of speakers for purely movie enjoyment and a set for serious music listening. I do not lose sleep over trying to find audio nirvana with a stereo setup, so please, no extreme recommendations regarding using a separate 2 channel preamp, dacs, etc.
Budget? Don't really have one. My building skills are fairly good all around so this will be all ground up built by me.
Thank you for your attention and reading this far